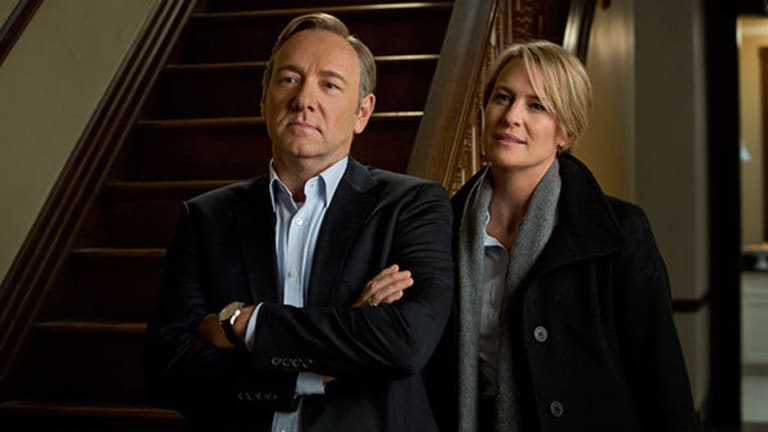 Why the Netflix, Comcast Agreement Is Such a Big Deal
Netflix and Comcast announced a major deal over the weekend that gives Netflix direct access to Comcast's broadband network. Not only is this a landmark deal between a content company and a broadband provider, but it will change the way content is delivered to homes in the future.
Updated from 10:37 a.m. to include thoughts from analyst Craig Moffett.

NEW YORK (TheStreet) -- Netflix (NFLX) - Get Free Report and Comcast (CMCSA) - Get Free Report announced over the weekend a major deal that gives Netflix direct access to Comcast's broadband network. Not only is this a landmark deal between a content company and a broadband provider, but it will change the way content is delivered to homes in the future.
The deal ensured that Netflix's domestic streaming subscribers that use Comcast will have access to a smooth viewing experience. In recent months, the average speed for Comcast subscribers has fallen, and fallen dramatically. In January, the average speed for Comcast subscribers fell to 1.51 megabytes per second, down from 1.63 in December.
This has been a trend for the past few months, and it's not limited to just Comcast. Netflix speeds at Charter Communications (CHTR) - Get Free Report, Verizon (VZ) - Get Free Report FiOS and a few other broadband providers have dropped sharply as well, something that's obviously a big concern for Netflix CEO Reed Hastings and his team. With the company surpassing 33 million domestic streaming subscribers in the fourth quarter, and the stock near all-time highs, it's important for Hastings to keep his subscribers happy, and lessen the amount of buffering that's going on while watching video.
In an interview on CNBC, Verizon CEO Lowell McAdams said Netflix and Verizon had been talking for around a year about a similar issue, and would expect to sign something.
Shares of Netflix were rising in early Monday trading, gaining 2.6% to $443.29, as people begin to understand what the deal actually means. There were several blog posts, tweets and articles saying the deal is negative for Netflix, in that the company would have to pay more for direct access as opposed to using intermediaries to access Comcast's services.
There's a really good blog post from Dan Rayburn, EVP StreamingMedia.com, and a principal analyst at Frost & Sullivan, who laid out what the deal really means and tried to clarify that it's not necessarily a precursor to higher Netflix rates for everyone. This particular passage highlighted just exactly what the deal means:
"Today's news is very simple to understand. Netflix decided it made sense to pay Comcast for every port they use to connect to Comcast's network, like many other content owners and network providers have done. This is how the Internet works, and it's not about providing better access for one content owner over another, it simply comes down to Netflix making a business decision that it makes sense for them to deliver their content directly to Comcast, instead of through a third party. Tied into Netflix's decision is the fact that Comcast guarantees a certain level of quality to Netflix, via their SLA, which could be much better than Netflix was getting from a transit provider. While I don't know the price Comcast is charging Netflix, I can guarantee you it's at the fair market price for transit in the market today and Comcast is not overcharging Netflix like some have implied. Many are quick to want to argue that Netflix should not have to pay Comcast anything, but they are missing the point that Netflix is already paying someone who connects with Comcast. It's not a new cost to them."
Some on Wall Street weren't entirely sure what to make of the deal, whether it will impact Netflix's margins or not. "The Netflix-Comcast paid-peering deal, while likely creating headwinds to margin leverage near-term, removes a major structural concern. No terms were disclosed, but we believe that this agreement is likely to precipitate others in the U.S. and internationally," Cantor Fitzgerald analyst Youssef Squali wrote in a note. "The stock's valuation and lack of visibility into the contribution margin impact of this deal (and potentially others) are keeping us on the sidelines."
BTIG analyst Rich Greenfield said he believes the deal is a precursor to getting Netflix on Comcast's X1 set-top boxes, which ultimately is beneficial to Netflix over the long-run, even if it means paying a bit more now. "We believe Netflix agreeing to a paid peering relationship with Comcast was tied to Netflix being integrated into Comcast's X1 set-top boxes later this year," Greenfield wrote in a blog post. "Time will tell if we are right, but we simply do not believe this is as simple as Comcast won and Netflix lost."
With the Comcast, Time Warner Cable (TWC) proposed merger is under intense scrutiny because of fears of net neutrality being dead and higher prices for broadband and television access, the timing of the deal is suspect. In the press release, the companies noted they'd been "[w]orking collaboratively over many months," and The Wall Street Journal, which first broke the news, said Hastings and Comcast CEO Brian Roberts seriously discussed the idea at January's Consumer Electronics Show.
Analyst Craig Moffett of MoffettNathanson Research notes Netflix may wind up being the winner in this deal, as it gets "cost certainty for a long time at a very low (negligible?) price and they get more capacity and therefore better service for customers." Conversely, Comcast in the long-run, may wind up losing out. "Comcast has arguably given away the potential to charge more in the future - the idea that the single largest source of traffic on the Internet is only paying "several million dollars" to the largest broadband provider in America hardly sounds like a watershed moment to us - in return for one less opponent to their merger."
By brokering a long-term deal with Comcast now, Hastings has decided that it's better to pay a bit more now and get direct access to Comcast's pipes. In the company's fourth-quarter shareholder letter, Netflix noted Internet Service Providers (ISPs) can now "legally impede the video streams that members request from Netflix, degrading the experience we jointly provide. The motivation could be to get Netflix to pay fees to stop this degradation. Were this draconian scenario to unfold with some ISP, we would vigorously protest and encourage our members to demand the open Internet they are paying their ISP to deliver."
JPMorgan analyst Doug Anmuth noted by giving Netflix users more direct access, it's a "positive for the Netflix user experience," not to mention Netflix "likely anticipated some degree of higher costs related to network agreements in its 2014 guidance."
Anmuth also noted that while other multichannel video programming distributors (MVPD) could ask for a paid-peering agreement, they likely don't have the same clout. "As the leading MVPD and broadband provider, Comcast likely has greater leverage with Netflix than other ISPs," Anmuth wrote in the note. "Comcast's footprint will also increase post the potential merger with Time Warner Cable, with the combined company having a presence in 19 of the top 20 DMAs and a managed subscriber total of ~30M. The Comcast agreement does raise the likelihood of paid peering with other ISPs, but we do not believe they would have the same degree of leverage with Netflix."
-- Written by Chris Ciaccia in New York
>Contact by Email.