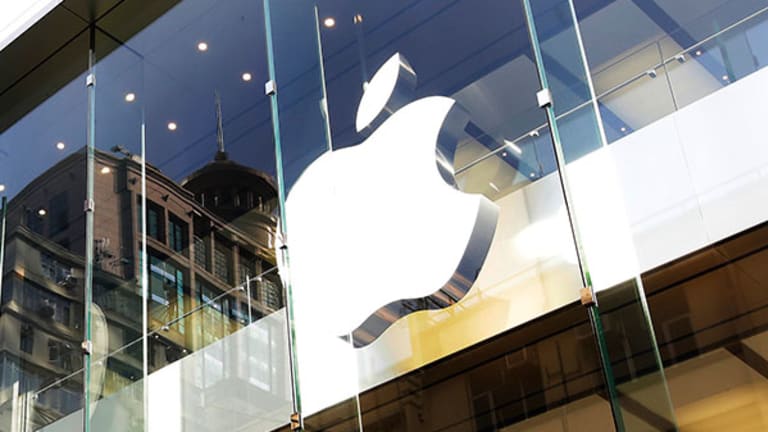 NEW YORK (TheStreet) -- Apple (AAPL) - Get Apple Inc. (AAPL) Report had a gangbusters fiscal second quarter, thanks in large part to the iPhone. It looks like that momentum is continuing in April as Apple gets ready to refresh the phone later this year.
Canaccord Genuity analyst T. Michael Walkley noted that the iPhone 5s is the top-selling smartphone in the U.S., according to his April surveys at tier-1 U.S. carriers and "a number of global channels." However, Walkley cautioned that overall iPhone 5s sales were softer than the March quarter because of the release of the Samsung Galaxy S5, which allowed the Google (GOOG) - Get Alphabet Inc. Class C Report Android-based S5 to continue to capture market share at the high end.
The survey included an increasing mix of people who were upgrading their phones early, despite carriers being strict with upgrades. Walkley noted this should benefit Apple, as the next phone is reported to come in two sizes: 4.7-inches and 5.5-inches. The survey also showed the propensity for consumers who were upgrading early to get more expensive phones, including the Galaxy Note 3.
"We believe the small price differential in monthly handset installment payments between these more expensive devices and less expensive smartphones has contributed to this
mix to more expensive devices. We believe these trends could also enable Apple to charge higher prices for the larger-screen iPhones given our belief consumers are somewhat less sensitive to higher device prices when installment payments are pro-rated over a 20-24 month period," Walkley said in a note.
"Further, our U.S. surveys indicated tier-1 carrier customers were increasingly opting for early-upgrade programs and showed greater propensity toward more expensive high-tier smartphones when enrolling in these programs," Walkley noted in the report. "We believe these trends could enable Apple to charge higher prices for larger screen iPhone 6 models. We believe Apple should win back meaningful high-end market share during 2H/2014 based on our belief new iPhones with larger screen sizes could create a strong upgrade cycle among Apple's loyal base."
For the fiscal second quarter, Apple reported earnings of $11.62 a share on revenue of $45.6 billion. The company shipped 43.7 million iPhones, 16.4 million iPads, and shipped 4.1 million Macs during the quarter.
This isn't the first time we've heard that iPhone sales in April were strong, as Cantor Fitzgerald analyst Brian White said the same thing in a research note Wednesday. This also isn't the first time we've heard an analyst talk about Apple charging more for the upcoming iPhone, dubbed by some to be called the iPhone Air.
In mid-March, Pacific Crest Securities analyst Andy Hargreaves upgraded Apple based on the fact the next iPhone could cost more than the $199 starting price (on contract) for the iPhone 5s.
"We believe Apple can sell a 4.7" iPhone at a subsidized price of $299, which should generate incremental gross profit on replacement sales and attract new customers that had previously purchased Android phones specifically for a larger screen," Hargreaves wrote in a note.
CEO Timothy D. Cook addressed the prospect of potentially charging more for the iPhone on Apple's fiscal second-quarter earnings call, but was noncommittal about it.
"We price things that we think -- are priced in such a way that we think it's a fair price for the value that we're delivering and we make those on each thing as it gets closer time to come to market," Cook said on the call.
Apple is working diligently to boost iPhone sales in the next few months, as the next iPhone gets ready to come to market. Analysts were expecting around 37 million iPhones shipped, though Apple easily surpassed that number due to strength in foreign countries.
"We gained smartphone share in many developed and emerging markets including the U.S., the U.K., Japan, Canada, Germany, France, Vietnam and Greater China, just to mention a few," Cook said on the earnings call. "In fact, we established a new all-time record for total iPhone sales in the BRIC countries."
Also See: Tesla Is Plunging, But It's Not Why You Think
Also See: How Apple Is Going to Give the iPhone a Boost
Also See: Here Are the Cities Where Amazon Now Delivers on Sunday
-- Written by Chris Ciaccia in New York
>Contact by Email.