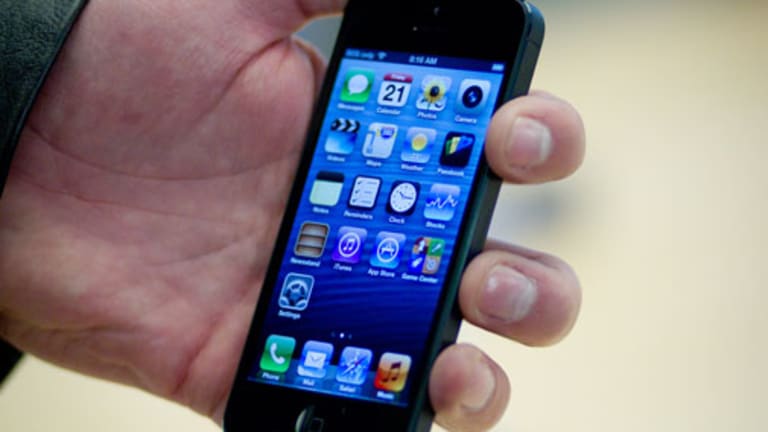 Why the iPhone 6 May Cost More Than You Think
For the most part, Apple plays at the high end of the smart phone arena, with the iPhone 5s, which starts at $199 on a two-year contract, the company's best selling phone. Now, it looks as if Apple is about to go even further upscale, according to one analyst.
Updated from 8:20 a.m. to include additional details about next iPhone in the fifth paragraph.
NEW YORK (TheStreet) -- For the most part, Apple (AAPL) - Get Apple Inc. Report plays at the high end of the smart phone arena, with the iPhone 5s, which starts at $199 on a two-year contract, the company's best selling phone. Now, it looks as if Apple is about to go even further upscale, according to one analyst.
Jefferies analyst Peter Misek, who rates Apple shares "buy" with a $625 price target, believes that Apple has been negotiating price raises with carriers on the pending iPhone 6 (dubbed iPhone Air by some) to the tune of $100. So far, initial response from the various carriers has been "no", according to Misek, but given the lack of realistic competition from other handsets on the market right now, including the Samsung Galaxy S5, the argument could swing back in in Apple's favor.
"We think Apple might be able to get at least some of the increase with the add'l costs split between the carrier and consumer," Misek wrote in the note. "A $50 ASP increase would offset most of the negative iPhone 6 GM impact and remove a major bear argument."
Read: $1000 Per Apple iWatch Changes This Game Changer
Apple, by and large, has started the price of its newest phone at $199 for the 16GB version on a two-year contract. A price raise for the new iPhone would allow Apple to mitigate some of the negative impact to gross margin new products have on Apple. Misek notes that the preliminary bill of materials for the next iPhone could be up to 450 basis points lower than the 5s, perhaps due to sapphire glass potentially being used, as well as other components. "Our current estimates assume a 430bp decline, which we feel is conservative unless some of the components run into yield issues," Misek wrote. "We estimate a $50 ASP increase on the iPhone 6 would raise GM by 375bp and $100 by 700bp so a $50 ASP increase would offset most of the iPhone 6 COGS pressure."
It's widely expected that the next version of the iPhone will be larger than the current 4-inch iPhone 5c and 5c. Industry reports have speculated that the next iPhone will come in two sizes, a 4.7-inch and a 5.5-inch version, with the 5.5-inch version delayed until later in the year because of component supply constraints. KGI Securities analyst Ming-Chi Kuo, who has been one of the most accurate Apple analysts in recent years, expects the next iPhone will have a couple of new features, in addition to a larger screen.
"Apple to offer all-new design 4.7" and 5.5" iPhone 6. Although the 5.5" model will have higher resolution (1,9201,080/401PPI) than the 4.7" (1,334750/326PPI), due to same proportion in terms of length and width, it is good for APP compatibility," Kuo penned in a research note last week. "Specifications common to both models will include A8 processor, LPDDR3 1GB, LTPS panel, in-cell touch, Touch ID (fingerprint identification), 10-20% narrower bezel, 6.5-7.0mm thickness, NFC chip with security element and metal casing."
Should Apple be able to squeeze an additional $50 out of cell phone carriers, that would boost revenues by 2%, and earnings per share by 11%. If Apple is able to get the full $100 increase, revenue jumps 6%, with earnings soaring 24%.
Read: Apple's iPhone 6 Will Demolish Android
Though there are no must-have devices so far this year, with the Galaxy being offered buy one, get one at various retail stores, including Verizon (VZ) - Get Verizon Communications Inc. Report, that doesn't mean the carriers are just going to give in to Apple. Carriers in North America have changed their upgrade policies, which affected Apple's fiscal first-quarter results for the iPhone, according to CEO Timothy D. Cook.
Aside from the company's failure to recognize the iPhone 5s would sharply outsell the iPhone 5c in North America, Cook noted the upgrade policies affected Apple's results. "The other thing that happened in North America specifically was that some carriers changed their upgrade policies. And this affected last quarter, and will have some effect on the current quarter," Cook said on the earnings call. "This restricted customers who are used to upgrading earlier than the 24 months that they're allowed and sort of stretched the time out to be a hard and fast 24 months. And so that's a major factor playing into the North American results."
That said, Misek noted carriers, including Verizon, AT&T (T) - Get AT&T Inc. Report and others may have no choice, given the lack of exciting hardware. "The possibility may at first seem far-fetched in light of investor concerns regarding possible carrier subsidy and handset price cuts due to smartphone saturation and lack of differentiation," Misek penned in the note. "But we think this general lack of differentiation could be the reason why Apple may be able to get a price increase. Carriers realize that the iPhone 6 will likely be the only headline-worthy high-end phone launched this year and that they will lose subs if they do not offer it."
--Written by Chris Ciaccia in New York
>Contact by Email.