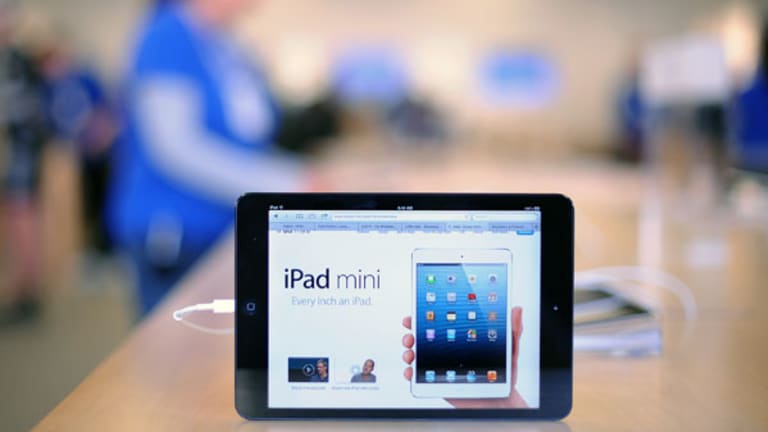 iPad mini: Still Tough to Find (Update 1)
The iPad mini with Retina Display has finally started to roll out to Apple Stores. It looks like supply is still scarce, though.
Updated from 1:49 p.m. to include additional details from analyst in the fifth paragraph.
NEW YORK (TheStreet) -- Apple (AAPL) - Get Apple Inc. (AAPL) Report slipped 0.3% to $519.80 on Friday as the iPad mini with Retina Display slowly begins to roll out to retail stores.
Cantor Fitzgerald analyst Brian White, who has a "buy" rating on the shares with a $777 price target, says the arrival of the iPad mini in New York stores comes three weeks after the iPad Air was first available.  Earlier this month, Apple quietly unveiled the iPad mini with Retina Display on its Web site, a very un-Apple like move as supplies continue to remain scarce for the new tablet.
"In our view, the rollout of the iPad mini with Retina Display has been one of Apple's "stealthiest" device launches and driven by supply constraints," White wrote in his note. "This clandestine launch began with a quiet pre-order period (11/12), and this transitioned to a "Personal Pickup" availability (but limited) late last week. The third phase of this stealth launch appears to be limited availability of the iPad mini with Retina Display at a very small number of Apple Retail stores."
On his walk around, White said the 5th Avenue Store, and a few other New York City-based stores received shipments of the new tablet, which sports Apple's new A7 and M7 chips, as well as the Retina Display. Whie said other stores around the world are likely to start getting units over the next week or so.

One thing that's still uncertain is whether Apple will have the tablet available for Black Friday.
"At the very least, we believe Apple must make the new device available in mass for Black Friday (11/29), and this appears possible given the early launches in NYC," White noted in his report.  
White sent out an additional note later on Friday, noting that he now expects Apple Stores to be prepared to deal with walk-in customers. "Our survey work across 32 Apple Retail Stores in the U.S. market indicates that the iPad mini with Retina Display is becoming more broadly available across the country," White wrote in the note. "For example, 81% of the Apple Retail Stores that we surveyed are now offering the iPad mini with Retina Display for walk-in customers."
However, it'll be tough to just ramp up production of the iPad mini with Retina Display, something that Apple made pretty clear in the announcement the new tablet was for sale, as well as on Apple's fiscal fourth-quarter earnings call.
Since the earnings call on Oct. 28, Apple shares have been relatively flat, looking at the chart below, with investors not expecting much. 

"The response to iPad Air has been incredible, and we're excited for customers to experience the new iPad mini with Retina display," said Phil Schiller, Apple's senior vice president of marketing, in a press release earlier this month, announcing the new iPad mini had gone on sale. "We think customers will love both of these thin, light, powerful new iPads, and we're working hard to get as many as we can in the hands of our customers." That last line, about "working hard to get as many as we can in the hands of our customers" is exceptionally telling. 
Apple CEO Timothy D. Cook also mentioned this on the call, but was pretty confident Apple would be able to produce enough units to satisfy demand. "It's unclear whether we will have enough for the quarter or not," Cook said on the call. "We now have mini - we will have but you really don't know the demand until after you start shipping and so we'll see how that goes. But I think we'll do fairly well with iPad as I had mentioned before. We felt like it's going to be a really great holiday season."
Last quarter, Apple sold 14.1 million iPads on its way to generating $6.19 billion in iPad-derived revenue. I wouldn't be shocked to see Apple sell as many as 20 million iPads this quarter, with the first iPad mini being cut to $299, and the lineup now sporting four tablets (iPad 2, iPad Air, iPad mini, iPad mini with Retina Display). What percentage of that is iPad mini with Retina Display is anyone's guess, since Apple doesn't break it down that far.
If you're looking for an iPad mini with Retina Display this holiday season (or as Cook said, "iPad Christmas"), your best bet is to buy it right away. Otherwise, it's likely to be gone before you know it.
--Written by Chris Ciaccia in New York
>Contact by Email.