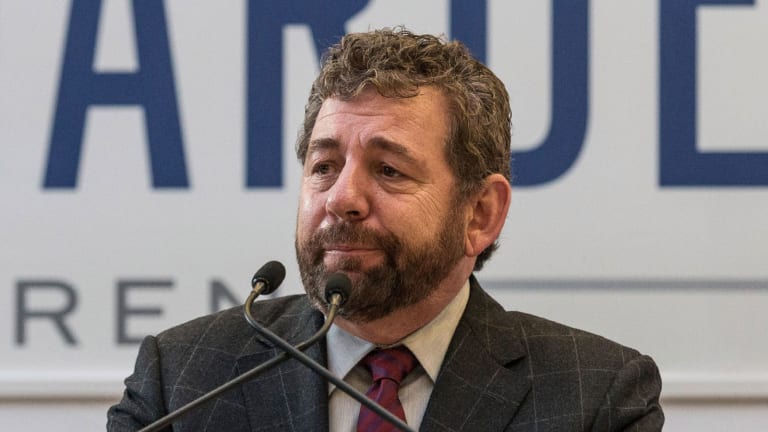 Why the Dolan Family Had to Sell Cablevision
James Dolan's timing was perfect. Cablevision is getting top dollar even as the traditional pay-TV bundle comes under pressure from streaming services led by Netflix and HBO.
NEW YORK (TheStreet) -- The Dolans held out, and got a great price for Cablevision Systems (CVC) .
James Dolan, its chairman and CEO, and the son of the company's founder, Charles Dolan, had been in talks for roughly two years about the future of his family's cable TV business. But an offer from the acquisition-minded Patrick Drahi of the European cable TV provider Altice proved to be too good to pass up.
Based on an offer price of $34.90, Altice's offer for Cablevision and its 3.1 million subscribers translates into an enterprise value of $17.7 billion. According to media analyst Craig Moffett of MoffettNathanson, that offer overvalues the New York-based cable-TV and Internet service provider by roughly one-third.
Not bad if you're a shareholder, or in the case of the Dolan Family, the controlling shareholder.
No wonder that Cablevision was gaining 15% to $32.86 on Thursday, slightly below Altice's offer price. In a statement, Altice said Thursday it plans to integrate Cablevision with its earlier acquisition, Suddenlink, the St. Louis-based cable-TV operator that Drahi purchased in May in a $9.1 billion deal. Speaking with investors, Drahi said that combining the two companies will produce roughly $900 million in cost savings.
For the Dolans, those numbers will no longer be their concern.
That Cablevision had to sell or find a partner has been obvious. The traditional cable bundle is under attack, as streaming services from Netflix (NFLX) - Get Netflix, Inc. (NFLX) Report and Time Warner's (TWX) HBO NOW along with popular video platforms from Google's (GOOG) - Get Alphabet Inc. Class C Report YouTube and Facebook (FB) - Get Facebook, Inc. Class A Report divert viewers from pay-TV channels, bringing marketers and their money along with them.
To protect their businesses, pay-TV operators have been looking for scale. Charter Communications (CHTR) - Get Charter Communications, Inc. Class A Report is near to closing its $55 billion deal to buy Time Warner Cable (TWC) , as well as its purchase of smaller Bright House Networks for $10.4 billion. AT&T (T) - Get AT&T Inc. Report recently put the cap on its $48.5 billion acquisition of DirecTV, while St. Louis-based Suddenlink is in the process of being acquired by Altice for $9.1 billion.
In this environment, shares of New York-based Cablevision have been "trading more on speculation than fundamentals for 12 to 18 months," said Amy Yong, a media analyst at Macquarie. Indeed, even before Thursday's announcement, Cablevision had gained 48% over the past 12 months compared to an S&P 500 that was little changed over the same time period and Comcast (CMCSA) - Get Comcast Corporation Class A Report , the industry giant, which has gained a modest 1.1%.
The deal comes at a crucial time for the media industry.
Content providers such as CBS (CBS) - Get CBS Corporation Class B Report , Time Warner and 21st Century Fox (FOXA) - Get Fox Corporation Class A Report have seen their share prices tumble in 2015 as investors question the long-term viability of the traditional 150-channel pay-TV bundle, the source of most of their revenue. CBS shares have lost 21% this year, Time Warner is down 18% and Fox has plummeted 31%.
As a result, valuations across the industry remain in flux. Yet Altice is apparently convinced that the market remains sufficiently attractive to expand its U.S. footprint.
"The Dolans timed it perfectly," Yong said. "The window for M&A is starting to close, multiples are still high even though there's all this pressure on the bundle. From the standpoint of Cablevision shareholders, it's terrific."
By choosing to sell to Altice in the fall of 2015, Dolan also allows Drahi to take advantage of low financing costs before the Federal Reserve chooses to raise interest rates. The Fed's latest decision on whether it will raise rates is expected Thursday afternoon.
The deal will also mark the end of the Dolan family's high-profile corporate presence in Long Island. Charles Dolan, 88, founded the company in 1973, signing up some 1,500 cable subscribers. The company expanded throughout the region into New Jersey, Westchester County, New York, and Connecticut. Cablevision's subscribers number 3.1 million, its territory covering some of the most coveted part of the country.
"Cable is not going to be a family business any more," Shahid Khan, chairman of Mediamorph, a media industry software and data provider based in New York, said in an e-mail. "It will be owned and run by big corporations like Comcast, Liberty Global (LBTYA) - Get Liberty Global Plc Class A Report , etc. All the giants will start swapping cable systems/regions, in order to be more geographically connected, as cable is regional business. And the option value of owning New York is high."
Longer term, Cablevision's New York region subscribers are likely to be acquired by the new Charter.