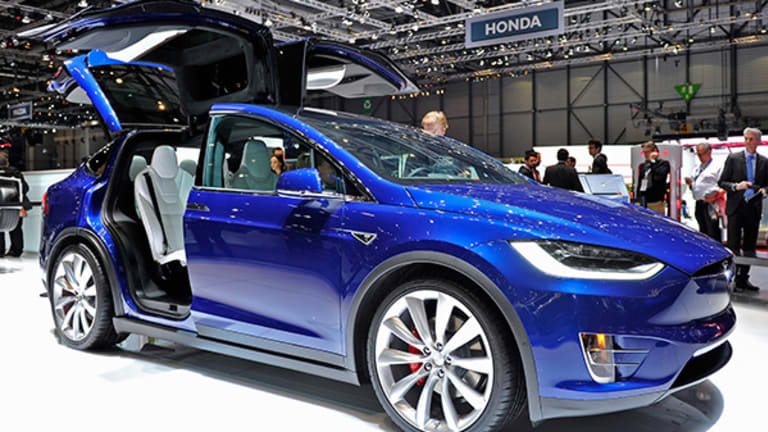 Why Tesla's Model 3 Could Be the Big Boost Shareholders Have Been Waiting For
If you're a Tesla shareholder, the upcoming Model 3 unveil could be the biggest thing since sliced bread, as demand may surprise some people.
If you're a Tesla (TSLA) - Get Tesla Inc. Report shareholder, Thursday night's Model 3 unveil could be the biggest thing since sliced bread.
Credit Suisse analyst Dan Galves believes that demand for the Model 3, slated to be unveiled at 11:30 p.m. ET on Thursday, could be a huge positive not currently baked into shares. "[T]he real catalyst from the Model 3 unveil will be the first indication of demand for the car, in terms of initial reservations...and we think this will be a positive surprise," Galves said in a note to clients.
The Model 3 is Tesla's $35,000 mass-market vehicle that is slated to go up against cars in the middle market, as opposed to Tesla's luxury Model S or Model X vehicles. On the company's fourth-quarter earnings call, CEO Elon Musk said the Model 3 would compete with the likes of the BMW 3 Series or Audi A4.
Galves expects there to be more than 100,000 reservations for the Model 3 in the first few weeks, based on previous enthusiasm for Tesla products. Palo Alto, Calif.-based Tesla has said in the past it expects to sell 500,000 cars annually by 2020, up from 50,580 deliveries in 2015.
Credit Suisse rates Tesla shares "outperform" with a $240 price target. Shares of Tesla closed at $230.13 on Tuesday.
Much of the optimism surrounding the Model 3, which will cost $35,000 before tax incentives and credits, concerns the two sets of people who are enthusiastic about the car.
The first is the existing group of 107,000 Tesla owners, comprised of Model S and to a lesser extent, Model X owners, who have been very happy with their purchases. Galves noted that of the owners he's spoken to, "very few" of them will not place a reservation for the Model 3.
The second -- and far larger -- group is comprised of people who have test driven the Model S, which starts at roughly $65,000 and can run well over $100,000, but can't currently afford it. Given the high sticker price for the Model S, there's a much smaller conversion rate of people who test drive the car, compared to a typical vehicle.
As such, with only around 15% of people who test drive the Model S actually buying it, that leaves the remaining 85%, an implied population of 700,000 people, as potential owners.
Tesla said there are two ways to make a reservation for the Model 3. The first is to visit a local Tesla store on March 31, the day of the unveil. The second way is to make a reservation on the company's Web site once the live stream starts at 11:30 p.m. EDT/8:30 p.m. PDT on March 31.
For $1,000 down, customers can reserve a Model 3, but if you're already an existing Tesla owner -- be it a Model S or a Model X -- you get priority in the region you're in. "For those who aren't Tesla owners yet, this means the fastest way to buy a Model 3 is to buy a Model S or Model X," Tesla said via email.