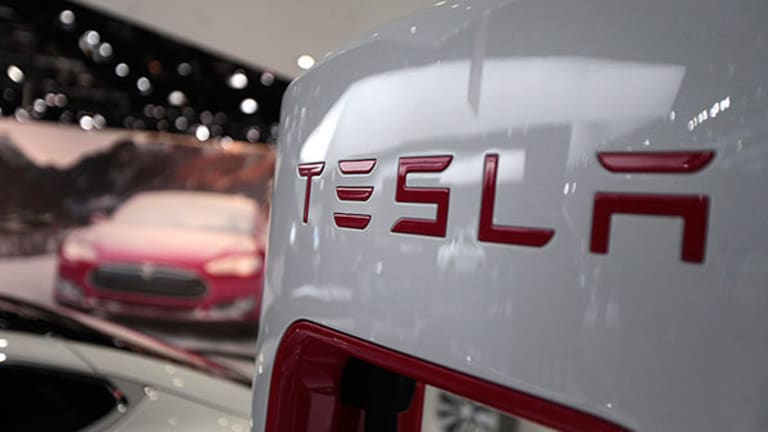 Why Tesla Went After the Christie Administration
Tesla Motors' presence in New Jersey will be severely hampered, as New Jersey Governor Chris Christie's administration goes back on its word in a fight against the New Jersey Coalition of Automotive Retailers (NJ CAR).
Updated from 12:40 p.m. to reflect New Jersey has passed the motion to block direct sales in the fourth paragraph.

NEW YORK (TheStreet) -- Tesla Motors' (TSLA) - Get Tesla Inc Report presence in New Jersey could be severely hampered as New Jersey Governor Chris Christie's administration went back on its word in a fight against the New Jersey Coalition of Automotive Retailers (NJ CAR).
In a blog post, Tesla has claimed that it's been working with the Christie administration to defend its presence in the Garden State, as NJ CAR has attacked Tesla's business model. Tesla does not have dealerships which sell cars from auto manufacturers such as General Motors (GM) - Get General Motors Company Report and Ford (F) - Get Ford Motor Company Report, but instead has stores placed in malls where consumers can test drive the Model S. Following that, customers can order the car to their exact specifications on Tesla's Web site. Tesla claims that "Governor Christie's administration has gone back on its word to delay a proposed anti-Tesla regulation so that the matter could be handled through a fair process in the Legislature."

WATCH: Tesla Defends Its Business Model Against NJ Gov. Chris Christie
With the new rule now adopted, it will hurt the company's sales operations in New Jersey, "and jeopardize our existing retail licenses in the state." Tesla currently has two stores in New Jersey, one in Paramus and the other in Short Hills. The company also has a service station in Springfield Township. Tesla claims that New Jersey Motor Vehicle Corp. (NJMVC) and the Christie Administration are thwarting the Legislature to go above and beyond their call of duty to implement the law (Proposal PRN 2013-138) to protect the monopoly car dealerships have on the state.
Update: Shortly prior to 3 P.M. on Tuesday, Bloomberg sent out an alert that the New Jersey commission had passed the motion to block direct car sales, with Tesla saying the move will shut its stores.
Emails to the Governor's office were not returned.
Read: Undercover Ambush at McDonald's Reveals 3 Glaring Problems
Palo Alto, Calif.-based Tesla noted it spoke with Christie's departing Chief Counsel Charlie McKenna and incoming Chief Counsel Chris Porrino as recently as January to discuss the matter in a public forum. Instead, the Administration has expedited the implementation of a new law which Tesla claims it intends to approve later today, in the state's capital, Trenton, at 2:00 PM EDT.
In a separate release, Tesla had asked advocates to join it at the New Jersey Motor Vehicle Commission Meeting in Trenton, at 225 East State Street. It looks like those efforts were for naught.
Not only has Tesla had to fight to expand its presence in New Jersey, but the NJMVC has delayed the annual renewal process of Tesla's existing dealer licenses, with the NJMVC providing no explanation for the delay. "The delays have handicapped Tesla in New Jersey, where, without clear licensing procedures and fair enforcement of existing law, we have been forced to delay our growth plans," Tesla said in the blog post. "This is an issue that affects not just Tesla customers, but also New Jersey citizens at large, because Tesla would be unable to create new jobs or participate in New Jersey's economic revival."
On a conference call discussing the potential ban, Tesla said it's sold "several hundred cars" in New Jersey, but declined to discuss the exact amount. As of right now, only Texas and Arizon ban direct sales of automobiles, but New Jersey could be the third. On the all, Tesla's Vice President Corporate and Business Development Diarmuid O'Connel said the decision would be "disappointing, if not downright outrageous." If the issue passes, Tesla would have to shut down its operations in New Jersey, O'Connel noted, calling it a " pretty black-and-white issue."
Read: Two Things Tim Cook Could Do That Would Kill Apple
The delayed expansion comes as the Model S continues to receive rave reviews from both consumers and industry analysts alike. Tesla recently won the honor of being Consumer Reports top car in 2014, after having been recommended by the publication in 2013 as well.
This comes following Tesla's fourth-quarter in which the company earned 33 cents a share on $761 million in revenue. Tesla delivered 6,892 Model S units, and had a 25.2% non-GAAP gross margin for the quarter. Analysts surveyed by Thomson Reuters were expecting Tesla to earn 21 cents a share on a non-GAAP basis, generating $677.36 million in revenue.
For fiscal 2014, Tesla expects to deliver 35,000 Model S units in 2014, up 55% year over year, as production "is expected to increase from 600 cars/week presently to about 1,000 cars/week by end of the year as we expand our factory capacity and address supplier bottlenecks." For the first quarter, Tesla expects to produce about 7,400 Model S units, up from 6,587 in the fourth quarter of 2013. With supplies still constrained because of the number of cars in transit to Europe and Asia, Tesla will deliver approximately 6,400 vehicles in the first quarter.
--Written by Chris Ciaccia in New York
>Contact by Email.