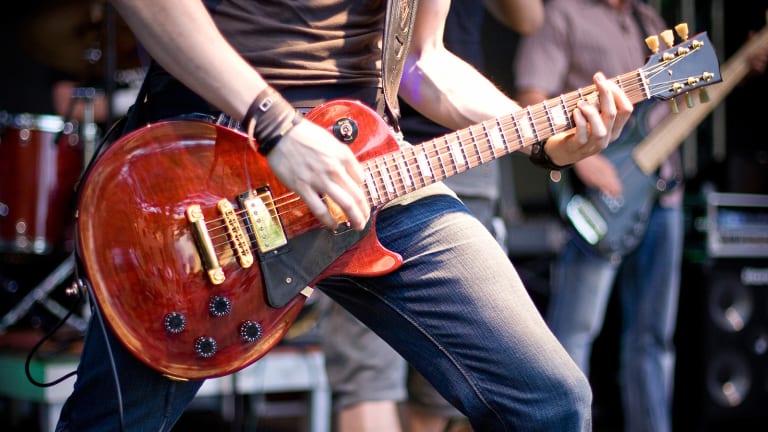 Why Songwriters Continue to Oppose Pandora's Royalty Rates
Songwriters continue to proclaim they're not paid enough; Pandora says rates are reasonable and they want to be the musician's partner.
NEW YORK (TheStreet) -- The English rock band Pink Floyd launched a tirade two years ago against Pandora (P) , charging that nearly 90% of musicians who receive a check for digital air-play get less than $5,000 a year. Hardly enough to live on, the band said in an open letter.
In a general defense of Pandora, rival music-streaming service Spotify recently shot back that management teams for big artists possibly step in and snatch up streaming royalties it says range from a comparatively higher $5 million to $10 million a year.
The back-and-forth, filled with passion and finger-pointing, seems endless. Songwriters continue to proclaim they're not paid enough; Pandora says rates are reasonable and they want to be the musician's partner.
For Pandora, the issue of paying musicians to stream their music isn't some marginal issue. Music royalty fees comprise 50% of Pandora's costs, one major reason the Oakland, Calif.-based company, the Internet's largest radio service, remains unprofitable, losing $25 million, or 12 cents a share, in the quarter ended March 31.
Despite Pandora's financial struggles, musicians pushed for and won a major decision this month after insisting that allowing rates to remain at current levels would set a devastating precedent. 
Earlier this month, Judge Louis L. Stanton of the U.S. District Court in Manhattan ruled in favor of the licensing agency BMI, establishing the rate Pandora must pay BMI at 2.5% of revenue, up from a previous 1.75%. That decision followed a ruling by the 2nd U.S. Circuit Court of Appeals in New York in Pandora's favor that kept Pandora's rate to rival licensing agency ASCAP at 1.85% of revenue.
More litigation will follow.
"Streaming is the future, and we want these services to be successful," Grammy-winning musician Paul Williams, president of the American Society of Composers, Authors and Publishers, or ASCAP, a performance rights organization, said in a statement. "For Pandora to claim the rate they pay songwriters is the difference between being profitable and being in the red is absurd. They'd rather make songwriters a scapegoat than try to fix the system and adjust their business model."
Profitable or not, Pandora is growing. Active listeners climbed to 79.2 million in the first quarter. Fast on its heals, Swedish-owned Spotify said it had 60 million users worldwide at the start of 2015. 
As streaming has become more popular, CD sales have decreased, and with that the importance of music royalty rates. Eager to get in on the streaming Apple's (AAPL) - Get ReportBeats is expected to launch its own service joining the performer Jay-Z's Tidal, which began in March with a start-studded New York event that featured Kanye West and Madonna.
Pandora says it pays better than any of its rival streaming services.
"Pandora is the highest-paying form of radio, and we are proud those payments have directly contributed to ASCAP's and BMI's record revenue," Pandora spokesman Dave Grimaldi said in an email. "Our payments to songwriters are the fastest-growing segment of Pandora's royalty payments, increasing by 49% in 2014, and we expect those payments will be far greater in 2015 as we continue to rapidly monetize our business."
Yet, Williams counters that it takes an average of one million Pandora streams for a songwriter and publisher to earn $90 in royalties. 
"Pandora is at war with songwriters," adds Charlotte Sellmyer, a spokeswoman for the National Music Publishers' Association (NMPA), the trade group representing all American music publishers and their songwriting partners. "They've stooped pretty low here, with 4%. No one would consider that fair."
It's possible that the changing dynamics of the music industry are making it tough on everyone. Streaming services struggle to make money because rates are so high, and artists and songwriters struggle to make money because streaming income isn't enough to offset lowered income from sales, said Mark Mulligan, cofounder of MIDiA Research, a United Kingdom-based research and consulting company focused on media and technology worldwide.
In fact, he said, royalty costs are still smaller for Pandora than for Spotify and on-demand streaming service Rhapsody, which theoretically puts Pandora in a better position to become more profitable. Meanwhile, streaming and music subscriptions are expected to grow 238% to reach $8 billion by 2019, he said.
"Streaming services need to have much bigger user bases in order to generate enough revenue to make creators feel the benefit," Mulligan said. "But to get there they need access to bigger marketing resources which they cannot currently afford."
BMI and ASCAP have also asked the U.S. Justice Department for amendments to its longtime regulatory consent decree. Changes to the decree would potentially allow the performing rights organizations and music publishers to charge higher rates for web use of songs.
"We would hope, then, that there would be a free market for songwriters to negotiate the prices of their songs with companies," said Sellmyer.
For now, those hawking their music independently may feel caught between a rock and a hard place, choosing to stream songs for little compensation but more digital exposure. Not everyone with songs on Pandora and other streaming services feel as empowered as powerhouse hit-maker Taylor Swift, who pulled all of her songs from Spotify last year in protest over pay.
"It's hard to take sides in this Pandora versus ASCAP and BMI debate," said eMarketer senior analyst Paul Verna. "Pandora has a very challenging business model they don't have a lot of control over. If you're an artist without a huge audience, you need these services, but they're just not doing the trick."