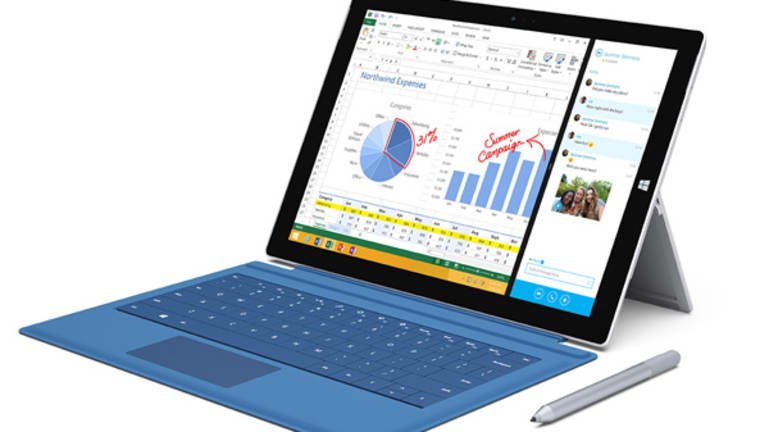 Why Satya Nadella's Vision Is More Important Than Microsoft's Earnings
Microsoft investors will be looking less to the company's earnings and more towards how CEO Satya Nadella plans to keep Microsoft relevant in the future.
Microsoft investors will be looking less to the company's earnings and more towards how CEO Satya Nadella plans to keep Microsoft relevant in the future.
NEW YORK (TheStreet) –– Microsoft (MSFT) - Get Report investors will be looking less to the company's earnings and more toward how CEO Satya Nadella plans to keep Microsoft relevant in the future, as its business comes under attack from almost everyone in Silicon Valley.
Under Nadella, Microsoft has made it a point to focus on the enterprise, enabling businesses and employees to have better experiences with Microsoft's cloud and Enterprise Mobility Suite, which may be affected by the recent Apple (AAPL) - Get Report-IBM (IBM) - Get Report deal.
"Beyond back-end cloud infrastructure, our cloud will also enable richer employee experiences," Nadella wrote in a recent email to all Microsoft employees. "For example, with our new Enterprise Mobility Suite, we now enable IT organizations to manage and secure the Windows, iOS and Android devices that their employees use, while keeping their companies secure."
How Apple's Big Deal With IBM Hurts BlackBerry and Microsoft
Nintendo Should Scrap the Wii U
Here's What It Looks Like Inside Tesla's Massive Factory
Microsoft Announces Massive Layoff, Cutting 18,000 Workers
In Nadella's short time at Microsoft, he's made a few announcements that have boosted Microsoft's profile not only with IT departments, but the media and investors as well. In late March, Nadella finally announced that Microsoft Office would be available for the iPad, firmly putting Microsoft's enterprise office suite into the hands of millions of mobile devices. Following the announcement, Nomura Equity Research analyst Rick Sherlund noted that the move was less about hurting Microsoft's legacy businesses, and more about Microsoft "moving to other platforms where users can benefit from access to Microsoft products."
There was also the Surface Pro 3 announcement in mid-May, as Microsoft positioned the device as a replacement for laptops and tablets, with Nadella noting that Surface was built "to create new categories and spark new demand for our entire ecosystem." 
Microsoft is no longer a device and services company (Surface not withstanding, apparently), according to Nadella. "Our passion is to enable people to thrive in this mobile-first and cloud-first world," the CEO wrote in a July 10 email to employees. Investors have been taking Nadella's message in stride, pushing shares up 20.6% since the start of the year and 23.7% since Nadella took over for Steve Ballmer on Feb. 4.
Analysts will likely press Nadella on his vision for Microsoft, following the CEO's email to Microsoft employees and his subsequent email detailing a massive layoff, as Microsoft is set to cut 18,000 employees.
Analysts surveyed by Thomson Reuters are expecting Microsoft to earn 60 cents a share on $23 billion in sales.
Going into the report, analysts were bullish, and interested in hearing what Nadella has in store for the future of Microsoft. Here's what a few of them had to say.
Deutsche Bank analyst Karl Keirstead (Hold, $44 PT)
"Microsoft (MSFT) shares are up 9% (S&P 500 approximately flat) over the last five days, due largely to a) better-than-expected PC data b) Street enthusiasm about the margin outlook given the 18,000 headcount cuts and c) a sentiment shift to "cheap" mega-cap tech. In retrospect, we were too early in moving our rating to a HOLD back in April 2014, on fears that many of the top-line drivers were almost played out and that growth would decelerate in 2H14. However, at 16x our CY14 adjusted EPS estimate, we conclude that the stock is fairly priced and maintain our neutral call."
Morgan Stanley analyst Keith Weiss (Equal Weight, No PT)
"Better PCs, solid momentum around Surface 3 (off a low base) and a stable enterprise business points to solid FQ4 for core Microsoft (ex-Nokia). However, focus likely centers around: 1) CEO Satya Nadella's forward strategy for Microsoft, 2) organizational changes (including potential headcount reductions) alluded to in Nadella's recent letter to employees (see "Executing To (Largely the Same) Strategy", 07/10/2014) and 3) the pace of investment (and dilutive impacts) of the Nokia acquisition. Satya will likely provide more details around his vision for Microsoft in FY15 and beyond, which will center around delivering productivity and platform services in a mobile/cloud world - similar to the broad strategic aims of the past few years, in our view. However, as alluded to in his letter, Satya likely outlines significant cultural and organizational changes intended to improve Microsoft's execution to this strategy. We believe additional investment is needed to change the trajectory of Lumia smartphone units. Said another way, without additional investments unit volumes likely continue to trend down -- which makes achieving break-even for Nokia a difficult equation. However, we do see the potential for expense rationalization in the core Microsoft businesses through better focus, improved execution and potentially headcount reductions. With PCs stabilizing to improving, cloud assets starting to ramp, and the potential for a restructuring that could offset Nokia dilution, we lean more positively into FQ4 results."
Goldman Sachs analyst Heather Bellini (Sell, $36 PT)
"We believe the Street will focus on: i) Microsoft's results excluding Nokia, ii) an updated view of Nokia's FY15/FY16 EPS impact, as well as iii) greater detail on the company's overall long-term strategy. Yesterday, CEO Satya Nadella sent a strongly-worded memo to all employees which we believe signals an upcoming cultural shift, specifying that more details would come on the earnings call. In the memo's closing, Nadella states: Tired traditions will be questioned. Our priorities will be adjusted. New skills will be built. New ideas will be heard. New hires will be made. In our opinion, this is exactly the type of reimagining that must occur for Microsoft to thrive in the mobile-first world. The key question in the near term, in our view, is whether or not this implies major changes to existing business lines in order to more effectively compete down the road. As such, we continue to think out year consensus EPS forecasts remain too high as the company steers itself along a new path."
BGC Partners analyst Colin Gillis (Hold, $45 PT)
"Microsoft announces June quarter and fiscal year-end results on Tuesday July 22 post market. While the June quarter is historically strong for the company, we mention this is the first quarter that includes the impact of the Nokia acquisition, which may prove to a negative drag on expenses as Nokia adds profitless revenue in our opinion. We also may see a possible negative drag in the June quarter if the strong March quarter results pulled business forward. We are generally positive on the direction and efforts from the new CEO, but mention that the hard work of reorganizing the company and building traction in the mobile landscape lies ahead."
Wells Fargo analyst Jason Maynard (Market Weight, $46 to $50 PT)
"For FQ4, we project total revenue of $22.2B (+12% growth yr/yr), and EPS of $0.60. The company also announced a massive 18K person reduction in force (RIF). We expect the primary focus on the July 23 call will be the restructuring. We think that the Nokia restructuring, combined with the core Microsoft headcount reductions, could completely offset our estimated $0.25 EPS dilution from Nokia. For FY15, we assume that the streamlining of the business should offset any potential dilution from Nokia, and our EPS estimate for FY15 remains unchanged. We now project $85.7B and EPS of $2.68 for FY14 and $99.5B/$2.89 for FY15 from $84.2B/$2.70 and $89.5B/$2.89 previously. We like the proactive stance Satya Nadella is taking with Nokia. We think the decision to move away from the "devices and services" strategy is the right move. We argued back in September that Microsoft should embrace a "software anywhere" strategy, and we think it is now moving toward that model accordingly. We are raising our valuation range to $46-50, up from $42-44 previously as we roll our 10x EV/CFO multiple forward to our FY16 estimate."
--Written by Chris Ciaccia in New York
>Contact by Email.