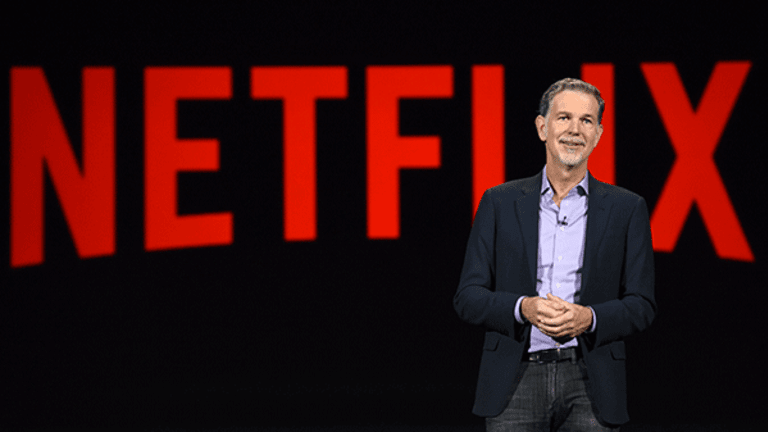 Netflix Ramps Up Global Strategy, Signing Deals With Telecoms and Carriers
Netflix just inked a deal that will allows its content to be bundled with broadband for the first time in New Zealand.
Netflix (NFLX) - Get Netflix, Inc. (NFLX) Report  got a one-up on Vodafone (VOD) - Get Vodafone Group Plc Sponsored ADR Report  Monday after Spark, a New Zealand-based telecommunications company, announced an exclusive partnership with Netflix that gives Spark broadband customers a free one-year Netflix subscription if they sign up for a 24-month, unlimited data Spark broadband plan. This is the first time Netflix has been bundled with broadband in that country.
The deal provides further evidence of Netflix's global ambitions and business strategy as it continues to expand worldwide.
"Netflix will make many similar partnerships in the future" with cable and cellphone operators across the globe, said Roger Entner, founder of Recon Analytics. "The world is much bigger than the United States so it has plenty of room to grow internationally, making it a positive story for the future."  
The announcement comes a week after New Zealand regulators rejected Sky Television's purchase of Vodafone's New Zealand unit due to anti-competitive concerns.
The timing of Netflix's partnership is "absolutely" tied to the failed Vodafone deal, with Netflix wanting to have something in the pipes if the deal went through, Entner said. Spark had strongly opposed the deal, arguing that it would stifle competition in the premium sport content area. 
Netflix has been working to gain customers overseas as the domestic market becomes more and more saturated. In the fourth quarter, Netflix reported an increase of 5.12 million international subscribers for its streaming service that's currently offered in close to 200 countries. Analysts were expecting Netflix to add 3.7 million international subscribers. 
For the first quarter of fiscal 2017, Netflix is expecting to add 1.5 million new U.S. subscribers and 3.7 million new international subscribers. The company added in its earnings statement that its content is being "well-received all over the world." 
It's easier for Netflix to make international subscriber gains if it partners with companies that already have established relationships with customers, Entner pointed out. Networking and content "go naturally hand in hand" because the "big pipes" that are networks provide an easy way to watch content from companies like Netflix.
Spark's chief executive echoed this view in the announcement, saying Netflix "is also consistent with our shift towards becoming a digital services provider, rather than just a traditional telco," Reuters reported. Although Spark has its own streaming option called Lightbox, the company believes customers will want to have access to both services, said Jason Paris, CEO for Spark Home Mobile and Business, according to netguide.co.nz. 
These types of partnerships are attractive to both Netflix and distributors because they're "marriages of convenience," or win-win types of situations, Entner explained. Both Netflix and Spark should gain subscribers from the deal that was announced on Monday.
Netflix CEO Reed Hastings offered similar comments during the earnings call, saying "All partnership deals, we really believe in; that is why we are doing more of them. Those partnership deals are good for the customers, good for us and good for the partner." 
In late 2014, Netflix signed a deal with the largest French telecom group Orange, giving the streaming service instant access to its 10 million customers. The deal allows Orange customers a free one-month Netflix trial, as well as the choice to pay for a Netflix subscription through their original contract with Orange. 
During the six months of price negotiations before the deal closed, Orange's chief executive Stéphane Richard said he worried about a "Trojan horse" situation in which Netflix used Orange to gain subscribers and then left them in the dust. 
But this fear of being betrayed can go both ways, Entner pointed out. There's nothing stopping Orange from partnering with other Netflix competition. "It's an illusion that these are exclusive marriages," he explained.
A Netflix executive declined to comment about the company's new partnership with Spark.