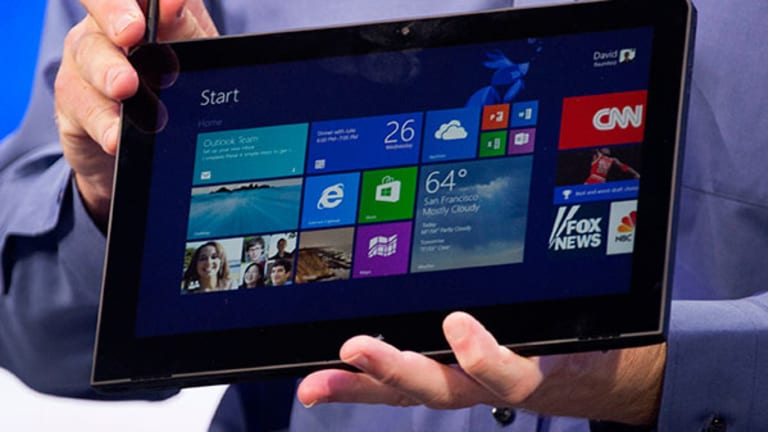 Why Microsoft Really Is Different This Time
Now that Microsoft is firmly under the jurisdiction of new CEO Satya Nadella, there's a bit of optimism, both from the press, and investors as well. It seems as it there's a growing consensus on Wall Street that Nadella is going to change the Redmond, WA.-based Microsoft, and that it won't be business as usual for Mr. Softie.
Updated from 1:26 p.m. to reflect that Nokia made the Android phone, not Microsoft. TheStreet regrets this error.

NEW YORK (TheStreet) -- Now that Microsoft (MSFT) - Get Microsoft Corporation (MSFT) Report is firmly under the jurisdiction of new CEO Satya Nadella, there's a bit of optimism, both from the press and investors. It seems as if there's a growing consensus on Wall Street that Nadella is going to change the Redmond, Wash.-based Microsoft, and that it won't be business as usual for Mr. Softie.
UBS analyst Brent Thill raised his price target on Microsoft to $46 from $43, keeping his "buy" rating, noting that under Nadella, shareholders have more reasons to be optimistic than they had in the past. "After visiting MSFT and speaking with insiders as well as outside close observers we are confident Nadella is the right person to lead MSFT through its existential battle with Amazon and Google over the next decade for the enterprise cloud crown," Thill wrote in the note. "His product management experience was in markets where MSFT did not dominate and yet he excelled and navigated a promotion track to CEO."
Nadella took over from former CEO Steve Ballmer earlier this year, after serving as executive vice president of the company's Cloud and Enterprise group. In his first email to Microsoft employees, Nadella made sure that mobile and cloud were focal points, with those buzz words appearing five times in the email.
Microsoft, with its strength in enterprise for cloud computing products, including Office (via Office365), Onedrive, Sharepoint, and OneNote, has long been thought a sleeping giant of cloud computing. This was part of the reason why hedge fund ValueAct Capital took such a large stake in the company in mid-2013, and signed a cooperation agreement with the software. Now it appears that other investors are finally starting to listen.
Shares of Microsoft were lower in Tuesday trading, falling 0.75% to $40.19.
Though it's still early with Nadella as Microsoft's new CEO, having taken over in early February, the signs are encouraging, Thill notes. There's the "willingness to embrace competitors to champion MSFT's cloud." There's also the embracing of Hadoop, which allows companies to run analytics that are deep and extensive, despite Hadoop offering competitive products to Microsoft, which shows that Nadella and his team are "doubling down on data analytics."
Other items highlighting that Nadella's leadership is different to that of Ballmer, who took the helm from co-founder Bill Gates in 2000, include a reimagining of its mobile strategy, using alternative licensing and "ancillary monetization engines." Nokia (NOK) - Get Nokia Oyj Sponsored ADR Report recently unveiled a Lumia phone which runs on Google's (GOOG) - Get Alphabet Inc. Class C Report Android operating system, as opposed to using Windows Phone, Microsoft's mobile operating system. There's also been an emphasis on software and the cloud, vs. the company's hardware strategy, even though it appears the Microsoft Surface is starting to take off, having generated $893 million in fiscal second-quarter revenue, up more than 100% sequentially.
(A previous version of this article said Microsoft unveiled the Lumia phone, when in fact, it was Nokia.)
Yet perhaps the biggest reason for the optimism surrounding Microsoft is not due to just Nadella, but Apple (AAPL) - Get Apple Inc. (AAPL) Report.
On Thursday, Nadella is expected to unveil Office on the iPad, as Microsoft appears to be taking the matter of cross-licensing its software on other platforms. There's already a version of Office available for the iPhone, but incorporating Office, via a Office365 subscription on a competing tablet, is a completely different strategy, since tablets are larger screens, and presumably, more content creation can be done on them.  Thill notes that because of the optimism surrounding Office on the iPad, it suggests that all Microsoft apps, could go cross-platform, sooner than expected.
Bernstein analyst Mark Moerdler, who rates Microsoft "outperform" with a $47 price target, agrees with Thill, that Microsoft is changing rapidly under Nadella, but that there's less emphasis on Office to the iPad, and more on the business as a whole moving to the cloud. "We estimate that the current addressable market, within its existing clients, for Microsoft's commercial Cloud and subscription plus consumer subscription revenue could be $65.6B in among Microsoft's existing client base," Moerdler wrote in the note. "We estimate that Microsoft could add between $11B and $21.5B in incremental revenue and $0.31 to $0.78 in incremental EPS by the end of FY17." He notes that by the end of fiscal 2017, Microsoft could have commercial cloud and subscription revenue of $23.7 billion.
Doing business sooner-than-expected has never been Microsoft's way. Yet, in an increasingly fast-paced technology world, it seems as if Nadella really is making his mark on the software giant, less than 100 days in. Perhaps it really is different this time.
--Written by Chris Ciaccia in New York
>Contact by Email.