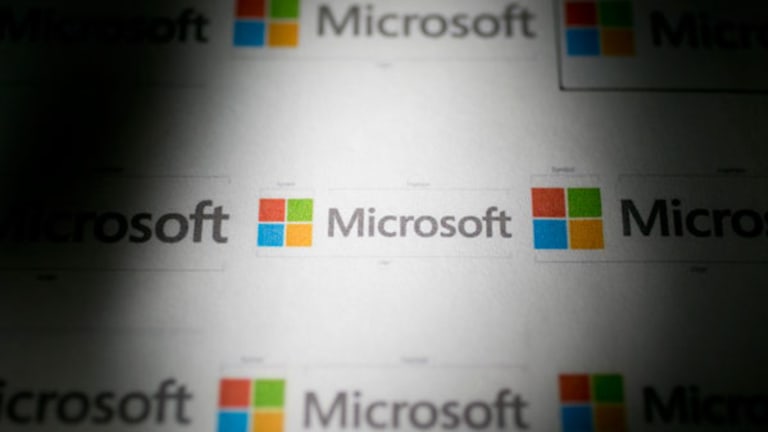 Why Marc Benioff Thinks Microsoft Is Making the Right Moves
Salesforce.com's Marc Benioff, once a vocal critic of Microsoft, is now becoming a partner of the software giant as it seeks to bolster it cloud and mobile capabilities under recently appointed CEO Satya Nadella.
NEW YORK (TheStreet) - Salesforce.com's (CRM) Marc Benioff, once a vocal critic of Microsoft (MSFT) , is now becoming a partner of the software giant as it seeks to bolster it cloud and mobile capabilities under new CEO Satya Nadella.
Read More: Microsoft's Chief Believabiliy Officer
On Thursday evening, Salesforce.com and Microsoft unveiled a partnership to incorporate Salesforce.com's applications and cloud platform with Microsoft's Office and Windows products, seamlessly integrating many of both companies' best products for their respective customers.
The deal will give Salesforce users access to Microsoft products such as Office Mobile, Office for the iPad, Office 365, SharePoint and Outlook. Salesforce is offering to connect its data to Excel and Power BI with Office 365.
While financial aspects of the partnership weren't disclosed, the move is yet another sign that Microsoft CEO Nadella is following through on what he calls a mobile and cloud first strategy for the software giant.
Partnerships such as the one signed with Salesforce and a deal with Apple (AAPL) to put Office 365 applications on the iPad are opening Microsoft's software to the various ways that customers now access it, whether it's through a mobile device or a set of CRM tools.
Salesforce apps will be more deeply integrated with Office and Windows in the partnership, which will also expand the use of SQL Server on Salesforce's platform and create an in-road for Microsoft's Azure cloud platform.
In reaching out to competitors in the tech sector to bolster Microsoft's services, Nadella appears willing to pull down the drawbridges to the company's empire so long as he believes it will allow new users will enter and will also keep existing customers from leaving. That appears to be playing a winning hand given that many investors believe Microsoft's Office 365 is under-appreciated and an industry-leading mobile offering.
"This announcement is about taking Microsoft's core strategy, Office 365 and Windows, and integrating it with salesforce's core strategy, our CRM apps, and making a combined offering that offers more value to our users," Nadella said on a conference call with analysts on Thursday evening.
Benioff, a visionary in the cloud computing world who has successfully taken on businesses as large as IBM (IBM) , Oracle (ORCL) , SAP (SAP) and Hewlett-Packard (HPQ) , said on Thursday that Nadella and Microsoft are focusing on the right things.
"[W]e think that Microsoft is doing a lot of the right things to encourage its customers to move to the cloud, to move to the mobile world with some of the advancements in Windows 8, to move to new social computing and connect in a whole new way," Benioff said. "I couldn't be happier," he added
Part of the partnership was made inevitable by Salesforce's acquisition of ExactTarget, Benioff said on Thursday.
About his decision to partner with Microsoft, once considered a Goliath-type competitor to Salesforce, Benioff said: "[W]hen we acquired ExactTarget, we acquired a stronger relationship with Microsoft... and when Satya became the CEO of Microsoft, that gave us the opportunity to have an even stronger relationship with Microsoft, and that changed."
Analysts React
"It is another move in the right direction for Microsoft," Daniel Ives, an enterprise software analyst with FBR & Co. said of Microsoft's partnership in a Friday telephone interview.
"They continue to double-down on the cloud strategy," Ives added, while noting that the Salesforce deal expands Microsoft's total addressable market in the cloud and could be indicative of future partnerships between the two companies.
"Overall, this partnership should help both companies to reinforce their respective positions by providing a more convenient and efficient experience across the offerings of both players," Robert Breza, a Sterne Agee analyst said in a note to clients. Breza also noted the partnership could impact Oracle and SAP, two software giants that have spent billions of dollars to bolster their cloud offerings through acquisitions.
Perhaps Microsoft users and investors will look favorably upon the company's to partner with the winning players in the cloud market instead of running the risk of being stranded years down the line.
Read More: 3 Big Investing Trends from KPCB
Read More: Microsoft's Chief Believabiliy Officer
-- Written by Antoine Gara in New York.