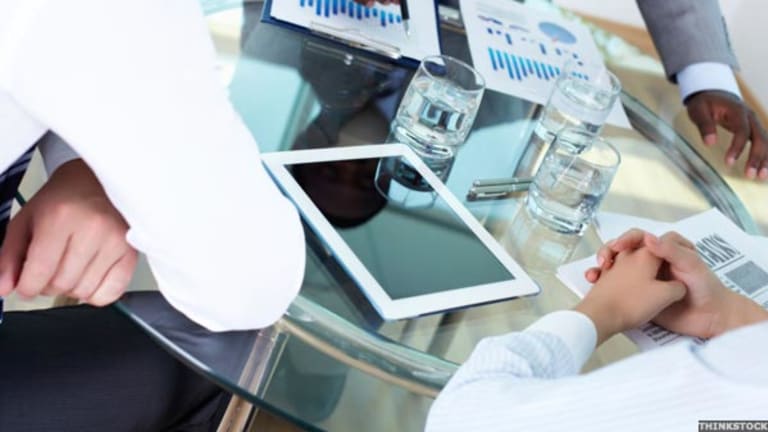 Why Many A-Listers Still Choose BlackBerry
The beautiful, famous people in Hollywood rely on the BlackBerry for security and privacy.
NEW YORK (
) -- Amid the BlackBerry's shrinking market share in the U.S., it appears that one admittedly small constituency is holding firm, and it's not the big banks, the CIA or some other arm of the federal government.
It's the beautiful, famous people -- Hollywood's A-listers.
Granted, BlackBerry's market share with those people isn't going up. Having been close to 100%, how could it? But the decline appears to be less than in the U.S. population at large.
This may seem counter-intuitive, but there is actually a very specific explanation for it. It's all about privacy and security.
Two weeks ago,
Apple
(AAPL) - Get Free Report
announced iMessage, which appears to be positioned to compete against BlackBerry's Messenger product. The main purpose here is to wean people off the notoriously expensive SMS ("text message") plans, in which users pay an exorbitant amount per bit sent and received, compared to email and Web surfing.
There is no doubt that Apple's iMessage product will eat into BlackBerry's market share, because incrementally it narrows the gap in terms of their respective messaging capabilities. However, Apple's iMessage product is unlikely -- by itself -- to cause the A-listers to switch.
Apple's iMessage product is based on email and phone numbers. Basically, if you have someone's email or phone number, you can now cut cost and enhance the messaging features.
Here's the problem: A-listers don't want to give out their email or phone numbers. That's why they use BlackBerry Messenger (BBM), because BBM can be set up using only the BlackBerry-specific PIN number. Anyone who wants to enter your BBM system must first be approved, and you can kick out anyone you want, as well as block multiple requests. At no point do you need to let anyone know your phone number or email address.
In today's social networking-centric world, one significant source of disturbance comes from various classes of stalkers, paparazzi and clingers-on. A-listers need every weapon they can find to fend off the undesirable. One significant shield in terms of protecting against these kinds of threatening leeches is to avoid having to give out phone numbers and email addresses. As such,
Research In Motion's
(RIMM)
BlackBerry is a rare refuge of privacy for the A-listers.
Granted, one can easily envision some new type of app on the iPhone,
Google's
(GOOG) - Get Free Report
Android or
Microsoft's
(MSFT) - Get Free Report
Windows Mobile that will mimic BBM more closely, or utilize some entirely new technique, to achieve the goal met by today's BBM. Perhaps one or more such apps already exist, and simply haven't obtained meaningful publicity yet.
So far, however, the awareness for the privacy-concerned A-listers remains with RIM's BBM. Given how small a constituency this is, it is hardly going to make a numeric dent in and of itself as RIM continues to lose market share in the U.S. That said, as Vladmir Lenin stated in 1922, it never hurts to "capture the commanding heights"
of the economy.
There is one more question about Apple's iMessage product that I have found to remain somewhat unanswered: How do you know
before
you send a message to someone that it will do so over iMessage instead of SMS? I know that conversations are color-coded once you get started, letting you know whether you're on iMessage or SMS, but what about if you want to rid yourself of SMS altogether and just stay with iMessage? How do you prevent iMessage from not causing an expensive SMS to be sent or received when you really want to be using a free iMessage? This is particularly important if you're abroad or exchanging messages with people who are using foreign phone numbers, because those kinds of SMS are even more dramatically expensive. I imagine this will clarify and improve over time, and I would like to hear from people with theories on this.
RIM has huge problems in the U.S. in particular -- although growth remains strong internationally with 67% growth in the last quarter -- and iMessage won't help RIM going forward. That said, iMessage doesn't fit everyone's bill and has some unanswered questions.
At the time of publication, Wahlman was long AAPL, GOOG and RIMM
.
This commentary comes from an independent investor or market observer as part of TheStreet guest contributor program. The views expressed are those of the author and do not necessarily represent the views of TheStreet or its management.
Anton Wahlman was a sell-side equity research analyst covering the communications technology industries from 1996 to 2008: UBS 1996-2002, Needham & Company 2002-2006, and ThinkEquity 2006-2008.