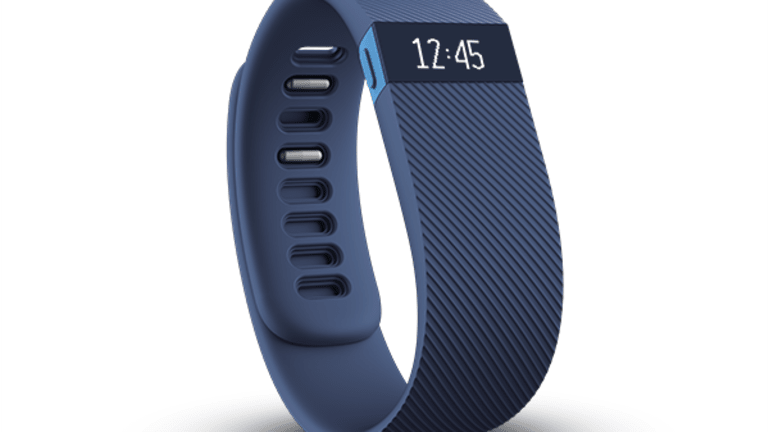 Why Jawbone and Fitbit Are Right to Worry About the Apple Watch
And while fitness wristband shipments will take a hit next year they should come back strong in 2016.
NEW YORK (TheStreet) -- At the moment, fitness bands are the really hot items in wearables category, but that may change in 2016, as analysts at Gartner believe that by 2016 smartwatches will comprise about 40% of consumer devices worn on the wrist led by two things - Apple (AAPL) - Get Apple Inc. (AAPL) Report and China.
The analysts say nine out of the top 10 smartphone vendors have entered the wearables market to date or are about to ship a first product, up from two last year, Jawbone and Fitbit. "Apple has finally unveiled its Apple Watch, which we expect to trigger more consumer interest once it starts shipping in 2015," said Gartner research director Angela McIntyre. "Apple introduced three smartwatch models that will sell at a wide price range, with the lowest starting at $349. As with the iPhone, Apple's high-price strategy for the Watch will limit its market share; yet, with its attention to design and the user interface, we believe this product will attract many users."
As for fitness wearables, Gartner says global shipments will dip slightly from 70 million to 68 million units next year (an effect of the Apple Watch release) but are expected to rebound to a record 91 million units in 2016. New, low-cost "smart wristbands" (merging features from fitness devices and smartphones) will account for 24 million of those 2016 devices. Gartner thinks a growing number of Chinese vendors launching fitness wrist bands will put pressure on established players such as the aforementioned Fitbit and Jawbone. Although these vendors currently have a primarily local market focus analysts believe they will eventually turn to international markets as well.
Fitbit recently unveiled a line of new fitbands ahead of the Apple Watch launch, the Fitbit Charge, Fitbit Charge HR and the Fitbit Surge. Apple is expected to release it's line of smartwatches in the first quarter of 2015.
Apple shares were gaining nearly 0.50% to $114.52 in mid-morning trading in New York.
But, it's not just Apple in the mix. According to Gartner research director Annette Zimmerman, products from other manufacturers are improving, putting pressure on fitness trackers as well. "Sony (SNE) - Get SONY GROUP CORPORATION SPONSORED ADR Report Smartwatch products and the Samsung (SSNLF) Galaxy Gear were early products that received much attention in the press but less enthusiasm from consumers due to their unclear value proposition and flawed design," Zimmerman said. "In 2014 we are seeing a few more positive developments in terms of design and user experience," Zimmerman adds "and we therefore expect consumers to show more interest in these products in the second half of the year."
Gartner believes the latest round of smartwatches shows improvement in design adding features such as voice search, turn-by-turn navigation, contextual reminders and taking notes via voice input. All are part of the switch to Google (GOOG) - Get Alphabet Inc. Class C ReportAndroid Wear operating system for wearables which Gartner calls "a Google Now experience on a smaller screen.
Aside from the Apple Watch, the other thrust of the wearables segment growth will be due to increased competition from manufacturers in China. In addition to the established vendors, Gartner research shows that original design manufacturers and Chinese semiconductor vendors are ready to take on the next generation of consumer.
Researchers expect Chinese vendors to leverage the "one thing that has been to their constant advantage in the smartphone and tablet market: the cost advantage of the Chinese supply chain ecosystem." Gartner believes these vendors might be able to bring Android Wear-based designs to price points below $150 "driving mass-market adoption in mature markets." Gartner numbers show that by 2015, retail prices for some Android-based smartwatches could drop to as low as $30.
The research shows there is still a lot of room for growth and the adoption of wearables over the next few years. One sticking point possibly hampering their global acceptance could battery life. In recent tests, Gartner determined that some models of smartwatches and fitness bands actually reduced battery life of the connected smartphone. They found that depending on the products phone usage time could be reduced by a total of two to eight hours. Gartner believes getting a half-day's battery life from a fully charged smartphone is "likely to put off users."
-- Written by Gary Krakow in New York.
To submit a news tip, send an email to
.
Gary Krakow is TheStreet's senior technology correspondent.