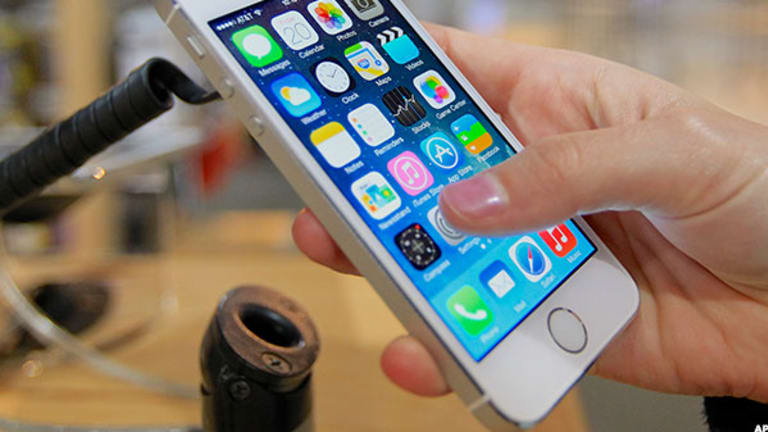 Why Japan Loves the iPhone 5s
Apple iPhone sales "performed strongly" in the first quarter of the year, with sales bouncing back in Europe, Japan and Australia as sales of smartphones with the Microsoft Windows OS stumbled, according to Kantar Worldpanel ComTech.
This story has been updated from 10:16 am EDT to include information on Apple's decision to fix iPhone 5 with problematic sleep/wake buttons for free.

NEW YORK (TheStreet) - Apple (AAPL) - Get Free Report iPhone sales "performed strongly" in the first calendar quarter of the year, with sales bouncing back in Europe, Japan and Australia. Smartphones with Microsoft's (MSFT) - Get Free Report Windows operating system, however, stumbled.
According to the latest smartphone sales data from Kantar Worldpanel ComTech, Google (GOOG) - Get Free Report Android systems remains the top operating system across Europe with 70.7% of the market, compared to 68.5% in the fourth quarter of 2013. Apple holds the second spot, owning 19.2% of the market for the quarter, up from 19% in the prior quarter. Windows accounted for 8.1% of smartphone sales compared to 10.1% in the fourth quarter.
"Apple regained ground in the first quarter of 2014, primarily due to the strong performance of the iPhone 5S, growing its sales share in Europe, Japan and Australia," said Dominic Sunnebo, strategic insight director at Kantar Worldpanel ComTech in a press release. "By contrast, Windows had a tough start to the year as a result of its entry-level Nokia models facing fierce competition from low-end Motorola, LG and Samsung Android smartphones."
Kantar said Apple has been particularly successful in Japan where, in the past quarter, it has secured 42% of smartphone sales on NTT DoCoMo undefined, 59% on KDDI AU and 81% on Softbank (SFTBY) . The research firm notes that Japanese consumers primarily like the design of the iPhone (30%), followed by its 4G capability (29%) and the belief that it will be reliable (24%).
Importantly, Apple's success in Japan is filtering through to iPad sales as well, Kantar said, with nearly a quarter of iPhone owners also owning an iPad. "Japan's love affair with Apple shows no sign of fading," Sunnebo said. "With smartphone penetration in Japan lagging well behind Europe and the US, Japan will remain a key growth market for Apple."
Apple reported fiscal second-quarter results that topped Wall Street expectations, with shipments of iPhones fueling results. Apple reported second-quarter earnings of $11.62 a share on $45.6 billion in revenue. The company shipped 43.7 million iPhones, 16.4 million iPads, and 4.1 million Macs during the quarter, it said.
During the conference call, CEO Tim Cook said the company gained smartphone share in both developed and emerging markets including "the U.S., the UK, Japan, Canada, Germany, France, Vietnam and Greater China, just to mention a few. In fact, we established a new all-time record for total iPhone sales in the BRIC countries."
In Japan, revenue rose 26% year-over-year to $3.96 billion, in spite of the foreign exchange headwinds. Apple's "smartphone market share reached an incredible 55%," Cook said on the call.
The Kantar research also showed that China's so-called phablet growth continues "unabated," with devices with a screen larger than 5" made up 40% of smartphone sales in March, Kantar said.
"It's clear that phablets really are changing the way Chinese consumers use smartphones," Sunnebo said. "More than one in five phablet owners now watch mobile TV on a daily basis, half do so at least once a month, and this is without widespread availability of 4G. As 4G infrastructure expands in China, the demand for data is going to be unprecedented, paving the way for carriers to boost revenues significantly through larger data packages."
Separately, Apple plans on fixing customers' iPhone 5 models who are having problems with their sleep/wake buttons for free. Announcing the program on its Web site, Apple said that a "small percentage" of iPhone 5 models "may stop working or work intermittently." Customers with iPhone 5 models manufactured through March 2013 may be affected by this issue, the company said. Apple will "replace the sleep/wake button mechanism, free of charge, on iPhone 5 models that exhibit this issue and have a qualifying serial number," it said.
--Written by Laurie Kulikowski in New York.
Disclosure: TheStreet's editorial policy prohibits staff editors, reporters and analysts from holding positions in any individual stocks.