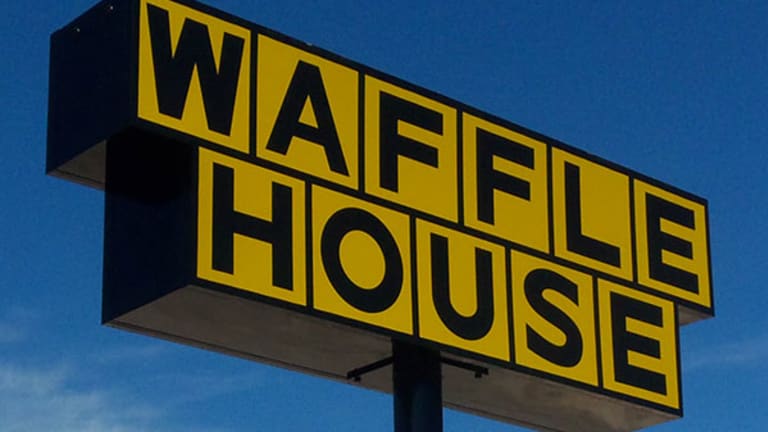 Why Is Waffle House Going After Companies Like UPS and Fedex?
Waffle House is getting into the shipping business, teaming up with local start-up Roadie.com and offering drivers free waffles, drinks and a neighborhood "hub" for picking up and delivering packages.
NEW YORK (TheStreet) -- It's not just Uber that wants to own a piece of the sharing economy -- Waffle House wants to get in on the act, too.
The restaurant chain is taking aim at the package delivery business, joining forces with a fellow Atlanta-based firm, start-up Roadie.com, to use drivers "already headed in the right direction" as the backbone of a neighbor-based shipping service.
Roadie is an app-based platform that connects people who have items to send with drivers who frequent Waffle Houses. According to the Roadie website, drivers could earn cash for deliveries, but the restaurant chain plans to offer free food and beverages, and "provide a convenient meeting location for both drivers and senders." Roadies will get a free waffle upon downloading the app and a free beverage each time they deliver a package to the Waffle House nearest its intended recipient, who can then stop by the restaurant to pick it up.
No mention was made about how much the service will charge to have a package delivered.
The new local service will start off as a small and unlikely challenger to shipping industry leaders UPS (UPS) and FedEx (FDX) . UPS said it delivers nearly 17 million packages each day in 2013, the last year for which the company has made figures available. FedEx says it averages 10.5 million package deliveries each business day, while the U.S. Postal Service says it averaged slightly more than 10 billion packages each day in 2013.
UPS shares were up 0.38% to $102.16 and FedEx was down 0.17% to $178.00 in early afternoon trading in New York.
Roadie's goal is to put "unused capacity in passenger vehicles to work by connecting people with stuff to send with locally available drivers." The company is backed by a number of investors, including the UPS Strategic Enterprise Fund, Eric Schmidt's TomorrowVentures, David Bonderman founder of TPG Capital, Guggenheim Partners' Executive Chairman Alan Schwartz and Square co-founder Jim McKelvey.
Waffle House CEO Walt Ehmer says of the new alliance: "For the last 60 years, Waffle House has been a place for travelers and a preferred meeting place for our customers. Roadie combines the two making it easy for senders and drivers who love waffles to meet at the nearest Waffle House. And who doesn't love waffles?"
Roadie founder and CEO Marc Gorlin adds "Waffle House provides a friendly, comfortable place for our folks to meet, and grab a plate of scattered, smothered and covered while they're at it."
The breakfast, lunch and dinner-serving restaurant chain plans to promote the Roadie app with in-store signage, as well as through social media and email outreach to its Regulars Club members. Roadie will offer members of its community a variety of special offers through its free mobile app, which is available for download in Apple's (AAPL) iTunes Store and from Google (GOOG) Play.
Waffle House has more than 1,750 restaurants located near interstate off-ramps and highway interchanges in 25 states. The stores closest to New York City are located in eastern Pennsylvania.
-- Written by Gary Krakow in New York.
To submit a news tip, send an email to tips@thestreet.com.
This article is commentary by an independent contributor. At the time of publication, the author held no positions in the stocks mentioned.