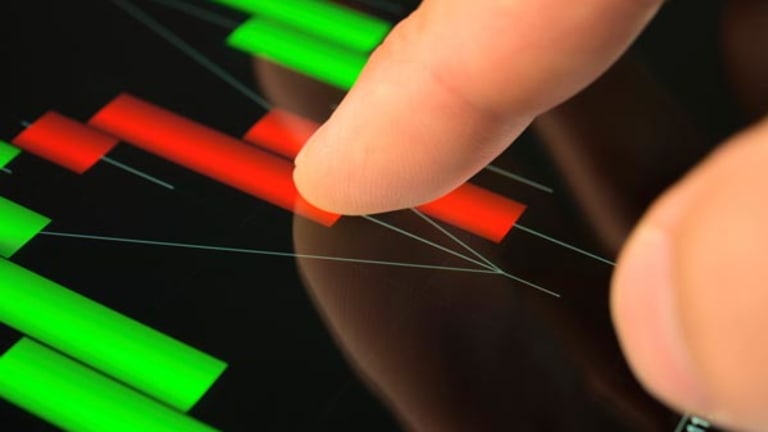 Why Intel's Head Is Stuck In the Clouds
Intel is finally starting to acknowledge that ARM-based chips are a major competitor to the company, as earnings wane. It may be too late, however.
Intel is finally starting to acknowledge that ARM-based chips are a major competitor to the company, as earnings wane. It may be too late, however.
NEW YORK (
) --Third-quarter earnings from
Intel
(INTC) - Get Report
beat
, but fourth-quarter guidance was weak. The company is losing ground in mobile, and it knows it.
Intel and PC makers are clearly placing a lot of importance and hope on
Microsoft's
(MSFT) - Get Report
Windows 8, set to be released later this month. Initially, there was plenty of optimism surrounding the new operating system, which is seen as a radical change from previous versions of Windows, but this has waned recently.
Even Intel CEO Paul Otellini has been drawn into this issue recently,
saying that Microsoft should have waited with Windows 8 until it's completely ready. Intel, however, described the news report as
On a GAAP basis, Intel earned 58 cents a share on revenue of $13.5 billion. The average estimate of analysts polled by
Thomson Reuters
was for earnings of 49 cents a share on revenue of $13.23 billion in the third quarter.
The problem was with fourth-quarter guidance, as the world continues to move into a post-PC era, where Intel is less dominant. Intel expects revenue of $13.6 billion, plus or minus $500 million. Non-GAAP gross margins are expected to be between 57% and 58%, plus or minus a couple of percentage points. Analysts polled by
Thomson Reuters
are looking for $13.74 billion in sales.
Intel has always struggled with the performance and cost of its -x86 architecture, as these chips generally consume more power and cost more than those with ARM-based architecture.
ARM Holdings
(ARMH)
designs intellectual property for the chips, then companies such as
Apple
(AAPL) - Get Report
,
Qualcomm
(QCOM) - Get Report
and others manufacture the chips to their own specifications.
Microsoft recently announced pricing for its Windows RT Surface tablet, but not the Windows 8 tablet. The primary difference there is that Windows RT uses ARM-based chipsets, something Intel is just starting to acknowledge as a major competitor. It may be too late, however.
On the earnings call, Otellini was repeatedly asked whether the PC growth (or lack thereof) is a structural shift, or if it's just economic-based. "I think it's a bit of each," Otellini said. "Clearly, we saw a softening in the consumer segment. The surprise there was China, which had been very strong, turned weak on us. However, having said that, we believe that when the numbers are all in, we believe PCs grew at half the seasonal rate in Q3, and will do so in Q4 as well. We'll know a lot more about the Windows 8 launch effect 90 days from now."
Piper Jaffray analyst Gus Richard isn't so sure things will get better once Windows 8 launches. "The company is hopeful lean inventory, the launch of Windows 8 and newproduct introductions will drive demand," Richard wrote in an analyst note. "We are less optimistic. We believe the new normal for the PC market is flattish demand and a lack of consumer enthusiasm." Richard rates Intel shares "neutral" with a $19 price target.
Raymond James analyst Hans Mosesmann noted the marked change in tone yesterday regarding ARM, as Otellini and team have refused to acknowledge the different structure in the past. "Intel's nuanced commentary on the earnings call regarding ARM and its competitive threat is a fairly big deal in our book, as Intel has been in denial or heightened state of hubris over the last few years," Mosesmann wrote in a note. He rates Intel "market perform."
One area where Intel is seeing growth is its cloud business, which grew 50% year-over-year, but that pales in comparison to its data center business, which saw softening over the quarter. Mosesmann noticed that when Intel was asked whether ARM is a threat for the data center business, CFO Stacy Smith was quick to mention that Intel's Atom chips have more features. However, Smith did note that
Hadoop
, a way to store and analyze data, "is conducive to run on an array of microservers." Intel finally seems to be acknowledging ARM as a threat, after having its head in the clouds for so long.
Intel has long dismissed ARM-based chipsets as a competitor for far too long. As the world moves away from PCs and into mobile devices such as smartphones, tablets and other form factors not yet conceived, Intel has a lot of work to do to catch up.
Intel shares are lower in Wednesday trading, off 2.62% to $21.77.
Interested in more on Intel? See TheStreet Ratings' report card for
this stock
.
--
Written by Chris Ciaccia in New York
>Contact by
.
Follow @Commodity_Bull