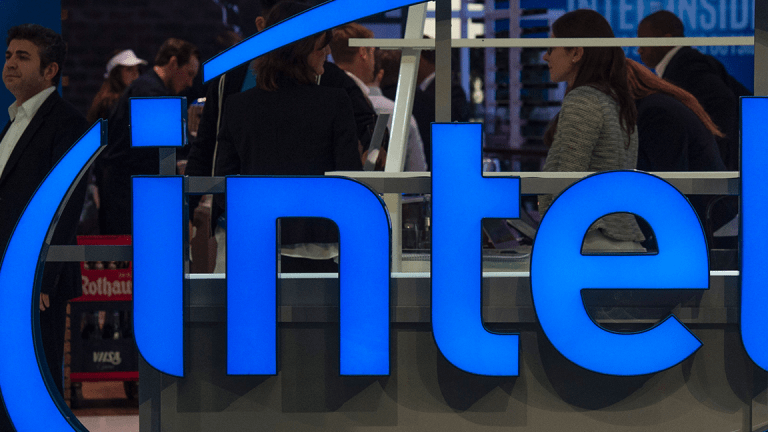 Why Intel's Share Price Has Held Up -- and Has Room to Rise in 2019
The chipmaker's solid top-line growth, strong share repurchase program and cheap valuation are all positives in its favor.
Intel's (INTC) - Get Report shareholders have had a truly challenging first half of 2018. Furthermore, in the highly competitive space in which Intel finds itself, it has had to operate most of 2018 without a permanent CEO.
Nevertheless, in spite of the aggressive sell-off in tech stocks over the past few months, Intel's share price has held up; a telling sign which I argue highlights that investors are finding Intel's valuation appealing -- as do I.
Intel's Opportunity? Strong and Highly Profitable Growth
Over the past five years, we have seen Intel's data-centric business grow at strong rates. As of Q3 2018, Intel's data-centric business now accounts for more than 45% of total revenue.
However, two different insights are revealed in the table. Firstly, interestingly, in spite of critics arguing that Intel's PC-centric business is facing terminal decline and is a drag on the overall business, that's not quite accurate. Admittedly, the PC-centric business has been underperforming Intel's data-centric business, but as we can see in the above table, it is still delivering solid double-digit percentage growth.
Secondly, Intel's PC-centric business focused on its flagship processors offers Intel a very strong and reliable source of cash and diversification separate from its newer data-centric business.
Intel's data-centric business, which includes a platform for compute, storage and network, has a total addressable market that is expected to cross $70 billion by 2022. Presently, Intel commands roughly 40% market share of this space.
Next, after Intel has raised its full year '18 revenue twice during the past few quarters, I've depicted Intel's recent growth trajectory:
As you can see, the pace of growth is at odds with what one would expect from simply looking at Intel's price chart, which shows the stock down slightly for the year. 
Why Intel's Data-Centric Business Is So Important
As we can see from the data above, Intel's data-centric business is extraordinarily profitable. Having said that, analysts and investors are presently concerned over near-term inventory adjustments in the data center markets, fearing that this will create headwinds there. And while this may be somewhat true, I would urge readers to think longer-term, and understand that the cloud sector is still nascent and that while we may face a temporary glut, Intel clearly commands strong pricing power with its end customers.
Valuation
Ultimately, the key driver of the story is its valuation. I recently argued on TheStreet that Intel's competitor, AMD (AMD) - Get Report , presently trades on a 400x free cash multiple, implying very strong appetite amongst investors for this sector.
Moreover, despite Nvidia (NVDA) - Get Report falling from grace in the past two months, it still trades for more than 20x free cash flow. One could argue, though, that Nvidia's business model is the superior business model among the chip sector peers, and that Nvidia is currently fairly valued relative to its fundamental prospects.
On the other hand, Intel, with its strong pricing power and dominant market share, trades for less than 14x free cash flow. Which I argue is evidently undervalued, particularly when we consider that its growth rate is hovering around 20%.
Share Repurchases
Further evidence that Intel believes itself to be undervalued, comes from the fact, that during the turbulent and transitory period in which Intel found itself in 2018, Intel did not slow down with its share repurchases.
On the contrary, during the first nine months of the year Intel moved swiftly and resolutely to return $8.5 billion to shareholders via share repurchases. That's 130% more than during the same period a year ago.
Furthermore, if we look back and compare Intel's original guidance from January 2018, which was for FY 2018 non-GAAP earnings per share of $3.55, with the most recently upwards revised guidance in Q3 2018 of $4.53 in EPS, this means that the guidance has improved by an impressive 28% since the start of the year. But if we compare the share price today with January when the original guidance was announced, Intel's share price is actually lower today by 5%.
The Takeaway
Intel continues to have solid top-line growth, as well as a strong share repurchase program. Thus, it is my strong contention that these, together with Intel's cheap valuation, points to Intel's downside being largely limited. And if you protect the downside, what's left is only upside potential.
Save 66% with our '12 Days of Holiday Deals' Sale. Join Jim Cramer's Action Alerts PLUS club for investors and get our best deal of the year. Click here for details or to sign up.
The author holds no positions in any of the stocks mentioned in this article.