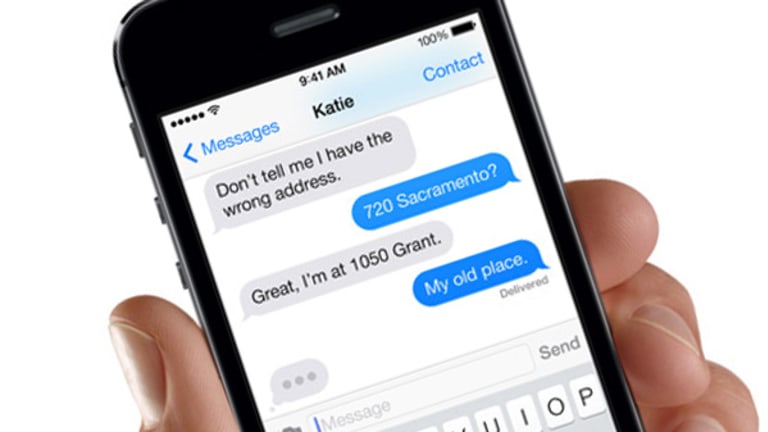 Why I'm Excited for Apple's Messaging Upgrades
Along with introducing iOS 8 yesterday at its Worldwide Developer Conference, Apple made some significant changes to its messaging system and there are reasons to get excited.
NEW YORK (TheStreet) - I don't use Snapchat, the popular messaging system used by teens and college-aged kids, but sending texts using my iPhone 5s is about to get more like it.
Appleundefined got tech-enthusiasts revved up yesterday when it introduced some big software developments, including the launches of iOS 8 and Mac OS X, (codenamed Yosemite), at its Worldwide Developer Conference. Included in the software updates, were tons of smaller feature upgrades from the Cupertino, Calif.-based company. The upgrades are expected to be fully rolled out in the fall.
Two of the biggest new features that Apple followers are talking about are the company's introduction of the Health app, which will allow users to sync medical and fitness information to their devices, and HomeKit, its smart home technology that will allow users to control "locks, lights, doors, thermostats, garage doors and other home-centric items" that are integrated into an iPhone or an iPad, using Siri to operate them.
I'm not too geek-inclined, so using apps to keep track of my medical information is something I'll have to get used to over time. Considering my one-bedroom apartment doesn't even have a dishwasher, I think it's too early to be on board with a smart-home system unless Siri can magically wash my dishes for me every night after dinner.
Despite all that, I am really excited about the new software updates are the changes Apple made to text messaging. This is something I do use, in fact I rarely talk on the phone at all anymore, so more user-friendly features to text messaging is a big welcome in my book. First, iOS 8 includes "predictive typing" for Apple's QuickType technology. In all honesty, this could either be a huge help, considering how much I text or an absolute nightmare. I'll have to play around with this one to determine whether the feature is help or hindrance.

WATCH: More tech videos on TheStreet TV
Next, in a nod towards Snapchat, Apple added a feature that allows some messages to self-destruct after a certain period of time, it announced during the conference yesterday. One of the biggest appeals to Snapchat is that messages are not kept in cyberspace. Instead they disappear once the message is opened and read, though they are kept on Snapchat's servers for a predetermined period of time.
As part of the features that Apple launched to its messaging system, users can share their voice, videos or photos with a single swipe. Through its "Tap to Talk," users can add sound to texting conversations, whether its voice recording or other recording. I simply have to touch and hold the new microphone button, followed by a swipe to send it via text message.
Another big upgrade to the messaging system is - finally - some serious changes to group messaging. Since I do a lot of group messaging, this is a feature I am most excited about. I can now remove myself when my friends continue talking long into the night via group text or remove others from the conversation. The updated features also allows me to turn on the Do Not Disturb and read through messages at another time.
My fiance and I like to go out to dinner a lot. Apple will now allow me to share the location via a map of said restaurant in the middle of a conversation. This also works in reverse and I can see when friends choose to share their locations as well. 
Photos and videos are also getting more user friendly. For instance, instead of having to scroll through earlier messages to see photos and videos shared with friends, Apple is making it easier to browse through them within a thread. That's huge considering I like to share photos of how cute my cat is, particularly when he is sleeping. In return, one friend who has a black lab mix, tends to send me videos when the dog does something particularly funny. We don't have kids yet, but this is clearly a pre-cursor to what life will be like with kids and it will be easier to share monumental (or not-so-monumental) moments with each other with Apple's messaging upgrades.
--Written by Laurie Kulikowski in New York.
>>Read More:
Why Smart TV Shipments Are Growing
Michael Kors Rises Following Earnings Beat
Looking for an Investment? Here are 8 of the Best Franchises in America
Disclosure: TheStreet's editorial policy prohibits staff editors, reporters and analysts from holding positions in any individual stocks.