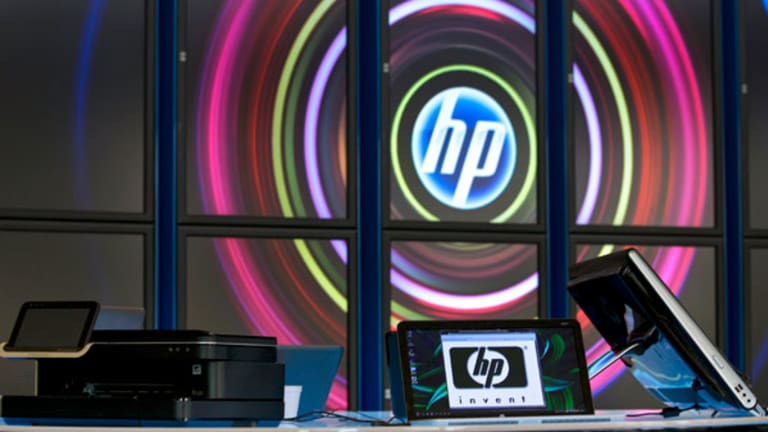 Updated from 8:44 a.m. to include additional analysis in the ninth paragraph.
NEW YORK (TheStreet) –– The decision to split HP (HPQ) - Get HP Inc. (HPQ) Report into two companies, one focused on enterprise and the other focused on PCs, will allow the companies to try and remain competitive, while attracting strategic interest for both groups from outside sources.
Hewlett-Packard Enterprise, to be led by current HP CEO Meg Whitman (who will also be on the board) and chaired by Pat Russo, will focus on servers, storage, networking, services and software and will allow the company to move past the slow growth area of the PC business, potentially setting up for a sale as well.
"Additionally, by separating the PC & Printing business from enterprise IT, we believe HP gains flexibility to sell off one or both businesses if an attractive offer emerges," Cantor Fitzgerald analyst Brian White penned in a research note prior to the official announcement.
"Over the past three years, we have reignited our innovation engine with breakthrough offerings for the enterprise like Apollo, Gen 9 and Moonshot servers, our 3PAR storage platform, our HP OneView management platform, our HP Helion Cloud and a host of software and services offerings in security, analytics and application transformation," Whitman said in a press release. "Hewlett-Packard Enterprise will accelerate innovation across key next-generation areas of the portfolio."
HP recently unveiled new Moonshot servers, which will run on ARM (ARMH) based chipsets, as opposed to -x86 architecture, made by Intel (INTC) - Get Intel Corporation (INTC) Report and AMD (AMD) - Get Advanced Micro Devices, Inc. Report .
Recent media discussions have highlighted a potential merger between HP and EMC (EMC) , the storage and networking giant that owns 80% of VMware (VMW) - Get VMware, Inc. Class A Report . By splitting HP into two, both companies could revisit those potential talks or perhaps another suitor emerges.
Credit Suisse analyst Kulbinder Garcha noted the Enterprise company could work with EMC, as HP appears open to strategic alternatives. "HP appears open for strategic alternatives following a recent WSJ report regarding EMC and HP talks," Garcha wrote in a note. The analyst noted that HP's management had discussed strategic alternatives as a viable option "if it was unable to return to growth."
Shares of HP were rising sharply in early Monday trading, gaining 4.8% to $36.90 on news of the split, which the company said is expected to be completed by the end of fiscal 2015. Shareholders will get shares in both HP Inc. and Hewlett-Packard Enterprise as a tax-free transaction.
"The strategy is a response to firms that find themselves in rapidly changing businesses where part of their business is founded upon their legacy and historical repertoire and another part is cast upon an emerging business or direction for the firm," said Dr. Joseph M. Pastore, Jr., Professor Emeritus at Pace University's Lubin School of Business in New York and an expert on corporate strategy. "The challenge for diverse firms with a combined legacy and growth business portfolio is that, while the firm's historic business may be a  low risk 'cash cow', modest profitability in a legacy market constrains overall corporate growth and capital appreciation."
In the company's fiscal third quarter, HP's revenue outside of its Personal Systems Group (PCs) fell 3% year over year to, a group that includes Enterprise Group, Enterprise Services, Software, HP Financial Services as well as Printing, which will be part of HP Inc.
The PC business appears to be more challenged than the Enterprise Group, though it may too have its share of suitors, including potential acquirers Dell, Lenovo and others, as it moves into new areas such as 3D printing.
In the company's fiscal third quarter, Personal Systems revenue was up 12% from a year earlier to $8.6 billion, as both commercial and consumer segments rose 14% and 8%, respectively. However, Whitman cautioned that the growth is coming from a flat to declining PC market, indicating the company is taking share.
"The PC business is flat to declining slightly," Whitman said on the call. "And we think that that will continue. However, what we do believe is we can continue to gain share in a relatively flat market and that's because we've got a terrific product lineup, we've got a great go-to-market, our relationships with partners is better than it has ever been."
HP Inc., which will be run by Dion Wesler, will have a strong profitability and free cash flow profile, potentially making it attractive to other suitors, as it continues to work on delivering new products to market, albeit one that has severely been impacted by products like the
Apple
(AAPL) - Get Apple Inc. (AAPL) Report
iPad.
"This is a defining moment in our industry as customers are looking for innovation to enable workforces that are more mobile, connected and productive while at the same time allowing a seamless experience across work and play," Weisler said in a statement. "As the market leader in printing and personal systems, an independent HP Inc. will be extremely well positioned to deliver that innovation across our traditional markets as well as extend our leadership into new markets like 3-D printing and new computing experiences -- inventing technology that empowers people to create, interact and inspire like never before."
Following the announcement of the split, HP reaffirmed its non-GAAP earnings outlook of $3.70 to $3.74 a share, and updated its fiscal 2014 GAAP earnings outlook to be between $2.60 and $2.64 a share. For fiscal 2015, it expects non-GAAP earnings to be between $3.83 and $4.03 a share, and GAAP earnings to be between $3.23 and $3.43 a share.
--Written by Chris Ciaccia in New York
>Contact by Email.