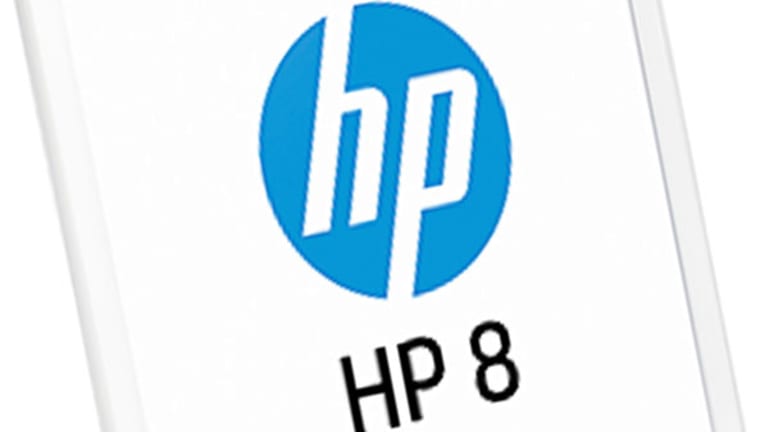 Why HP Is 'Likely to Be in the Penalty Box' for Quite a While
Analysts were shocked by HP's larger-than-expected separation charges and currency headwinds going into the second half of 2015.
NEW YORK (The Street) -- Analysts expressed concern Wednesday about Hewlett-Packard (HPQ)  after the company reported mixed results for the first quarter ended Jan. 31 and gave a weak forecast for the current quarter. 
Analysts were especially shocked by the larger-than-expected separation charges and currency headwinds projected by the company that HP said caused it to lower its second-quarter and fiscal year results estimates.
"In the near term, HP's stock is likely to be in the penalty box," said Sanford Bernstein analyst Toni Sacconaghi in a research note.
HP lowered its diluted GAAP earnings-per-share forecast range for this fiscal year to $3.53-$3.83 from its prior forecast of $3.83-$4.03. HP blamed the lower forecast entirely on the negative impact of currency. Sacconaghi lowered his forecast to $3.65 from $4 a share. HP also said it expects to report non-GAAP diluted EPS of 84 cents to 88 cents for the second quarter, with a 9-cent impact from currency.
Because of HP's updated earnings outlook for currency and the introduction of cash related separation activities, the company also reduced its free cash flow outlook for this fiscal year to be about $3.5 billion to $4 billion, Chief Financial Officer Cathie Lesjak said on an earnings call late Tuesday. That was down from its prior estimate of $6.5 billion to $7 billion.
"We were caught off guard by the impact of currency on HP's financials," said Sacconaghi. The analyst had no way of verifying HP's estimates for the impact of currency, he said. But his calculations suggested HP's estimate could be high, especially because he believes the company's imaging business should continue to benefit from the impact of a weaker Japanese yen.
"Accordingly, a key question emerges: is HP's business fundamentally weaker than 90 days ago, or is HP being conservative in lowering its EPS? We think it may be a bit of both," he said.
HP's cash flow guidance included $1.8 billion in separation costs over the next two years, said Sacconaghi. That struck him as extremely high and, importantly, didn't include any workforce rebalancing costs, he said. "The upshot is potentially sobering -- if HP looks to do meaningful restructuring in advance of or coincident with its split later this year, then cash flow may need to be further guided down," he said.
HP had stated when it gave its initial forecast for this fiscal year that it didn't include one-time separation costs associated with splitting the company into two companies, so the incremental costs announced Tuesday weren't a surprise, he said.
"But the magnitude of the costs was much bigger than we expected. In fact, the magnitude of the costs is stunning in light of the fact that they do not appear to include any incremental workforce restructuring costs, which executives have strongly hinted are likely to occur," he said.
HP's cut in its free cash flow forecast was also one of several concerns raised by UBS analyst Steven Milunovich in a research note. He also pointed to weakness in HP's networking business, where revenue was down 11% in the first quarter from a year earlier. He was neutral on HP stock.
"The quarter was a black mark for a management team that has been making guidance," said Milunovich.
J.P. Morgan analyst Rod Hall also pointed to HP's reduced free cash flow forecast and currency headwinds as negatives, along with weak networking results and printing margins that are expected to decline. On the networking front, Hall said: "China pressures are expected to continue though HP has made management changes there that they believe should help with execution."
But Sacconaghi said that with HP cutting its earnings forecast for this year by 7% and its stock tumbling after the results were announced, its stock remained attractively valued and it was the second-least expensive technology stock in the S&P 500.
Therefore, he encouraged investors to be HP stock buyers instead of sellers -- especially at the aftermarket price of $36 late Tuesday. Shares are currently close to $35, down over 9% on the day and 13% for the year to date.
"Two smaller, less-complicated independent companies would offer more option value for investors, principally in the form of potentially being acquired, or making more meaningful change," he said. Those changes could also include mergers, cost cutting and new products, he said. He predicted it will be another quarter or more before HP executives are willing to discuss the planned split in greater detail.
For now, Sacconaghi said he views HP mainly as a re-valuation trade. "Longer term, we worry about HP's end-markets, many of which are seeing secular pressures, and the company's hardware-centric business mix, which is likely to ultimately limit the degree of multiple expansion," he said. He rated HP stock at outperform.
Like Sacconaghi, J.P. Morgan's Hall said he saw an opportunity for investors with HP thanks to its currently low stock price. Hall kept an overweight rating on HP stock. 
This article is commentary by an independent contributor. At the time of publication, the author held no positions in the stocks mentioned.