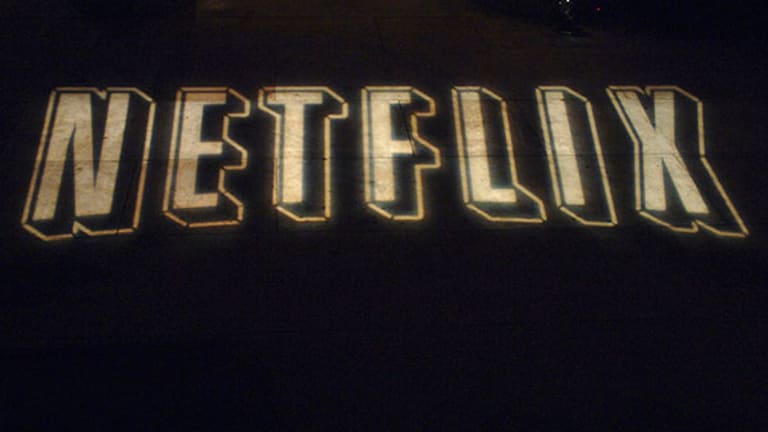 Why Goldman Sachs Thinks Netflix Is Worth $590 a Share
Netflix shares may have significantly more to run, as the company
Updated from 11:21 a.m. to include additional information about expansion in the seventh and eighth paragraphs.
NEW YORK (TheStreet) -- Netflix (NFLX) - Get Report shares may have significantly more room to run, says Goldman Sachs analyst Heath Terry in an investor report published Tuesday in which he upgrades the stock to buy from neutral.
That's a ringing endorsement for a company that the Goldman Sachs analysts says is fast expanding internationally. As ever more devices worldwide become connected to the Internet, Netflix could be worth $590 a share, Terry says. Such a jump would represents a 34% leap."
With 30% penetration internationally (vs. HBO at 33% today), Netflix could reach 62 million international subs by 2017 driving over 20% margins in that business, even as the company continues to invest," Terry wrote in the note. Terry says Netflix's total addressable audience worldwide could reach 207 million subscribers as the company expands into markets like Germany and France this year, and as many as four additional markets every year going forward.
On Netflix's first-quarter earnings call, CEO Reed Hastings reiterated that the company's total addressable market in the U.S. is between 60 million and 90 million households. But throughout the world, Hastings said, it's "everyone who loves TV and has the Internet."
Netflix Has an Enormous Opportunity Sitting in Front of It
How Netflix Will Be the Next TV Network
Netflix has an enormous opportunity overseas, particularly as it relates to HBO, a division of Time Warner (TWX) , which has 33% market penetration internationally.
At $8.99 a month, Terry believes that Netflix could be considered value-add for wireless data plans, as opposed to just broadband households, which opens up an even wider total addressable market (TAM). Since the company launched its first international market in 2010, it now has over 12 million subscribers in Canada, Latin America and parts of Europe, where the company is just starting to expand. Terry believes that the TAM for Netflix international could be as much as 200 million households by 2017, up from 91 million now, which with a 30% penetration rate, would give the company 62 million international subscribers.
Though the company is not yet in Asia, Terry expects Netflix to move into Australia and New Zealand in 2016, South Korea in 2017, and the rest of Asia "longer term."
Even though Netflix is expanding its opportunities internationally, it's not doing so without competition, from the likes of the aforementioned HBO, as well as Amazon (AMZN) - Get Report and video on demand. Amazon ,via its Prime Instant Video (originally known as LOVEFiLM), is already in Germany and the United Kingdom, markets where Netflix is expanding. Aside from Germany, France, Belgium, Austria, Switzerland, and Luxembourg, Terry expects Netflix to expand into other European countries such as Spain, Poland, Italy and Portugal.
In addition to having around 104 million subscribers, HBO, and its over-the-top (OTT) service, HBO Go, are continuing to expand in Europe, though the company has a 5-year exclusive contract with Sky TV in the UK, notes Terry and HBO GO is currently only available in 11 Eastern European countries.
Video on Demand (VOD) may be Netflix's biggest competitor, both domestically and internationally, as companies like Comcast (CMCSA) - Get Report leverage existing relationships with cable networks, providing an additional service to consumers at no extra cost.
Where Netflix can differentiate itself is the children's market, a market that could boost revenue substantially.
The company has signed deals with Disney (DIS) - Get Report, DreamWorks (DWA) and Mattel (MAT) - Get Report to bring children-oriented content to Netflix, and add additional subscribers. Netflix has added exclusive content from Universal such as The Lorax, and Curious George, and signed an enormous deal with Disney, which starts in 206, to bring movies such as Lilo & Stitch and Mulan to the service. The company is also working with DreamWorks to bring original cartoon series to the service, and has a similar deal in place with Mattel.
Given that kids are spending there times more time each day on mobile devices than they were just two years ago, Netflix, which Terry estimates has just 3% of its current users as children, has a large opportunity here. "If one of Netflix's original kids series launching this year can reach the level of one of the top 10 episodes/movies of Nick and Disney Channel programs, this could imply an incremental 4.5mn in US subs driven to the service primarily by the kids content, which translates into an incremental $36mn in revenue," Terry wrote in the note.
As Netflix continues to grow subscribers and makes those subscribers more valuable, margins are likely to expand significantly over the long-term. Terry notes that using HBO's financials as a guide, assuming Netflix reaches that size and scale, Netflix margins could be 48%, and would imply 2018 revenues of $14 billion, earning $57.83 a share.
"While this is certainly overly optimistic given that it implies Netflix can achieve the same level of content leverage internationally that HBO has achieved in the US, it provides some sense of the range of outcomes possible as the company scales."
--Written by Chris Ciaccia in New York
>Contact by Email.