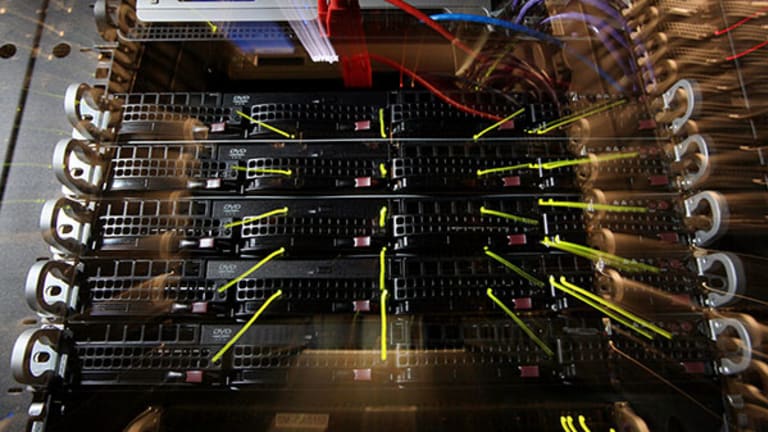 Why Game Developers Are Choosing IBM Over Amazon
As tech vendors compete fiercely to win the favor of the global developer population, IBM SoftLayer's bare metal services are attracting game developers at an accelerating pace.
As tech vendors compete fiercely to win the favor of the global developer population, IBM SoftLayer's bare metal services are attracting game developers at an accelerating pace.
NEW YORK (TheStreet) -- With more than 18 million individuals and businesses around the world, the influential population of web and software developers are fiercely competed over by cloud technology companies who want to see them build apps on their cloud to help boost demand for their products.
For IBM (IBM) - Get Report, ever since its acquisition of public-cloud provider SoftLayer last summer, the company has been gaining traction with the video game developer community. Many of them are cloud-reliant, "born-on-the Web" companies that are drawn to the highly specialized bare metal server services offered by SoftLayer that are sold to high-end enterprise customers in a wide range of industries and can support the development and conveyance of rich, graphical and media work, or big data, quickly and efficiently to publisher customers in a hybrid setting.
"Particular to gaming, it's all about horsepower, so they always want the latest and greatest," said Lance Crosby, the CEO of SoftLayer, who recently spoke with TheStreet."We're one of the only providers out there that offers the bare metal with the GPU inside the server and multiple GPUs inside the same physical server."
According to Phil Shih, the founder and managing director of independent research and consulting firm Structure Research, IBM SoftLayer now has a considerable, video game developer customer base including clients that chose IBM SoftLayer's cloud services over Amazon Web Services (AWS) (AMZN) - Get Report despite Amazon being cheaper. 
"Actually the customer that comes to IBM from AWS or chooses IBM over AWS does not make that decision based on price," said Shih. "If anything, SoftLayer's services are probably priced a bit higher. Price isn't the driving factor for these customers."
Not many technology vendors offer the bare metal service, and AWS doesn't either. In light of this, SoftLayer delivers the service in the very specific way that allows for a level of performance and control that game developers prefer over other bare metal services, according to Shih. It provides a private network with a global footprint and fast provisioning. Other capabilities, including the collective combination of tool sets, application process interfaces (APIs), and ease of use and interfacing have been extra supporting factors for SoftLayer.
A lot of these gaming companies were using SoftLayer's services prior to getting bought by IBM, and now represent a new generation of IT buyers for Big Blue. With IBM and SoftLayer now combined, IBM said SoftLayer is now generating even more gaming developer business on added enthusiasm stoked by the heavy resource investments that IBM is putting into its new public cloud combined with its own specialty in building out massive systems with a particular focus on security. According to IBM figures, 2,500 new cloud clients including gaming clients have signed up with the company since the SoftLayer purchase, or a tripling in the rate of adoption.
In just the last few weeks, IBM has taken on three, prominent gaming clients, all of them buying from IBM to run their services on top of IBM SoftLayer's cloud infrastructure.
In mid-January, Multiplay and KUULUU, two gaming developers working for large, $3 billion-plus-a-year game makers such as Electronic Arts (EA) - Get Report signed on with IBM SoftLayer's cloud. And signing on just last week on Feb. 7 was DataHotel, the Japanese cloud service provider that specializes in helping Japanese gaming developers expand their work beyond Japan to global customers. DataHotel will be delivering its cloud service on top of IBM SoftLayer's infrastructure-as-a-service platform.
Below are excerpts of a conversation SoftLayer CEO Lance Crosby had with TheStreet recently about cloud gaming:
Tse: What is it about the video gaming business that's seldom understood by many people?
Crosby: That there's a lot more to gaming than most people realize. There's the game themselves, but there's an ecosystem around the games that I think most people miss. And you know these are basically a framework, a collaboration or framework that allows hundreds or thousands or millions of people to be in the same instance at the same time.
So if you look at some of the games that they're creating, literally you're looking at true-to-life video renderings of racing games, first-person shooter games and all -- you almost think you're going to a movie theater when you see some of these games that are shooting off the Internet.
It's more than just a game just for the popularity and the revenue source. They're actually creating software that will allow millions of people to be in the same virtual instance at the same time. So it's a very complex technology and there's an advertising component to it. So you have big businesses, Fortune 2,500 companies advertising products inside the games just like they advertise inside the Super Bowl.
And then you have the gaming companies that are doing big data solutions for mining that data, trying to build profiles on their users depending not only on how they play games but also what kind of soft drinks they pick up in the game, what kind of cars they drive in the game, and all kinds of things -- trying to build profiles on the users so they can somehow monetize that. And that's what most people don't understand about the gaming industry. It's more than just the game.
Almost all of the gaming companies run on the bare metal so they can get all the use of the hardware, refresh the latest and greatest hardware. And we compare that with the focus that we've had on the network. We've built our own global backbone -- it's all about speed and latency. And especially these games, they're very complex. Lots of videos you can imagine almost look lifelike and so it's all about speed, it's all about performance, and the new layer in our API set -- they build it directly into the games so they can have that functionality and scalability. And that's why a lot of the larger gaming companies especially, have come to SoftLayer and have been customers here for long, long time.
Tse: What opportunities has IBM SoftLayer's cornerstone, hybrid cloud approach presented to the gaming industry?
Crosby: When we talk about the hybrid, we talk about both on and off premise and public and private. So when you look at some of these large gaming companies, most of them have their own installations and they're using us for versatility or for games that really go big time.
And that's the use of the cloud because it would be near impossible for them to make capital expenditures on a game where they may be expecting 10 million users to play and it ends up being 150 million users. And so that's why we're so popular with the gaming world because we can literally go title by title and have a variable cost for the games.
Especially in the gaming industry, where it's all about the latest and greatest hardware, they're basically refreshing their entire infrastructure every twelve months. If you try to do that at a typical capex, for a traditional organization, your capex costs would be through the roof, right. And so it lends to their business model to always be the latest and greatest and when they return those services to us, we simply rent them back out to the next customer waiting in line.
Tse: Lance, how large is the cloud gaming industry?
Crosby: We look at cloud gaming as part of entertainment and media, it's kind of where we slot it, and I don't think anybody really knows how big the industry is collectively. But you know, it doesn't take a rocket scientist to look at some of these companies like EA and some other very successful gaming companies and realize that these are billion-dollar companies in terms of revenues.
So these are big, serious companies. Inside of gaming there's a transition going on as well. They're going from games that were historically played on consoles to the move to PCs and now they're moving to mobile devices and tablets. The cloud gaming market is fairly competitive because there's a lot of dollars being spent on it.
It is kind of an entertainment type solution, so you know, these are billion-dollar gaming companies that are building the games and then charging to play the games.
I would say that we're building for the next generation of mission critical high performance -- the best cloud latency solutions out there. And gaming is one of those platforms that happens to work well on it.
The gaming industry is fairly akin to high-end enterprise. The mission critical and the latency requirements, the performance requirements -- all of those attributes are the same from a very high-end enterprise to the gaming world. Now what they do with it is two different things. But they do share very common attributes.
-- Written by Andrea Tse in New York
>Contact by Email