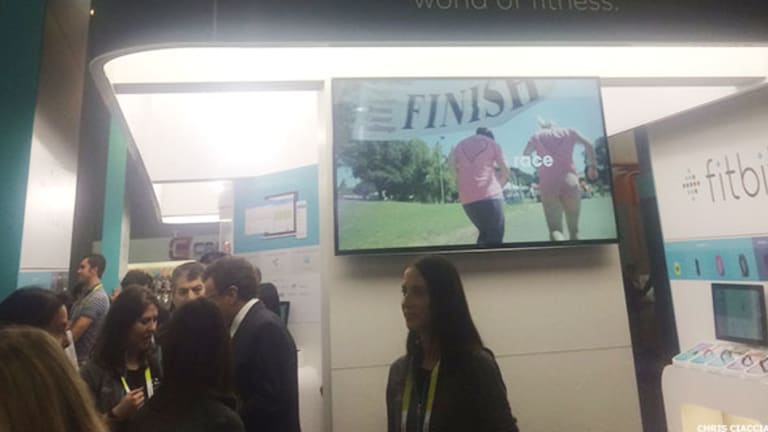 Why Fitbit CEO James Park Thinks His Company Was the Pioneer In the Expanding Wearables Market
Fitbit is the dominant player in the fitness and activity market, and with a potential IPO looming later this year it's pushing forward with its plans to expand that lead.
LAS VEGAS (TheStreet) -- Fitbit has become the dominant player in the fitness and activity market, and with a potential initial public offering looming later this year, the company is pushing forward with its plans to capture the industry.
Fitbit announced earlier this week several new enhancements to its products that were introduced in October, including three new fitness bands. The San Francisco-based company said consumers can now link up to five Fitbit devices to one account, making it easier to keep track of their data. In addition, Fitbit updated its food-logging feature, allowing customers to scan bar codes for Google's (GOOG) Android and Microsoft's (MSFT)  Windows devices, in addition to Apple's (AAPL) iOS, and it expanded international food-logging databases.
CEO and co-founder James Park believes the company is poised to capture the growing wearables and fitness-tracking market because it's had nearly an eight-year head start on some of its competition.
"In 2007, we were the pioneers in activity trackers and what keeps people in Fitbit is not just the hardware, but the software as well, the so-called social component," Park said in an interview with TheStreet. "People compete a lot with friends and family, and it keeps people using the social-networking component inside of our ecosystem."
What follows below is an interview with Park touching on the wearables market, plans for an IPO and how the Apple Watch will affect and shape the market.
Chris Ciaccia: Would you say Fitbit had a strong holiday season? I've seen a lot of forecasts from Wall Street analysts that two of the most popular products were GoPro (GPRO) and Fitbit. Can you confirm?
James Park: Activity trackers are one of the fastest-growing categories in consumer electronics, according to research firm NPD. We have the leading market share, so it's definitely a great holiday season for us.
Ciaccia: Can you quantify that a little more?
Park: We can't release numbers, but if you track NPD, you can see the whole growth of the company.
Ciaccia: Are you growing faster than the market itself?
Park: I think so, yeah.
Ciaccia: There's been rumors of an initial public offering either later this year or in early 2016. Can you comment on that?
Park: We can't comment on that. We're not going to comment on financial matters.
Ciaccia: Is it something you could see down the line, whether it's 12 or 24 months. Does that seem like it's a feasible option for the company?
Park: I can't really comment on that.
Ciaccia: One of the issues with hardware is that there's always a new and better product six to 12 months down the line that's cheaper, it's faster. Fitbit has various price points, running from the roughly $70 range to slightly more than $200. Why would a consumer plunk down the money for these when there might be something better in the next six to 12 months?
Park: One is we've built a lot of consumer trust and credibility over the past eight years. Starting in 2007, we were the pioneers in bringing activity trackers to the masses. A big part of what keeps people in Fitbit is not just the hardware, but the software and social component as well. People compete a lot with friends and family, and it's really that social aspect, that retention aspect that keeps people within our ecosystem.
Ciaccia: You recently raised around $40 million ($43 million) in August of 2013. What was that money for, have you gone through it?
Park: The $43 million was for general business operations. I think we're pretty comfortable with our financial situation right now.
Ciaccia: You announced three new products in October, but they're finally coming to launch today (Jan. 6). That's a long time, you've missed out on the holiday season for these, what's the reason for the delay in that?
Park: We want to release products when they're great products and have a great user experience for consumers. I think we have the luxury of waiting for things until they're right, so that's the decision that we made.
Ciaccia: Obviously, the category is gaining a lot of attention because Apple is going to enter it sometime this year. Do you fear what Apple is going to do? Is that going to put a crimp in your business model?
Park: Uhhh, we're not too worried about Apple -- they're a great company. Given the price point, given the form factor, given that it's limited to the iOS ecosystem, I think there's a lot of room for different approaches to the market and I think they'll raise the overall awareness of the market of activity market and fitness tracking.
Ciaccia: You have six activity trackers -- wearables is expanding beyond just fitness and health. Do you see plans for Fitbit to expand what it's doing and focus not just on fitness tracking?
Park: I think that's a temptation of a lot of companies that they try to do too much. Our core value proposition is to consumers is that we're experts in consumer technology as it relates to health and fitness. I think we'll stay pretty close to that.
Ciaccia: In terms of other ancillary software, what can we expect later this year or in 2016?
Park: We're definitely making a lot of improvements in software. Pretty shortly, we'll be announcing multidevice support, so you can link multiple Fitbit devices to a single account. You can wear, let's say a smartwatch when you're working out and a more minimalist Fitbit Flex throughout the day and have that all work seamlessly together.
Ciaccia: As a CEO, your job is pretty intense, working long hours each day. How do your products personally change your life?
Park: It keeps me pretty disciplined. If I don't get exercise in, if I don't use the Aria scale, it helps me keep at a threshold weight that I want to stay at, if I go over that, I know it's time to buckle down and start working out again.
Ciaccia: Thanks, James.
Must Read:
Fitbit Charge Review: Updated Fitness Band Is Closer to Getting It Just Right
--Written by Chris Ciaccia in Las Vegas

>Contact by Email.