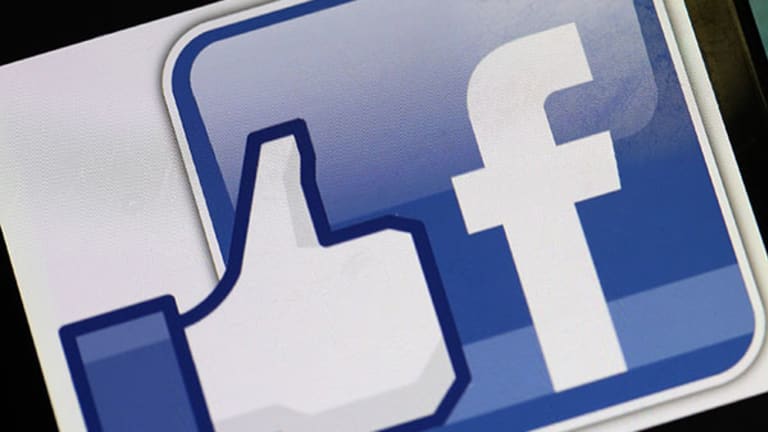 Why Facebook Can't Go to China Alone
Facebook is already the world's largest social media company in the world, with over 1.2 billion monthly active users (MAUs), and growing. However, if the company is going to enter China and do so to get even bigger, it's probably going to need a partner.
Updated from 10:45 a.m. with comment from Facebook.
NEW YORK (TheStreet) -- Facebook (FB) - Get Facebook, Inc. Class A Report is already the world's largest social media company, with over 1.2 billion monthly active users (MAUs), and growing. However, if the company is going to enter China and do so to get even bigger, it's probably not going to go it alone.
Bloombergreported Facebook is set to open a sales office in China this year, as it seeks to work with local advertisers, according to sources with knowledge of the matter.
"Chinese exporters and developers are finding Facebook is an excellent way for them to reach customers outside China," Facebook said in an emailed statement. "Today, our sales team in Hong Kong is supporting these Chinese businesses, but because of the rapid growth these businesses are achieving by using Facebook, we are of course exploring ways that we can provide even more support locally and may consider having a sales office in China in the future."
Currently, Facebook is banned in China and though COO Sheryl Sandberg has made inroads in the country, meeting with various Chinese officials, including Cai Mingzhao, the head of China's State Council Information Office.
Should the Mark Zuckerberg-led Facebook enter China officially, it will likely have to do so like almost every other American company, be it in the technology field or not: via a joint venture. Companies like General Motors (GM) - Get General Motors Company (GM) Report, Ford (F) - Get Ford Motor Company Report and others have joint ventures with Chinese-based companies, so it stands to reason that Facebook, the largest social network in the world, would likely have to partner with its Chinese counterpart in order to gain access to the country, and its 1.3 billion citizens.

WATCH: More tech videos on TheStreet TV | More videos from Debra Borchardt
Perhaps Facebook gains entry into China by sharing patents, intellectual property or other methods with Renren or another Chinese social network.
Given the fact that Twitter (TWTR) - Get Twitter, Inc. Report and Facebook are currently not in China, due to the country's apprehension about social media in general, there are a slew of companies Facebook could partner with. Sina's (SINA) - Get SINA Corp. ReportWeibo (WB) - Get Weibo Corp Sponsored ADR Class A Report, essentially the Chinese version of Twitter, could be a potential partner, with its more than 129 million MAUs.
Weibo went public in the U.S. last month, pricing its IPO at $17 a share, selling 16.8 million American depository shares, at the low end of the expected price range.
Among others, WeChat, owned by Tencent, could be another partner, given Facebook's recent announced acquisition of WeChat-competitor, WhatsApp.
The other possibility is Renren (RENN) - Get Renren Inc. Sponsored ADR Class A Report, China's social network that looks remarkably like Facebook.
Renren, which means "Everyone" in Chinese, is essentially the same as Facebook, in that it "enables users to connect and communicate with each other, share information, create user generated content, play online games, watch videos and enjoy a wide range of other features and services." The company also predicates itself on having people use their real names, something Facebook prided itself on until recently, when it announced it would be embracing anonymous login for apps, though Facebook would still know what apps you were logging into.
As of Dec. 31, 2013, Renren had approximately 206 million activated users with over 80% of user time accessing our services through mobile. That's a pittance compared to the 1.28 billion MAUs Facebook has, but Renren has access to much more in terms of not only user based, but advertising dollars as well.
At the end of the first-quarter, Facebook had 390 million monthly MAUs from Asia, despite not being allowed in Asia. Those 390 million monthly MAUs helped Facebook generate $354 million in revenue from the region, with $333 million coming from advertising, and $21 million in payments and other fees revenue. Facebook totaled $2.5 billion in revenue for the quarter, with $2.265 billion coming from advertising.
Of the three major continents, Asia is still Facebook's least lucrative region, when compared to Europe and the U.S. & Canada. Asian average revenue per user (ARPU) was 93 cents in the first quarter, compared to $2.44 for Europe and $5.85 in U.S. and Canada. The segment known as the rest of the world was Facebook's least lucrative region, generating only 70 cents in ARPU.
It's clear that China provides an enormous opportunity for Facebook and the company is approaching this with caution. Now, it's up to the Chinese to play nice, and allow the world's largest social network access into the country, something investors will no doubt 'like.'
Also See: Facebook Makes the Biggest Change to Mobile Ever
Also See: Facebook Earnings Live Blog Recap
Also See: Weibo IPO Is a Test for Twitter, Alibaba

--Written by Chris Ciaccia in New York
>Contact by Email.