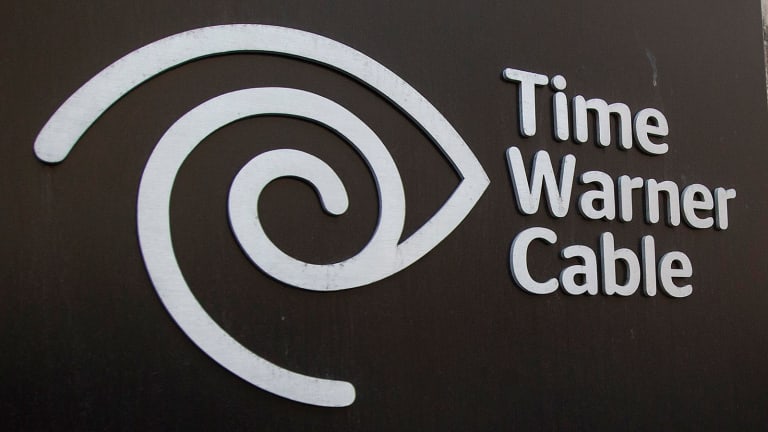 NEW YORK (TheStreet) -- Time Warner Cable (TWC) has made it clear it's for sale, which is half the battle for a would-be acquirer. 
Time Warner Cable is also profitable, has 11 million customers including operations in New York and Los Angeles, and improved its operations during the 14 months that Comcast (CMCSA) - Get Comcast Corporation Class A Reporttried and failed to gain regulatory approval for a merger valued at $45.2 billion.
No wonder that Time Warner Cable has attracted European interest, according to a report Wednesday from the Wall Street Journal. Luxembourg-based Altice (ATCEY) , controlled by French billionaire Patrick Drahi, is reportedly ready to make a bid for New York-based Time Warner Cable. Altice turned heads this morning when it secured a $9.1 billion deal to acquire control of St. Louis-based cable-TV operator Suddenlink Communications.
Apparently, word is out: Time Warner Cable is definitely for sale. 
"With Time Warner Cable you have a known price tag," said Roger Entner, CEO of Recon Analystics, a telecom consultancy based in Dedham, Mass. "You also have a profitable company that's executing well and doesn't have significant problems. This isn't a turnaround case."
Shares of New York-based Time Warner Cable, the country's second-largest cable-TV provider, was gaining 5.6% to $166.87, extending its advance since Comcast terminated its bid last month to 12%.
Of course, interest in Time Warner Cable also includes St. Louis-based Charter Communications (CHTR) - Get Charter Communications, Inc. Class A Report, the country's fourth-largest cable-TV operator, which is 27% owned by billionaire John Malone's Liberty Media (LMCA) . Ironically, Malone's Liberty Global (LBTYA) - Get Liberty Global Plc Class A Report has been aggressively acquiring cable-TV networks across Europe for more than a decade.
Charter is already moving on a $10.4 billion acquisition of privately-held Bright House Networks, a cable-TV operator that also has operations in Los Angeles, among other places, including Florida.
"This is all about Internet access, broadband," Sanjaya Krishna, KPMG's digital risk consulting leader, said in an interview from Washington. "Broadband is considered a utility these days, which codifies the reality of the situation: Internet access into people's homes is getting to be as important to them as their water connection and fuel connection and electricity connection."
Having more customers gives cable-TV providers more leverage in negotiating content licensing deals with television and film companies. Cablevision (CVC) , a cable-TV operator that serves Long Island, New York, has also been the subject of merger speculation given that it's owner and CEO James Dolan said last month that he's open to a deal.
It may also give broadband providers more leverage in being able to raise rates on homes and businesses that use a higher-than-average amount of video. The Federal Communication Commission's ruling on net neutrality, which codifies the Internet as a utility, explicitly stated that the agency won't interfere in rate regulation.
"The silver lining for the people who owns those pipes is the ability to make a case for why they're going to go to usage-based billing for broadband," Krishna said. "For a cable-TV company, it's a likely a loss of cable-TV subscribers being offset in part by increased broadband fees." 
For Altice, which has operations in France and Portugal, the U.S. market is attractive for its size alone. Buying Suddenlink, the country's 7th-largest cable-TV provider with about 1.5 million customers, let alone making a play for Time Warner Cable, would provide a grandiose entry although both deals will require more regulatory approval given that Altice is based outside the U.S. 
The likelihood of consolidation among cable-TV operators comes as more advertising is moving to digital platforms, heightening the importance of broadband connections into homes, businesses and public space. Concurrently, the future of news and entertainment distribution is clearly over the Internet rather than through cable-TV packages, thereby making broadband more valuable.
"People are realizing that the physical cable into homes is the gateway to offer WiFi and deliver all sorts of video," Entner said. "Cable is no longer cable-TV, it's cable-modem, and that's the attraction."
For Time Warner Cable, the future appears bright. Comcast's offer from February 2014 priced Time Warner Cable at $132.50 per share. But with its stock over $165, a takeover bid from either Altice or Charter could exceed $175, or more.
That has to please Time Warner Cable CEO Rob Marcus, and the company's shareholders.