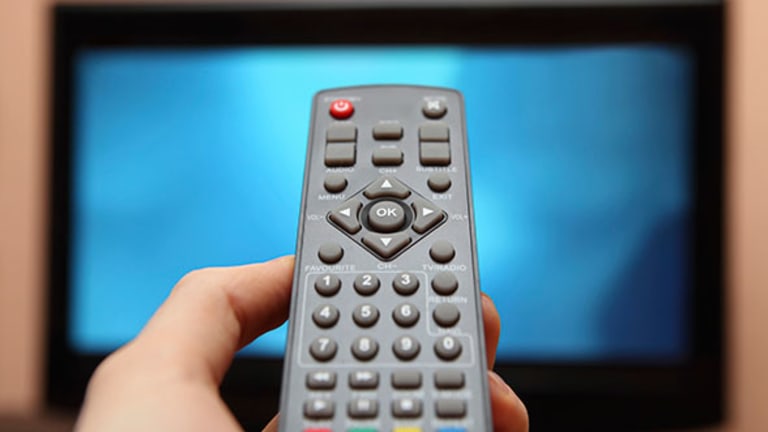 Publish date:
Why Disney, Fox, Viacom Stocks Are Tanking While Netflix Remains Rosy
Television advertising revenue is declining as more marketing companies find online ads are cheaper and more effective. And that is hitting traditional media stocks.
Television advertising revenue is declining as more marketing companies find online ads are cheaper and more effective. And that is hitting traditional media stocks.
NEW YORK ( TheStreet) -- Marketers are moving more money to digital platforms, and investors are moving with them.

Wall Street this week faced up to the fact that falling ad revenue at the nation's largest media companies is not a short-term blip, but rather a long-term trend. Some of sector's biggest names -- Disney (DIS) - Get Walt Disney Company Report, 21st Century Fox (FOXA) - Get Fox Corporation Class A Report, Viacom (VIAB) - Get Viacom Inc. Class B Report and Discovery Communications (DISCA) - Get Discovery, Inc. Class A Report -- suffered double-digit declines over the past three days, after reporting their most recent quarterly results.
"The overall value of television media is decreasing," said Art Muldoon Jr., chief executive and founder of programmatic media marketing companyAccordant Media. "Today's consumer is a much more fragmented consumer, in a non-linear way, and TV has been built on a very linear advertising model."
The culprit, of course, is digital ad spending, which the industry's monitoring group eMarketer forecasts will overtake TV ad spending by 2018. By 2018, total digital ad spending is likely to reach almost $83 billion in the U.S., while TV ad spending is expected to reach only $78.6 billion.
To be sure, many of these same media companies will receive some of that digital advertising on their own online platforms -- but not all of it. The proliferation of digital video sites led by Netflix (NFLX) - Get Netflix, Inc. (NFLX) Report and Google's (GOOG) - Get Alphabet Inc. Class C Report YouTube have produced a fragmented media advertising spending environment that is shaking the foundation of the largest U.S. media companies. 
CBS (CBS) - Get CBS Corporation Class B Report, which has generally withstood these changes better than its rivals, reported a 3% decline in advertising revenue for the quarter ended June 31. Fox, meanwhile, took a 14% hit on ad sales, while Viacom, owner of MTV and Nickelodeon, dropped 9%. Disney said its ESPN ad revenue dropped 3%.
Television advertising has been on a steady downward trajectory for more than two years. But this week, the long-term view appeared to worsen. Disney CEO Robert Iger's admission that ESPN, the sports powerhouse that commands the highest pay-TV fees, was starting to show signs of subscriber losses, exacerbated those concerns. If ESPN is starting to weaken, investors claimed, then other networks must be hurting even worse.
With data like that, investors sold off.
Since Tuesday, when Iger talked about weakness at ESPN, Disney shares have dropped 11%, Viacom has plummeted 18% and Fox has fallen 13%. CBS has largely survived the media sector bloodbath, its shares have dropped just 4%. Cable-TV networks have also taken their lumps. AMC Networks (AMCX) - Get AMC Networks Inc. Class A Report has lost 12%, Discovery Communications has dropped 11% and Scripps Networks Interactive (SNI) has slipped 3%. Netflix shares, in comparison, have risen 4.4% since Tuesday and are up 153% for this year.
Looking ahead, television advertising spending is expected to weaken further as viewers become increasingly comfortable watching video on digital devices.
"The bellweather is looking at consumers' time on mobile and online video compared to TV," said Muldoon, who expects a "flight to quality" as marketers confine their TV advertising dollars to networks that have the technology to slice and dice their audiences the way advertisers have come to expect online.
Of course, television advertising isn't going to zero. Millions of people continue to subscribe to a pay-TV bundle and marketers will continue to spend money to reach them through it. Television, argues Dave Morgan, chief executive of New York-based Simulmedia, an advertising-technology company focused on television, still provides marketers a means to reach a mass audience that online can't match. 
A 30-minute showing of CBS's Judge Judy, he said, will deliver more audience advertising minutes than all of the video on YouTube in a single day.
"It's unfortunate for the TV companies, because their scale still massively bests online video," Morgan said in a phone interview. "But they're terrible at marketing that value to Madison Avenue. If I was a TV company, I'd be hammering YouTube and other digital media companies on scale."
TV advertising isn't going away, it's just going to have to demonstrate that it can add the same value as targeted online marketing.