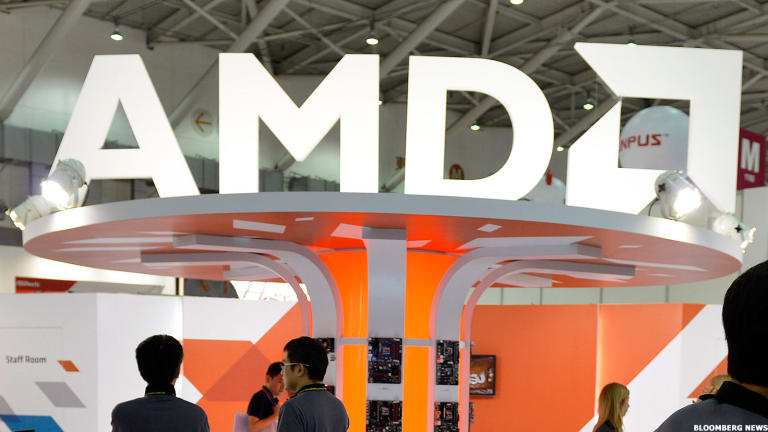 Why Chipmaker AMD Just Acquired a Software Company
AMD hopes its purchase of startup HiAlgo will increase the competitiveness of its mid-range products relative to Nvidia.
AMD hopes its purchase of startup HiAlgo will increase the competitiveness of its mid-range products relative to Nvidia.
AMD (AMD) - Get Reporthas bought HiAlgo, a developer of software tools that improve a PC's gaming performance and image quality, and also prevent a PC's CPU and GPU from overheating while playing demanding games. Terms were not disclosed.
HiAlgo offers three products: Boost, which makes gameplay smoother and reduces lag; Switch, which can instantly increase a game's frame rate by cutting its resolution in half; and Chill, which intelligently limits a game's frame rate to prevent overheating and increase battery life without hurting a game's performance. AMD suggests it will integrate HiAlgo's technologies with its Radeon Software, which comes bundled with graphics cards based on its GPUs.
From the looks of things, one of AMD's main goals with this acquisition is to improve the competitiveness of its mid-range GPUs at a time when Nvidia (NVDA) - Get Reportcontinues dominating the high-end. Indeed, HiAlgo boasts on its site that installing its software is "equivalent to buying a more powerful GPU," and AMD claims the purchase will help "future-proof" its GPUs.
Future-proofing is more of a selling point for mid-range graphics cards than for high-end cards that have more than enough horsepower to play the latest games at high resolutions.
The acquisition follows the launch of the first GPUs based on AMD's Polaris architecture. Though Polaris delivers major power efficiency improvements relative to prior AMD GPUs, and has been optimized for virtual reality gaming, it mainly targets "mainstream" desktop and notebook users.
Graphics cards based on the first Polaris desktop GPU, AMD's RX 480, sport a moderate $199 price tag. Benchmarks show the 480 provides good bang for the buck, but they also show it doesn't come close to matching Nvidia's recently-launched GeForce GTX 1080 and 1070 GPUs, based on its new Pascal architecture. Or, to a lesser extent, AMD's high-end R9 Fury and Fury X GPUs.
HiAlgo's software provides AMD with another selling point as it turns to Polaris to regain mid-range share lost to Nvidia. And the timing of the deal is pretty good, given that Nvidia is set to counter Polaris with cheaper Pascal-based GPUs. Nvidia's dominance of the high-end appears guaranteed at least until the launch of GPUs based on AMD's next-generation Vega architecture, which is expected in 2017.
AMD's stock was flat at $5.12 in late afternoon trading on Wednesday.