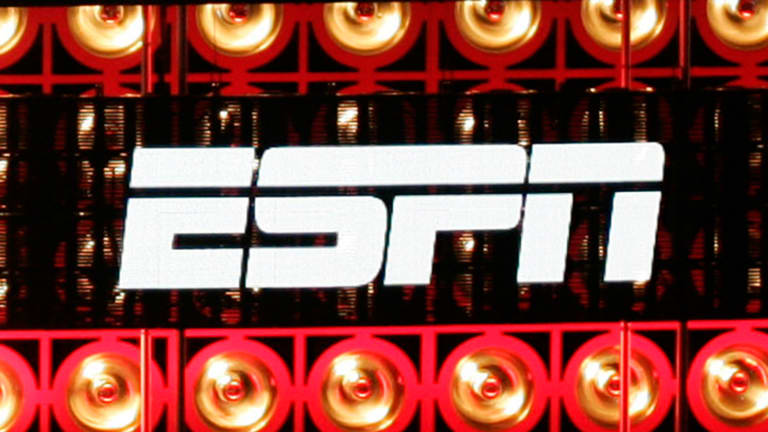 Publish date:
Why Cash-Cow ESPN Is Becoming a Drag on Disney
The sports-network giant remains a TV force, but its rising costs are hurting its parent company.
The sports-network giant remains a TV force, but its rising costs are hurting its parent company.
Corrects in second paragraph that rising costs at ESPN haven't led to losses at Disney. 
NEW YORK (TheStreet) -- For years, ESPN has gone by the nickname of the "The Worldwide Leader In Sports."
Lately, however, it seems like the cable-TV network has also been the leader in rising costs for Disney (DIS) - Get Walt Disney Company Report, its parent company. Programming and production costs at Disney'scable-TV unit, of which ESPN is its larger component, are expected to rise by "low-teen percentage points" for the company's fiscal year ended Sept. 15.
In a business in which content is king, the price of acquiring live-sports content is continuing to rise, and ESPN may have to trim costs elsewhere, possibly with its on-air talent and behind-the-scenes employees.
Last month, ESPN severed ties with popular sports blogger and columnist Bill Simmons and his reported $5 million annual salary. Simmons was seen as on the hot seat for months after some of his comments about NFL Commissioner Roger Goodell and Goodell's handling of the Ray Rice domestic-violence incident.
Some industry analysts have raised concerns about ESPN's impact on Disney. Last week, Morgan Stanley's Benjamin Swinburne said that he even though Disney may take in almost $2 billion in box-office receipts from Star Wars: The Force Awakens later this year, he is keeping his rating on Disney's stock at equal-weight, partly because of ESPN.
Swinburne said he sees "more limited upside" for ESPN to increase revenue from affiliates that carry the network, as well as programming-rights costs that "may grow more quickly than expected." He estimates that ESPN's ad revenue during Disney's fiscal third quarter will fall 2% from a year ago and will rise just 3% for the company's full fiscal year ending in September, as opposed to an earlier estimate of a 6% increase.
In a statement, Disney said that "ESPN has led the sports and media industries for more than 35 years by making smart, strategic investments and constantly innovating. It is a key component of The Walt Disney Company's diverse portfolio and will remain a consistent driver of shareholder value."
Disney shares were slipping 0.7% Monday to $114.15, trimming its 2015 advance to 21% compared to a 1% gain for the S&P 500undefined.
When Disney reported its fiscal second-quarter results in May, the numbers were typically formidable for the world's largest entertainment company.
The company posted earnings of $2.11 billion, or $1.23 a share, on $12.5 billion in revenue, up from a profit of $1.92 billion, or $1.08 a share, on sales of $11.65 billion in the same period a year ago. Disney CEO Bob Iger said that the company's results were "reflected in the phenomenal worldwide success" of the recently released film, Marvel's Avengers: Age of Ultron, which has grossed more than $1.3 billion since its release in April.
But ESPN, which is a cash cow for Disney, got a bit of a short shrift in the quarter. Its earnings performance appears to be enough of a concern to warrant some cost-cutting pressure.
Disney's media-networks division generated $5.8 billion in revenue and $2.1 billion in operating profit during the quarter. Within media networks, cable -- which includes ESPN -- had $4.03 billion in sales and $1.8 billion in operating earnings. The cable division's operating earnings fell 9% from a year ago, and Disney said that the decline was "due to a decrease at ESPN."
The cost increases, Disney said were due to college football programming and the addition of an NFL wild card playoff game and the SEC Network, which began airing games in August.
There's probably little ESPN can do about those rising content costs. For example, Disney and ESPN are reported to be on the hook for at least $1 billion a year for nine years once the new TV contract with the National Basketball Association kicks in with the 2016-2017 season.
As a result, the network may have to look elsewhere within its operations to trim costs, and keep investors happy.
This article is commentary by an independent contributor. At the time of publication, the author held no positions in the stock mentioned.