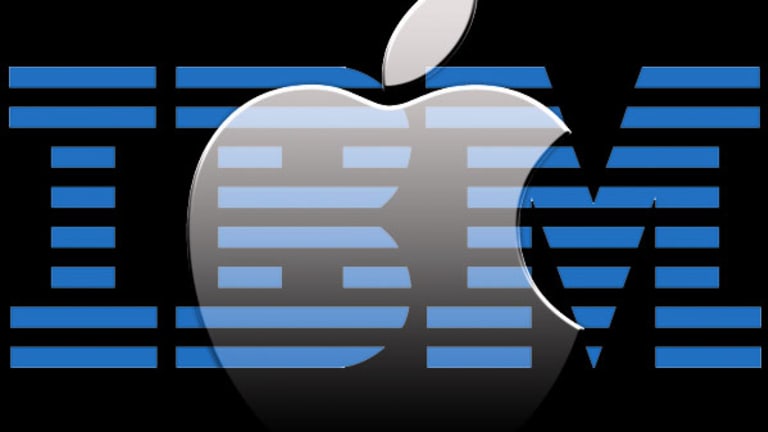 Why BlackBerry and Microsoft Must Watch Apple's Deal With IBM Closely
As Apple enters the enterprise market, BlackBerry and Microsoft better be paying attention.
NEW YORK (TheStreet) -- Nearly 30 years after Steve Jobs facetiously welcomed IBM (IBM) - Get International Business Machines Corporation Report to the PC market and unveiled Apple's (AAPL) - Get Apple Inc. Reporticonic 1984 ad, the once-frosty relationship between the two companies has thawed and is beginning to bear fruit. As Apple enters the enterprise market with the announcement of 10 new apps, born from its July partnership with IBM, BlackBerryundefined and Microsoft (MSFT) - Get Microsoft Corporation Report better be paying attention. 
The move by Apple and IBM is important as companies continue to need a variety of critical technology for their businesses. According to data released in July from American Express and CFO Research, senior finance executives believe business intelligence (33% of respondents), cloud computing (27%), mobile technology (25%) and data collection (23%) are among the "most critical needs for increased spending on IT."
In a July research note, Barclays analyst Ben Reitzes wrote that a combined IBM-Apple team could derail the efforts BlackBerry has made in enterprise.
"With the consumer market more competitive, Apple seems very well-positioned to attack the enterprise market where companies like BlackBerry are ceding ground and Samsung is having trouble gaining a foothold," Reitzes wrote in the note. "This deal could help Apple gain the critical support and distribution to tap into enterprise environments -- an opportunity that still seems nascent."
Under CEO John Chen, BlackBerry has focused on staying relevant in enterprise software, as security becomes increasingly more important in the workplace. However, the company has had mixed success when it comes to monetizing the security technology. Given the deal between IBM and Apple -- and other companies entering the enterprise space -- this may increasingly become harder to do.
"We believe the spate of recent acquisitions (IBM-Fiberlink, VMware-AirWatch, Citrix-Zenprise) all add to the competitive pressures for BlackBerry in enterprise mobile management (EMM) as BlackBerry now finds itself competing against much larger and established enterprise vendors, as well as smaller, but better capitalized, vendors e.g. MobileIron (post-IPO)," UBS analyst Amitabh Passi wrote in a research note this summer.
With Satya Nadella at the helm, Microsoft has made it a point to focus on the enterprise, enabling enterprises and employees to have better experiences with Microsoft's cloud and Enterprise Mobility Suite. These Microsoft offering could be affected by the IBM-Apple deal.
"Beyond back-end cloud infrastructure, our cloud will also enable richer employee experiences," Nadella wrote in a recent email to all Microsoft employees. "For example, with our new Enterprise Mobility Suite, we now enable IT organizations to manage and secure the Windows, iOS and Android devices that their employees use, while keeping their companies secure."
For Apple, the benefits of the deal are simple.
It's all about getting iOS devices into the hands of employees at the office, not just outside it. The bring-your-own device market is enormous, with the North America market estimated to grow from $29.5 billion this year to $89.6 billion by 2019, according to MicroMarketMonitor. By utilizing IBM's enormous sales force, Apple can help sell more iPhones and iPads, a point Apple CEO Timothy D. Cook has made ad nauseam.
"iPhone and iPad are the best mobile devices in the world and have transformed the way people work with over 98 percent of the Fortune 500 and over 92 percent of the Global 500 using iOS devices in their business today," Cook said in the a press release in July when the IBM-Apple deal was first announced. "For the first time ever we're putting IBM's renowned big data analytics at iOS users' fingertips, which opens up a large market opportunity for Apple. This is a radical step for enterprise and something that only Apple and IBM can deliver."
While Wednesday's announcement of the first 10 apps being made available for iOS is a start, it likely will take 10 quarters to see the true benefits of this, be they in iOS device sales or comments made by BlackBerry and Microsoft about the prowess of iOS in the enterprise space.
Either way, it's a deal not to be overlooked by either BlackBerry or Microsoft, and one that not even former Apple CEO Jobs would make a sarcastic comment about.
-- Written by Chris Ciaccia in New York
>Contact by Email.