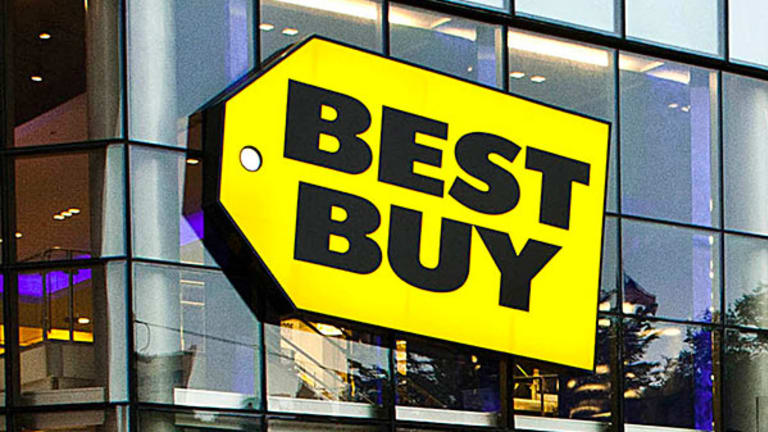 Why Best Buy is Pointing Fingers at Apple and Samsung
Best Buy shares were rising 6.3% to $26.94 on Thursday, despite the electronics retailer warning that same-store sales would be lower in its fiscal second and third quarters as consumers pull back on purchasing electronics and also await new mobile phone product launches, namely from Apple, which is rumored to be launching its latest iPhone model in August.
This story has been updated from 7:58 am ET to include commentary from Best Buy's conference call.
NEW YORK (TheStreet) - Best Buy (BBY) - Get Best Buy Co., Inc. Report is pointing fingers at Apple (AAPL) - Get Apple Inc. Report and Samsung as the reason why its sales outlook for the next two quarters will be lower.
The Richfield, Minn.-based electronics retailer warned in its first-quarter earnings report that same-store sales would be lower in its fiscal second and third quarters, as consumers pull back on purchasing electronics and also await new mobile phone product launches. Apple is rumored to be launching its latest iPhone model in August.
"As we look forward to the second and third quarters, we are expecting to see ongoing industry-wide sales declines in many of the consumer electronics categories in which we compete," Best Buy CFO Sharon McCollam said in this morning's earnings release. "We are also expecting ongoing softness in the mobile phone category as consumers eagerly await highly-anticipated new product launches. Consequently, absent any major product launches, we are expecting comparable sales to be negative in the low-single digits in both the second and third quarters."
Best Buy said that comparable sales in its fiscal 2015 first quarter fell 1.9% overall, compared to expectations of 0.8% decline. In its domestic segment comps declined 1.3%, offset by a 29.2% increase in comparable online sales, it said. Total revenue fell 3.3% in the May 3-ending quarter to $9.035 billion, also missing analysts' expectations.
On a GAAP basis, Best Buy reported earnings from continuing operations of $1.31 a share. Non-GAAP diluted earnings from continuing operations were 33 cents a share compared to 32 cents a share in the year-earlier quarter and consensus expectations of 20 cents a share, according to Thomson Reuters.
Yet shares were surging 6.3% to $26.94, reversing pre-market losses, as investors digested comments made by Best Buy's executive management team during its conference call. McCollam emphasized during the call that pressure in top line sales over the next two quarters with relates to a lack of exciting products in consumer electronics as well as mobile categories.
"The real message in the outlook today... is where we see the comps" in the second and third quarters in the consumer electronics industry and "what has to happen with First Call estimates," McCollam said. "We need some new excitement on those categories." McCollam added that mobile phones is also suffering without "newness" and "anticipation" to get customers coming in to the stores to make purchases.
That said, Best Buy is launching two more store-within-stores concepts that will focus on home theater merchandise. Best Buy is expanding its relationship with Samsung to open entertainment stores in 500 of its locations. Best Buy is also partnering with Sony (SNE) - Get Sony Corp. Report to open 350 store within stores. CEO Hubert Joly called it the "first major merchandising transformation in Best Buy's home theater department in 10 years."
Best Buy has been working through its turnaround plan and cost-cutting initiative dubbed Renew Blue. On the call, Joly noted as of the first quarter, Best Buy had realized $860 million in cost savings since the plan was put in place in late 2012. Last quarter, the company raised its overall cost-saving target to $1 billion.
An initiative that company management spent a significant portion of the conference call talking about was its growing ship-from-store service. The service, which has now been rolled out at all 1,400 stores, is helping the company's online sales and improve margins as it looks to clear out inventory from its stores, particularly "end-of-life" items. Those products have a better chance at selling, even at clearance prices, due to exposure to the larger online customer base versus traffic from a single store.
"In ship-from-store the amount of inventory that has actually been unlocked represents about two-thirds of our inventory," McCollam said. "So where we may be carrying $3 billion of total inventory about $2 billion has been unlocked to the customer."
Best Buy said its domestic gross profit rate was 22.7% vs. 23.4% in last year's quarter. The decline was attributed to 60 basis points from "less favorable ongoing economics" its new credit card agreement, legal settlements, increased product warranty costs in mobile as well as continuing to compete on price, particularly in accessories with other retailers, it said. Yet Best Buy pointed out that the margin decline was offset by further Renew Blue cost reductions, better management of promotional initiatives and higher inventory shrinkage in the first quarter compared to the year-earlier quarter as well as a "non-recurring benefit" associated with its new credit card agreement.
"We have already seen margin benefits, which was delivered in today results through the utilization of ship-from-store and we expect that to continue to grow," McCollam said.
--Written by Laurie Kulikowski in New York.
>>Read More:
Target's Big Miss: What Wall Street Thinks
Staples' Restructuring Is 'Too Late,' Says Analyst
Why JCP's Online Strategy Is Not That Bad
Disclosure: TheStreet's editorial policy prohibits staff editors, reporters and analysts from holding positions in any individual stocks.