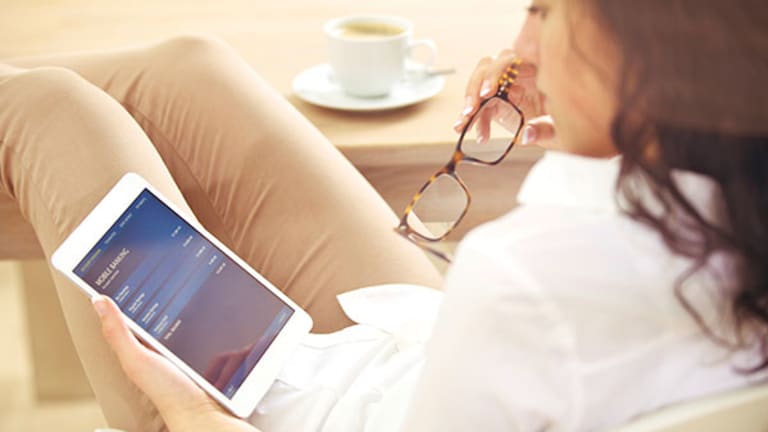 Why Banks Should Be Prioritizing Mobile
A new report from Javelin sheds some light on how banks like Chase, Bank of America and Wells Fargo should be approaching mobile.
NEW YORK (TheStreet) -- Consumers are using their phones for every task possible -- and increasingly for banking.
About 23% of consumers primarily use a mobile device to access a checking account, according to a new study from Javelin Strategy & Research. The number of weekly mobile bankers is now equal to the number of customers who use a physical bank branch.
In just four years, the number of weekly mobile bank users rose to 27% of consumers who use banks, up from 9%, as the number of weekly branch bank users fell to 28% from 40%. Javelin predicts that the number of weekly mobile bank users will continue to rise as the number of weekly branch bank users decreases.
In short, banks need to be thinking mobile or they stand to lose the business of 56 million mobile-first Americans. Mobile-first customers are more likely to switch banks, with 27% saying they are likely to switch in the next year (vs. 16% for those who aren't mobile-first).
Banks should be striving to retain these customers and meet them where they are.
Most banks have already realized that mobile should be a priority. JPMorgan Chase (JPM) - Get Free Report, for instance, has invested 8% to 9% of its annual revenue in global technology and digital innovation for the past six years.
Bank of America (BAC) - Get Free Report too is realizing the opportunity in mobile. BofA reported in the first quarter of 2015 that 13% of deposits made by its customers were being transacted through mobile. Bank of America and Chase tie for attracting the most mobile-first customers, while Wells Fargo (WFC) - Get Free Report comes in third and Citibank (C) - Get Free Report comes in fourth.
"We continue to invest in products and innovation, as well as efficiency," Bank of America CEO Brian Moynihan said during the company's first-quarter earnings call. "A simple example: in our consumer mobile banking space, we now have 70 million mobile banking customers up over 2 million from last year."
If they haven't already, bank executives need to "recognize, plan for, and fund this rapidly changing customer focus," the report stated. Some features that banks may want to look into include mobile check deposits, pre-login balance checks, mobile search and in-app appointment scheduling.
"The customer has spoken: banks should treat mobile as a 'first screen,'" said Mary Monahan, executive vice president and research director at Javelin. "They can do this by offering an end-to-end mobile banking package vs. a sliced-and-diced version for a smaller screen."
While planning for mobile, banks can leverage data to cater to the demographics that are already mobile-first.
For instance, those who bank mobile-first tend to be young -- 71% are under age 45 -- meaning that they might need a bit more hand-holding and financial advice. They might be getting ready to buy a house or a car, and might be in need of loans. Younger consumers typically are more cautious and risk-averse compared to older consumers, according to Javelin.
Banks should provide information and help these young consumers on the devices that they're already using.
Additionally, mobile-first customers tend to use Apple (AAPL) - Get Free Report devices, with 52% of mobile-first customers preferring iPhones over Google (GOOG) - Get Free Report Android phones and 57% preferring iPads over Android tablets. So if banks are strapped for resources, it's in their best interest to start with iOS apps, since that's where the mobile-first customers tend to be. Ideally, though, banks should be working on omnichannel strategies that span all devices and operating systems.
Mobile-first bankers are also more likely to be employed full time than those who don't bank mobile first. And they're twice as likely to be students. They're also more likely to be female and have children, and they earn a mean income of $76,000.
"Financial institutions should strive to hold a unified view of the customer, wherever he or she decides to transact, providing an easier to navigate, seamless and branded banking experience," Monahan said.
"As customers develop banking habits, it is to the bank's benefit to influence the creation of cost-efficient behaviors, such as preferring online- over paper-statements. It's not up the bank to dictate how the customer transacts, but it is their responsibility to make banking easier and more convenient," said Monahan.