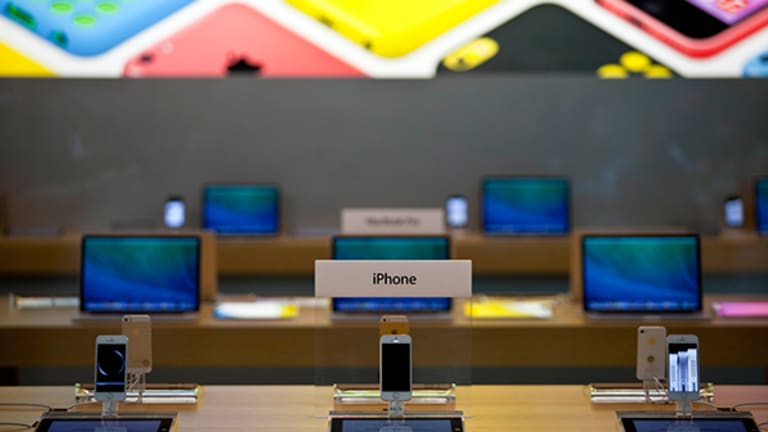 Why Apple's iPhone 6 Won't Be Late
Despite having reported setbacks in its supply chain, Apple will still be able to get the iPhone out on time.
NEW YORK (TheStreet) –– Some people never learn when it comes to Apple (AAPL) - Get Apple Inc. Report .
A Reutersreport about Apple's supply chain scrambling to get screens ready because of the need to redesign a component is all well and good, but it's highly unlikely that the scrambling will lead to a delay in the release of the iPhone because of the complexity of Apple's supply chain. This is a point CEO Timothy D. Cook has made before, as he has questioned reading too much into a single data point.
"I don't want to comment on any particular rumor because I would spend my life doing that. But I would suggest it's good to question the accuracy of any kind of rumor about build plans and also stress that even if a particular data point were factual it would be impossible to accurately interpret the data point as to what it meant for our overall business because the supply chain is very complex and we obviously have multiple sources for things, yields might vary, supply performance can vary," Cook said on an earnings conference call in January. "The beginning inventory positions can vary; I mean there is just an inordinate long list of things that would make any single data point not a great proxy for what's going on."
The report stated that display panel production had issues following a revision to the backlight which helps brighten the screen. Apple is reported to have wanted one backlight layer, as opposed to the traditional two layers for the 4.7-inch version of the next iPhone.
Reuters said that while there may have been a setback to get the new screens ready for the upcoming iPhone, which may be dubbed the iPhone Air, the output is now "back on track and suppliers are working flat-out to make up for lost time." Essentially, this makes this story a non-event, and something Apple investors have already dismissed, judging by share price reaction.
The iPhone is still Apple's primary revenue driver, having generated revenue of $19.75 billion as Apple shipped 35.2 million iPhones in its fiscal third quarter. Total revenue for the quarter was $37.4 billion, making the iPhone more than 50% of its sales.
Apple shares have outpaced the Nasdaq both year to date and over the past six months, gaining 25.5% year to date and 34% over the past six months, compared to 8.5% and 6.3% for the Nasdaq, respectively.
See how Apple changed the way we work, communicate and consume entertainment:

WATCH: More feature videos on TheStreet TV
Apple is reported to have scheduled a media event for Sept. 9 to announce the new iPhone. Cupertino, Calif.-based Apple is heavily rumored to announce not one but two iPhones: one with a 4.7-inch screen and the other with a 5.5-inch screen. The latest iPhone models, the 5s and the 5c, have 4-inch screens.
As the iPhone launch draws near, both investors and consumers should take each report with a grain of salt, especially ones mentioning concerns or issues about the supply chain.
Don't believe me? Ask Tim Cook.
-- Written by Chris Ciaccia in New York
>Contact by Email.