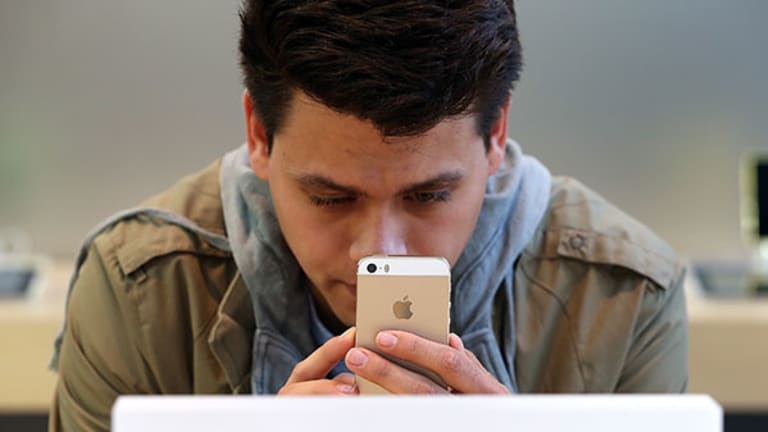 Why Apple's Getting a Boost (Update 2)
Ahead of Jan. 27 earnings, Goldman is boosting Apple's price target, based on iPhone and iPad strength and positive bias for the March quarter.
Updated from 10:52 a.m. EST to include CNBC comments from Carl Icahn.
NEW YORK (TheStreet) -- Apple's (AAPL) - Get Apple Inc. Report earnings are usually one of the biggest events, if not the biggest event, during earnings season, particularly in the tech sector. With Goldman Sachs boosting Apple's price target ahead of earnings, this quarter's results just got that much bigger.
Goldman Sachs analyst Bill Shope raised his price target on Apple to $635 from $620 due to higher earnings estimates for the upcoming quarterly results, due to higher iPhone and iPad sales. He also cited increased confidence around the March quarter, due in large part to the China Mobile (CHL) - Get China Mobile Ltd. Report deal. Apple remains on Goldman's America's Buy List, a coveted rating among companies.

Apple signed the deal with China Mobile in late December, right before Christmas. This allows China Mobile's more than 760 million subscribers, including its lucrative 140-million 3G customers, access to Apple's latest iPhones, the iPhone 5s and iPhone 5c.
Read: 3 Lessons for Businesses Worried About SEO Changes in 2014
"Our upward revisions for the December quarter are largely driven by better-than-expected mix for both iPhones (5s versus 5c) and iPad (air versus mini), and our increased confidence in the March quarter is largely driven by the China Mobile iPhone launch on January 17," Shope wrote in his report. He now expects Apple to earn $14.29 per share on $58.54 billion in revenue for the holiday quarter, and $11.00 per share on $45.92 billion in revenue for the March quarter. Analysts surveyed by Thomson Reuters expect Apple to earn $14.09 per share on $57.45 billion for the fiscal first-quarter and $10.89 per share on $45.92 billion for the fiscal second-quarter, respectively.
In those figures, Shope expects Apple to sell 56.67 million iPhones, with the iPhone accounting for $32.53 billion in revenue during the December quarter. For the March quarter, he expects 45.81 million iPhones shipped. For the iPad, he expects 26.4 million iPads shipped during the December quarter, accounting for $12.9 billion in revenue, and 20.88 million during the March quarter. With regards to Mac sales, he expects 4.41 million Macs for the December quarter, and 3.85 million for the March quarter. He also expects 8.24 million iPods sold during December, and 4.12 million iPods sold during the March quarter.
Aside from the usual focus on revenue, earnings and product sales, Apple's gross margin is likely to come in to play. During Apple's fiscal fourth-quarter earnings, there was some confusion about Apple's gross margins, which the company said would be between 36.5% and 37.5%. The company later said it would defer $900 million in revenue due to the change in the way it hands out software, which accounted for 150 basis points worth of margin.
Read: Netflix's House of Cards

Last year was challenging for Apple shares, with the sharp drop in share price, dealing with an activist shareholder (Carl Icahn), and concerns over stagnant innovation. However, that's likely to change according to Shope, starting with the December quarterly results.
Update: Icahn has tweeted that he has been buying additional Apple stock over the past two weeks, taking his position to more than $3 billion.
Icahn was on CNBC later in the day, touting his position. "Apple shares are still cheap," Icahn said during the interview. He noted that this was not a criticism of Apple's management, but rather Apple's board of directors. Icahn has repeatedly asked Apple's board for a $150 billion stock buyback. Icahn also noted that he intends to buy more Apple shares.
In his note, Goldman Sachs' Shope said that Apple is attracting plenty of positive sentiment. "Indeed, the most recent iOS product cycle appears to have had a much stronger product cycle than previously anticipated, and this, coupled with the recent China Mobile partnership, should allow consensus earnings estimates to trend upward from current levels," he wrote. By and large, consumers and product reviewers took to the iPhone 5s and iPad Air, with many (including myself) calling the iPad Air an engineering marvel.
Shope noted that Apple is still a free cash flow machine as well, generating $45.5 billion in free cash flow during fiscal year 2013, as iPhone units grew 20.2% and revenue rose 9.2%. "[W]e believe this relatively resilient performance highlights the fact that Apple's installed base is sticky enough to withstand a tough product cycle and this has greatly weakened the most severe bear cases on the story."
This year is looking like it may wind up being kinder to Apple and its share price, with rumors of an iWatch, the potential for an Apple-branded television, as well as refreshes to the iPhone, iPad and Mac lineups. However, it's still up to Apple and CEO Timothy D. Cook to deliver. Shope notes 2014 will "demonstrate whether Apple can generate steady iOS revenue growth, and whether the company's innovation engine can still produce powerful new product categories and further differentiate Apple's iOS software and services offerings."
Judging by his price target, he's betting Apple can deliver.
-- Written by Chris Ciaccia in New York
>Contact by Email.