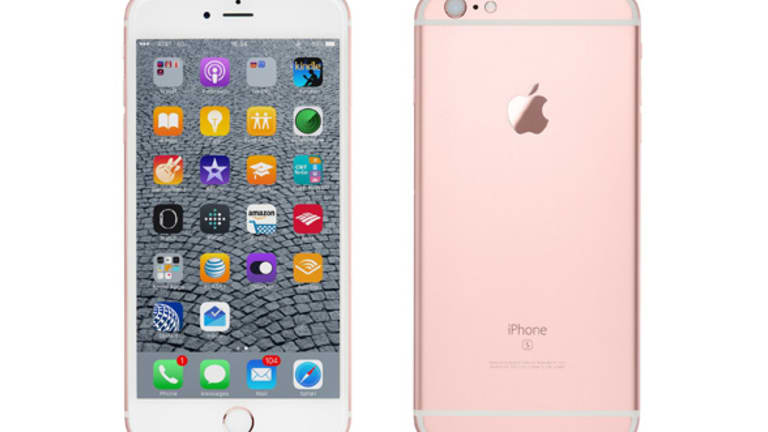 Why Apple's iPhone Sales May Not Be In Such Trouble After All
Most analysts on Wall Street have cut their estimates for Apple iPhone shipments this quarter, on concerns the iPhone 6s is not selling well. There's a chance they're wrong, though.
Most analysts on Wall Street have cut their estimates for Apple iPhone shipments this quarter, on concerns the iPhone 6s is not selling well. There's a chance they're wrong, though.
Editors' Pick: Originally published Jan. 21.
Nearly every analyst on Wall Street has cut their estimates for Apple (AAPL) - Get Report iPhone shipments this quarter, on concerns the iPhone 6s and iPhone 6s Plus are not selling well because of a perceived lack of a reason to upgrade.
There's a chance they're all wrong, though.
Creative Strategies analyst Ben Bajarin believes the reason we've seen a lot of Wall Street analysts cutting their total iPhone estimates for this quarter is that we may see a higher-than-normal percentage of older phones sold.
"New phones are usually between 70% and 80% of sales," Bajarin said in a phone interview. "This quarter, it could be between 60% and 70%, as more emerging markets are going towards the [iPhone] 6 than the [iPhone] 6s. This hasn't happened before and could be a new wrinkle in people's models."
Apple is expected to sell between 75 and 76 million iPhones for the December quarter, its most important. At the mid-point, that would represent just an extra one million iPhones sold compared to the first quarter of 2015, representing 1.3% year-over-year growth, not exactly the kind of numbers Apple investors are used to hearing.
Analysts surveyed by Thomson Reuters expect the Cupertino, Calif.-based Apple to earn $3.23 a share on $76.6 billion in revenue.
Wall Street analysts have taken their cues from Apple's supply chain in recent months, many of whom have mentioned weakness about ordering from major customers (read: Apple).
Bajarin, who believes Apple will sell 76.5 million iPhone units, said part of the reason for the slightly weaker-than-expected growth is that the company's advertising campaign hasn't helped. A fair number of Apple's iPhone 6s ads have started with the line "Not much has changed..." which may have had an impact on sales. 

With the potential for older iPhones being a greater proportion of the mix, we may see gross margins, a closely-watched level for Apple, tick up since older models are more profitable, but the average selling price (ASP) remain flat or tick down.
In recent years, the company's tick-tock level of product introduction, in which it's conditioned buyers to not expect too much from S cycles, has been stronger than it was with the iPhone 6s. With the iPhone 4s, Apple introduced Siri, and TouchID was introduced as part of the iPhone 5s.
With the iPhone 6s, the major improvements over the iPhone 6 were 3D Touch, which allows the iPhone to sense pressure on the screen and react in different ways. Another new feature introduced was Live Photos, which allow users to press on a photo and capture the moment in real-time, along with audio, thanks in part to the new A9 chip.
As part of the iPhone 6s and 6s Plus announcement, Apple also unveiled a new color scheme -- gold, silver, space gray and the new rose gold, which had previously been seen on the Apple Watch.
There's also the real possibility that a lot of people upgraded last year, taking advantage of the 4.7-inch and 5.5-inch screens that were introduced with the iPhone 6, and are less willing to move up to the 6s.
In the past, Apple CEO Timothy D. Cook has said that the number of people who've upgraded to the iPhone 6s is still very low. "We also look at the number of people that have upgraded, that were in the installed base prior to iPhone 6 and 6 Plus and that number is in the low 30 percentages," Cook said on the company's fiscal fourth quarter earnings call.
Jim Cramer of Action Alerts PLUS, which owns Apple in its portfolio, said, "While near-term iPhone unit sales will undoubtedly be lower than analysts had initially anticipated a month and a half ago, a variety of negative data points from Apple suppliers regarding recent supply- chain disruptions imply sequential and annual declines in December, March and (to a far lesser extent) June quarter unit sales. Despite the potential near-term declines, we believe the back half of the year provides a nice setup for the company, led by the launch of the iPhone 7."
Exclusive Look Inside:
You see Jim Cramer on TV. Now, see where he invests his money and why Apple is a core holding of his multi-million dollar portfolio.
Want to be alerted before Jim Cramer buys or sells AAPL? Learn more now.
The company's new installment plan, which essentially acts like an iPhone-as-a-service plan, may also help the company down the line, especially in emerging markets where the price of an iPhone can be prohibitive. "The effects of currency impact plus the extra $100 [for the new iPhone] are a hard pill to swallow," Bajarin said, while adding, "it's not that big of a deal here [in the U.S.]. The installment plans help with just $5 a month or whatever the consumer is paying."
Whatever the case may be, we'll all find out when Apple reports earnings on Jan. 26.