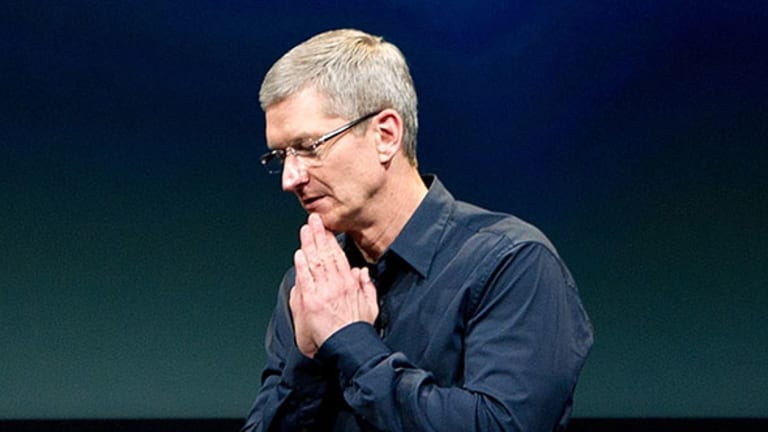 Why Apple's $200 Billion Cash Hoard Isn't Really a 'Problem'
Calls for Apple to make a big acquisition with its huge cash reserves are growing, but the tech giant likely won't -- and doesn't need to.
Despite the recent pickup in chatter about Apple's (AAPL) - Get Apple Inc. (AAPL) Report growing "cash problem," it's really not an issue at all.
A balance sheet with more than $200 billion in cash on it (albeit one that now also has $60 billion in debt and climbing) is the envy of every non-financial company in the world. Every company out there dreams of having a problem like too much cash because consumers are buying so many of their products -- in Apple's case, iPhones, iPads, Macs, Apple Watches, etc.
While there is a growing class of shareholders and pundits who want to see Apple do something big with its cash, such as buy Tesla (TSLA) - Get Tesla Inc Report or Time Warner's (TWX) HBO (or all of Time Warner) or some other company are missing the forest for the trees. Apple's largest acquisition in its history was the purchase of Beats last year for $3 billion. At the time, there were some, including myself, who didn't quite understand the logic behind the deal, but it seems to have worked out in spades for Apple, especially when you factor in that unlike most tech acquisitions, it was accretive right away to earnings on a GAAP basis.
According to sources familiar with the company's thinking, it's highly unlikely Apple will ever do a large-scale acquisition for fear of operational and execution risk. Apple's culture is so much different than most every company out there, including those in Silicon Valley, that bringing in potentially thousands of workers to the company through a big acquisition would be more destructive than whatever gain Apple could receive from the company it was buying.
A lot of the chatter about what Apple should do with its cash seems to be driven by the recent decline in its share price. Shares have fallen 11% (excluding dividends) over the past year. When viewed against the lens of a 49% gain in the shares of Alphabet (GOOG) - Get Alphabet Inc. Class C Report (GOOGL) - Get Alphabet Inc. Class A Report or the impressive 109% rise in shares of Amazon (AMZN) - Get Amazon.com, Inc. Report , that's not too impressive.
I understand that excess cash is discounted by the market, thus being a detriment to shareholders rather than a net positive, for fear that the company will either spend it frivolously, not use it at all, waste it on meaningless share buybacks or something else. However, Apple takes the view that it isn't simply looking a year or two out, it's looking decades out when it decides to really push a product.
Exclusive Look Inside:
You see Jim Cramer on TV. Now, see where he invests his money and why Apple is a core holding of his multi-million dollar portfolio.
Want to be alerted before Jim Cramer buys or sells AAPL? Learn more now.
Look at the iPhone in 2016 vs. where the market was in 2007. I don't think anyone imagined that the iPhone would be this kind of juggernaut, perhaps not even Apple itself. In 2015, Apple generated $155 billion in revenue from the iPhone, according to its 10-K, selling 231.2 million units.
Breaking that down even further, Apple sells roughly 636,000 iPhones per day. That's 26,500 iPhones per hour, or 441 iPhones per minute. You get the drift. These are unfathomable numbers, especially when you realize Apple is garnering margins near 40% for these products, levels that are unheard of in the hardware industry.
Apple is ramping up its research and development expenditures -- it spent just over $8 billion in R&D in fiscal 2015, up 34% year-over-year according to its 2015 annual filing. But it's also supporting its supply chain as well.
All signs are pointing to Apple designing a car, with Tesla CEO Elon Musk recently calling it an "open secret" among those in the auto industry. The Wall Street Journal's Daisuke Wakabayashi, the Financial Times' Tim Bradshaw and many others have written stories about Project Titan, reported to be the codename for Apple's car project.
The company has never talked about its plans publicly, including to yours truly. Yet the Cupertino, Calif.-based company has danced around the topic, with newly appointed Chief Operating Officer Jeff Williams saying the car was "the ultimate mobile device," and CEO Timothy D. Cook simply laughing at the question when he was posed it by Charlie Rose on a December episode of 60 Minutes.

Designing, producing, testing and building a car is enormously expensive -- just ask Ford (F) - Get Ford Motor Company Report , General Motors (GM) - Get General Motors Company (GM) Report or even Tesla, which has had to do more capital raises than I can count. Ford has over $100 billion worth of supply chain commitments, while GM has a similar figure.
Consider the model Tesla has built for producing electric vehicles and the one Faraday Futurejust introduced, with its variable platform architecture -- a fancy way of saying it's a lot easier for Faraday to make different kinds of cars on the same assembly line. It's highly likely Apple and its team of automotive experts under the Project Titan umbrella are working on or have already created a way to cut down production costs and potentially ease supply chain commitments significantly. That's a departure from what we've seen in the past from various automakers.
Whatever approach Apple decides to take, it's not going to be cheap. That's where the cash pile helps.
Jim Cramer of Action Alerts PLUS, which owns Apple in its portfolio, said, "With the iPhone 7 catalyst coming later in the year and further penetration of its additional products, we see multiple levers for upside in the back half of the year. Don't forget the company is still run by one of the best management teams in the world (which has executed flawlessly and repeatedly delivered above and beyond expectations), boasts an enormous cash balance, is outpacing its smartphone peers and has an established and still-developing ecosystem of products and services."
Exclusive Look Inside:
You see Jim Cramer on TV. Now, see where he invests his money and why Apple is a core holding of his multi-million dollar portfolio.
Want to be alerted before Jim Cramer buys or sells AAPL? Learn more now.
If Apple is likely to have an electric vehicle, you start to think of the ancillary things that go with it, most notably charging support. Tesla has painstakingly built out its Supercharger network across the globe, since you can't just go to the gas station and charge your Tesla. Given that Apple likes to have its own chargers for its products, it's not out of the realm of possibility that Apple would build its own charging network as well.
Tesla's Superchargers cost roughly $150,000 per station, according to a 2014 interview with then-head of communications, Simon Sproule, so it's certainly possible Apple's electric vehicle chargers could cost something similar.
None of this is to speak of the other projects Apple is working on, including ramping up hiring in the medical field, as reported by Buzzfeed, or any new ancillary products for the Apple Watch, or continued innovation in existing products like the iPhone, iPad and Mac, or services like the App Store, Apple Music, Health or countless others.
Rome wasn't built in a day. Many on Wall Street forget that, since almost everything revolves around the almighty quarterly cycle. But 90 days or a year aren't enough to judge a company; only decades are. And a balance sheet with $200 billion worth of cash on it really isn't a problem at all.