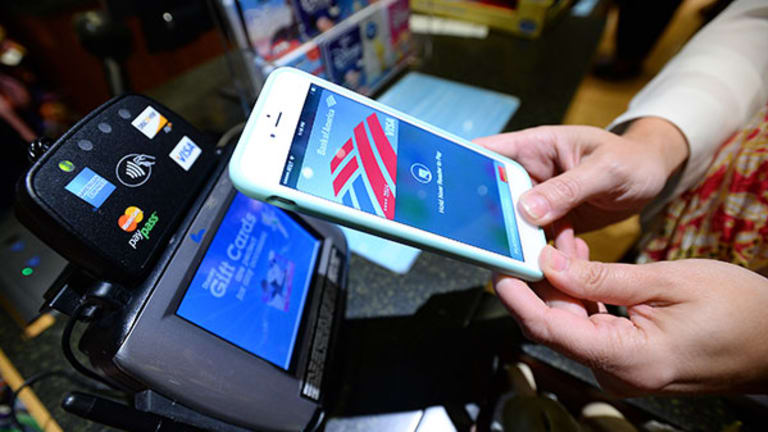 Why Apple Pay Won't Hurt PayPal as Much as Some Fear
Apple Pay is reportedly expanding to PayPal's wheelhouse -- the web browser -- but the impact may not ultimately be that significant.
Apple (AAPL) is reportedly expanding its mobile wallet beyond apps and into web browsers, but according to some analysts, PayPal (PYPL) need not worry.
Browsers have long been under PayPal's domination, as other players tackle in-app and in-store payments, but a new report from Re/code suggests that Apple may be bringing Apple Pay to the browser later this year, meaning more competition for PayPal in its core channel.
Apple has been telling potential partners that Apple Pay will be available on mobile iOS browsers (on devices that support fingerprint ID) and maybe even desktop browsers, potentially in time for the holidays this year, according to Re/code. The announcement could come at Apple's big WWDC conference in June.
Following the report, PayPal shares dropped 4% on Thursday, as investors feared that the Apple expansion would reduce PayPal's market share.
But SunTrust analyst Bob Peck thinks investors were too quick to worry.
"Apple Pay extending beyond in-store and in-app should be expected, and while it absolutely represents incremental wallet competition, we expect the net impact to be gradual and manageable," Peck wrote in a note Monday morning.
A quarter of PayPal's total payment volume, or TPV, took place on mobile during the fourth quarter of 2015, and Peck estimates that only 45% of that occurred in browsers as opposed to in apps, and that only 40% of the browser volume occurred on Safari, so Peck assumes that less than 5% of PayPal's TPV takes place on Apple's browser.
Plus, not all Apple devices support fingerprint ID, and it will take time for Apple to ramp up both merchant and consumer adoption, meaning that the amount of potential competition could be overstated.
"Recall Apple Pay has been available in-store and in-app since 4Q14; during which time PayPal's total and mobile TPV growth has accelerated," Peck added. "It is also important to note that if Apple Pay in-browser is successful in driving incremental conversions (the ultimate goal for the merchant in accepting a new payment type) it could actually benefit PayPal's Braintree (supports Apple Pay) and thus lessen the net impact."
Apple and PayPal are holdings in Jim Cramer's Action Alerts PLUS Charitable Trust Portfolio.
Exclusive Look Inside:
You see Jim Cramer on TV. Now, see where he invests his money and why Apple and PayPal are core holdings of his multi-million dollar portfolio.
Want to be alerted before Jim Cramer buys or sells AAPL or PYPL?Learn more now.

Not all analysts are as convinced as Peck is.
"While investors have discounted the threat from Apple Pay because of its historical confinement to POS [point-of-sale] transactions, we believe this confirms our belief that Apple Pay's evolution will ultimately impact PayPal's business," Piper Jaffray analyst Gene Munster wrote in a note last week.
Peck isn't the only one to think the threat is overstated, however.
"While this could represent some near-term headline risk for PayPal (especially after the recent move in shares), we believe the competitive impact introduced by Apple Pay in-browser will be limited due to potential consumer and merchant adoption hurdles as well as PayPal's significant first mover advantage, scale, and brand," Jefferies analyst Jason Kupferberg wrote in a note last week.
Kupferberg aded that "while we acknowledge that the expansion to in-browser payments does put Apple Pay in more direct competition with PayPal, we note that PayPal's own expedited checkout process, One Touch, is already in use by more than 250 of the top 500 internet retailers (and greater than 1M merchants globally) with 18M+ consumers enrolled."