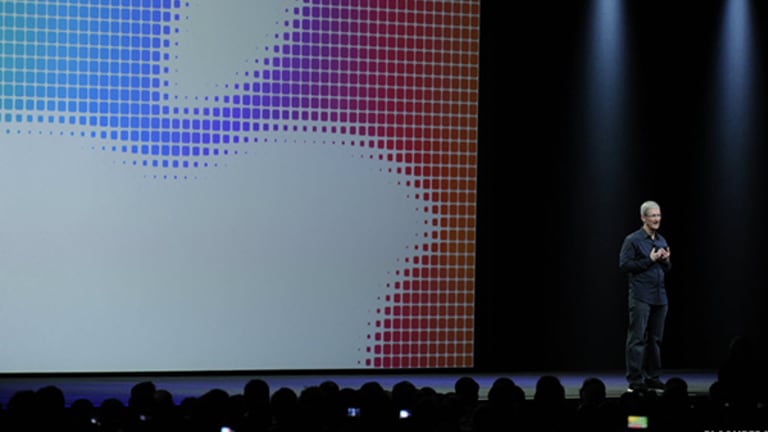 Why Apple Pay Is So Important to Apple's Future as Mobile Payments Hit the Mainstream
As Apple continues to expand beyond just iDevices, the massive profit and potential behind Apple Pay is one of the keys to the tech giant's revenue growth in the future.
Updated from 2:42 p.m. to include thoughts in the fourth paragraph.
SAN FRANCISCO (TheStreet) -- As Apple (AAPL) - Get Apple Inc. Report continues to expand beyond just iDevices, the massive profit and potential behind Apple Pay is one of the keys to the tech giant's revenue growth in the future.
Apple Pay will force retailers to roll out contactless payments, ultimately making customers more comfortable tapping phones to pay for items, said Pascal Caillon, general manager North America of Proxama, a contactless payment solutions company.
"Apple's foray into NFC (near field communications) is a landmark and will ignite the mobile payments market globally, but especially in the U.S. where adoption has lagged," Caillon said via email. "NFC is THE technology for point of sale payments and aligns with the card scheme work we have been doing for years, but now there is even more impetus for merchants to roll out contactless payments beyond the initial supporting merchants that Apple announced today."
Souheil Badran, Senior Vice President and General Manager for Digital River World Payments, believes this was the right move for Apple, as it eventually moves Apple Pay around the world. "For Apple, this looks like a timely move," Badran said via email. "The company has been laying the foundations for this
kind of initiative for some time: it introduced its Touch ID fingerprint sensor with its last iPhone launch and its iBeacon system of Bluetooth transmitters has now been available for about a year." The global mobile payments market was estimated to be worth $235 billion in 2013.
Apple's iTunes platform has more than 800 million accounts with credit cards linked to them, potentially making this a lucrative area for Apple. It's expected that Apple would collect a fee from the banks from payments made through Apple Pay, and with CEO Timothy D. Cook commenting on Tuesday about the $12 billion worth of daily U.S. e-commerce transactions, that could add up quickly for Cupertino, Calif.-based Apple.
Forrester Researchexpects the U.S. mobile payments industry to reach $90 billion by 2017, which indicates there is room for additional companies to enter the space aside from the industry leaders such as eBay's (EBAY) - Get eBay Inc. ReportPayPal and Square. Citi Research has put a lower figure on the industry, at $58.4 billion, by 2017.
Read: Will 'Interent Slowdown Day' Actually Affect the Web?
"Apple Pay will forever change the way all of us buy things," said Apple's CEO during Tuesday's launch of two new iPhones and a smart watch. To use Apple Pay, customers simply have to tap their phone to the credit card reader, while holding down the Home button on their iPhones.
"[The] Number of customers signed up now in partnerships Apple has developed account for 83% of bank transactions, all now will be possible on Apple Pay," Jeff Sica, president and chief investment officer of Sica Wealth Management, said in an email to TheStreet.
Apple Pay allows users to use the Passbook app, which already stores boarding passes, tickets, coupons and the like, by adding the credit card attached to their iTunes account by entering the card security code, and using the camera to take a picture of any other cards they might have.

There are currently 220,000 stores accepting contactless payments, a number that's expected to grow as adoption rolls out and consumers become more comfortable using their phones to pay for goods and services.
"Apple has timed this announcement perfectly to coincide with the pent-up demand for new Apple products, and the excitement over wearables (like watches) that the Android and Samsung products have not yet satisfied," said Jonathan Hill, associate dean of Pace University's Seidenberg School of Computer Science and Information Systems.
Apple has signed up a slew of retailer partners for the service, including Macy's (M) - Get Macy's Inc Report , Bloomingdale's, Nike (NKE) - Get NIKE, Inc. Class B Report , Target (TGT) - Get Target Corporation Report , Subway, Walgreens (WAG) , McDonald's (MCD) - Get McDonald's Corporation Report , Starbucks (SBUX) - Get Starbucks Corporation Report , Whole Foods (WFM) , Disney (DIS) - Get Walt Disney Company Report and several others. It's also working with MLB, Instacart, OpenTable, Groupon, Sephora and Uber for Apple Pay support inside the respective apps.
At launch, Apple is working with the major credit card companies (American Express (AXP) - Get American Express Company Report , MasterCard (MA) - Get Mastercard Incorporated Class A Report and Visa (V) - Get Visa Inc. Class A Report ), as well as six major banks (Citigroup (C) - Get Citigroup Inc. Report , Chase (JPM) - Get JPMorgan Chase & Co. Report , Bank of America (BAC) - Get Bank of America Corp Report , Wells Fargo (WFC) - Get Wells Fargo & Company Report , Capital One (COF) - Get Capital One Financial Corporation Report and American Express) to create a system where each transaction is authorized with a one-time, unique number to make purchases.
Furthermore, Apple is not storing the credit card on its servers, and the company has said it won't sell your data to merchants, who won't see your credit card number but rather a transaction number.
Read: Sprint Takes Shot at Competitors with New 'iPhone for Life Plan'
Cook had previously hinted that the company could look into mobile payments, via TouchID, which was introduced on the iPhone 5s. "The mobile payments area in general is one that we've been intrigued with, and that was one of the thoughts behind Touch ID," Cook said on a Jan. 27 earnings call.
By entering the mobile payments realm, not only does Apple give credence to it but it could also drive revenue away from companies like Square and PayPal, who are already embedded in the sector.
"If Apple Pay is successful in the online channel (where it will be offering one-click checkout), EBAY/PayPal could be at risk of market share loss," Jefferies analyst Jason Kupferberg wrote in a research note.
Available on the newly announced iPhone 6, iPhone 6 Plus, as well as the Apple Watch (it's also available on the iPhone 5, 5C and 5s as long as they are paired with the Watch), Apple's mobile payments initiative (available in the U.S. starting next month) comes at a time when the mobile payments industry is struggling to get mainstream adoption. However, given Apple's breadth and scope (800 million iTunes accounts), it should give a boost not only to the industry itself, but Apple's top line as well.
-- Written by Chris Ciaccia in San Francisco

>Contact by Email.