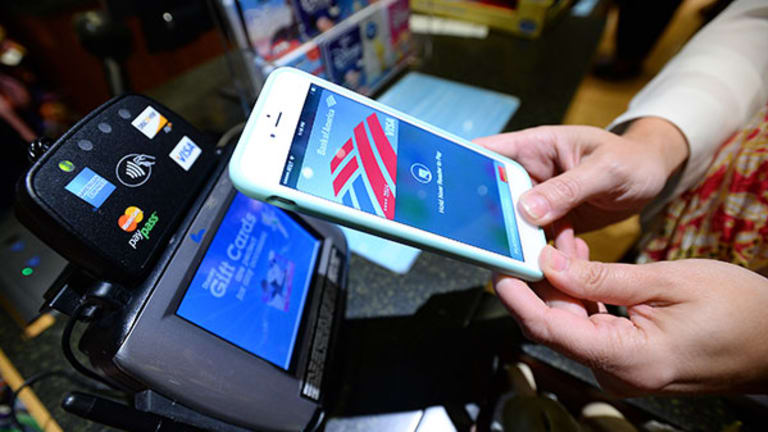 Publish date:
Why Apple May Be Targeting Canada for Its Next Apple Pay Launch
When it comes to mobile payments, Canada has two big advantages working in its favor.
When it comes to mobile payments, Canada has two big advantages working in its favor.
SAN DIEGO, CALIF. (TheStreet) -- With about half a percent of the world's population, Canada may not seem like the most desirable locale for Apple (AAPL) - Get Apple Inc. (AAPL) Report to expand its currently U.S.-only mobile payment system Apple Pay. So why, then, is the company eying the region for a November roll out, as the Wall Street Journal reported Friday?
Canada has two big advantages working in its favor, eMarketer analyst Bryan Yeager said. The Canadian market is consolidated from a financial services perspective, he said, and the country is a more mature market when it comes to retailers' adoption of near field communication (NFC) terminals, or the technology required for in-store Apple Pay transactions.
To Yeager's first point, Canada's banking sector is dominated by five major players: Bank of Montreal (BMO) - Get Bank of Montreal Report, Canadian Imperial Bank of Commerce (CM) - Get Canadian Imperial Bank of Commerce Report, Scotiabank, Royal Bank of Canada (RY) - Get Royal Bank of Canada Report and Toronto-Dominion Canada Trust (TD) - Get Toronto-Dominion Bank Report. Together the group controls close to 95% of the consumer banking market, according to eMarketer's November 2014 report on digital banking in Canada. 
The country is a prime market for Apple Pay, Yeager said. "Canada is about 10% the size of the U.S., and the market is more consolidated so all those banks have been able to collaborate more closely ... with all the stakeholders to push innovations forward," Yeager said. "Whereas it's a much more fragmented market in the U.S."
This close-quarters contributed to Canada ranking No. 2 on MasterCard's 2012 Mobile Payments Readiness Index, which surveyed the receptivity of 34 countries for mobile payments. Canada was second only to Singapore on the list, with Canada performing well in the category of "mobile commerce clusters," which is a measure of the partnerships between financial services organizations, telecommunications companies and governments, and their ability to work together to develop mobile payment solutions. 
Canada also has very high levels of NFC payment technology at the point of sale, MasterCard (MA) - Get Mastercard Inc. (MA) Report found.
"Canada is pretty advanced in terms of the systems that they have set up for payments and their acceptance of contactless payment cards," Yeager said. "Going into Canada, there is already a certain level of acceptance and a certain level of comfort with consumers knowing how to use contactless payment cards ... which are fairly widely distributed and fairly widely accepted among merchants."
There are surely other factors involved. For instance, Apple's iPhone accounts for 34% of Canada's smartphone market, according to a 2014 study conducted by Catalyst and GroupM Next. And in it's October 2014 report on how Canadians bank, the Canadian Bankers Association found that 59% of internet users in the country were interested in using a mobile device to make purchases. 
But the demand does not match the status quo. The region may be advanced in terms of accepting contactless payment cards, but Canada is not yet rife with consumers who are currently using the NFC technology on their smartphones. For its 2014 Global Mobile Forecast report, 451 Research estimated that there were 287,800 mobile NFC users in Canada. The firm is projecting Canada's mobile NFC audience to grow to 556,400 people this year.
"As for mobile payments, Canada, like everywhere else, is showing small adoption still -- especially when you consider it as a part of payments in general," IDC Financial Insights' Global Payments Research Director James Wester said. "And by small I mean below the point where it can be accurately measured."
Consumers aside, Apple must first win over those all important banks, which are reportedly not yet sold on the financial terms of Apple's share of Apple Pay-powered transactions. The banks also have legitimate concerns about security, despite Apple's pitch on offering consumers a more a secure way to pay. CEO Tim Cook has touted security measures such as fingerprint biometrics, through TouchID, and tokenization, which turns transaction information into non-sensitive data.
Yet fraud has still proved an issue with unsophisticated criminals able to enter stolen credit card information on their iPhones. "The fraud on Apple Pay was reportedly as high as 6% on offline purchases due to bad guys loading stolen accounts on their phones," Wester said.
Apple has one big bargaining chip to work with: a coveted audience. Apple has a very strong brand that is well-respected among consumers, and Apple customers are known to be big spenders, Yeager said. In Canada's highly competitive banking environment, digital and mobile perks are becoming key differentiators among the big rivals, eMarketer said in its report. And banks seem to get this.
"The biggest call to action that all of us issuing banks have, together with Apple and Android, is to try and improve the consistency of the client experience at the point of sale," Linda Mantia, RBC's executive vice president of payment solutions, told eMarketer for its November 2014 report. "Ubiquity, consistency and predictability matters."