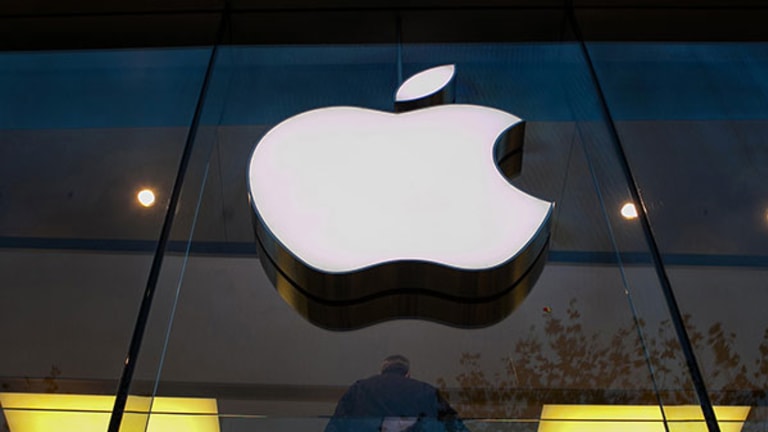 Why Apple Is Placing Such a Big Emphasis on Going Green
What separates Apple from other tech companies is the company not only cares about its products, but the environmental footprint of them as well.
NEW YORK ( TheStreet) -- Like most companies, Apple (AAPL) - Get Apple Inc. Report cares about the products its consumers are using to ensure they return for more. The tech giant is also focusing on its environmental footprint, which in turn, rewards shareholders.
That's part of what's behind Apple's recently announced power deal with First Solar (FSLR) - Get First Solar, Inc. Reportaccording to Lisa Jackson, Apple's vice president of environmental initiatives. "There's a huge economic benefit because we're going to potentially save hundreds of millions of dollars over the life of the deal," she said.  
As part of the First Solar deal, Apple has committed $848 million under a 25-year power purchase agreement, which means Apple is buying the power, but First Solar is actually constructing the solar farm. 
The energy output will be used for Apple's offices, the company's new campus, its data centers as well as
, Jackson noted.
The solar project sits on 2,900 acres of land, and 1,300 acres will be be used for 130 megawatts, which Apple is buying initially. The rest of the facility will generate an additional 150 megawatts of power, which will be "sold to Pacific Gas & Electric (PCG-A) - Get Pacific Gas & Electric Co 6 % Cum.1st Pfd Shs Voting Report under a separate long-term PPA," according to First Solar's February press release. On the back end of the 25-year contract, Apple will take over PG&E's 150 megawatts, meaning Apple will eventually be buying all of the energy.
The company's presence in North Carolina is an example of the work it's done over the years to reduce its impact on the ecosystem, as well as being beneficial to Apple and furthering local economies with sustainable energy.
Apple has two 20 megawatt solar farms in the state, with a third one on the way (it also has a 10 megawatt bio-gas facility). The energy from the solar farms go on to the grid, where Duke Energy (DUK) - Get Duke Energy Corporation Report then pays Apple (and other customers) for the electricity. Apple is generating energy when the sun is shining its brightest and using it when energy costs are at their lowest, providing a further economic incentive.
In addition, Apple receives a tax-credit for the solar farms, from government incentives, adding to the positive economic impact for Apple. Jackson noted this model has helped North Carolina not only become the leading source of solar in the South, but the fourth in the country. "It's all part of an economic engine built around clean energy and we're one of the first to be recognized for that."
A former head of the Environmental Protection Agency, Jackson has been working to further Apple's initiatives to not only produce great products, but keep pushing the company's goal to take care of the planet.
"What's been fun and sort of a great next step career wise is working with innovative folks who don't recognize any boundaries in the solutions," Jackson noted. "We ask ourselves all the time how to make things better and you can see it in not only our products, but in the environment, as well." Starting with the iPhone 6 and iPhone 6 Plus, Apple removed the element beryllium, which has been cited as being one of the most toxic elements on the planet.
The company also offers a recycling program, which allows customers to bring old iPhones, iPads, Macs or PCs into local Apple stores, where the company will recycle them, free of charge. The old electronics may even be available for reuse, with consumers getting an Apple Gift Card in that case.
Prior to Jackson's appointment as vice president of environmental Initiatives, Apple had been working hard to become more eco-friendly, but that's gone into overdrive over the past few years.
The company's data centers are 100% renewable, including the new ones in Europe that were recently announced by CEO Tim Cook. In the U.S., Apple now gets 100% of its energy from renewable sources, Jackson noted. This includes the company's headquarters in Cupertino, Calif., as well as all its domestic retail stores. Jackson also announced the company's retail stores in Germany, the U.K., Spain, Italy and Australia are powered by 100% renewable energy.
Last year, Jackson wrote on the company's Web site that Apple had "a long way to go but we are proud of our progress" as it related to the company's carbon footprint, working toward getting the company's global operations to run entirely on renewable energy (currently at 87%).
"We made it clear that we want to get to 100%," Jackson noted. It's been a big point of pride for the world's largest company, with Jackson noting Apple has just started to "scratch the surface of innovation" on this front.