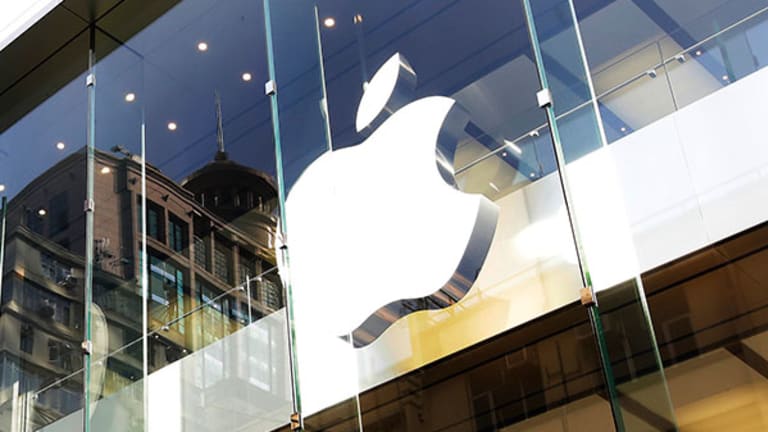 Why Apple Decided to Introduce New iPods
Though the iPod has seen better days, Apple is looking to get perhaps one last boost of revenue from it before the company puts it out to pasture.
NEW YORK (TheStreet) -- Though the iPod has seen better days, Apple (AAPL) - Get Apple Inc. Report is looking to get perhaps one last boost of revenue from the landmark device before putting it on the shelf of transcendent products that have are no longer so transcendent.
Apple introduced a 16GB iPod Touch this week that comes in five different colors and features a new front-facing camera. This newest iPod model starts at $199. Apple is also selling a 32GB iPod Touch for $249, and 64GB model for $299. The company cut the prices of its iPod line with the 32GB and 64GB models being reduced by $50 each and the 16GB model being lowered by $30.
As the iPod line has aged and become less relevant in an age of smartphones and tablets, sales have slowed. In Apple's latest fiscal quarter, the company shipped just 2.7 million units. That's down from 6 million units in the fiscal first quarter, generating $973 million in sales, and 5.6 million units in the year ago quarter, in which it generated $962 million in iPod revenue.
By contrast, Apple generated $32.49 billion in revenue from the iPhone, $7.61 billion from the iPad, and $5.52 billion from the Mac in its fiscal second quarter.
Apple Slowdown Not in the Cards This Year
Cupertino, Calif.-based Apple has publicly acknowledged that the iPod is a product that no longer generates the interest or revenue that it once did.
"Some people just look at the numbers on a piece of paper, but the way I'd look at the business is our business from a sell through point of view less iPod, because I think all of us have known for some time that iPod is a declining business," said CEO Timothy D. Cook on the Jan. 27, 2014 earnings call.
With the iPod becoming less relevant, why would Apple devote engineering capacity to the product? One theory is that the new product helps to keep Apple's digital ecosystem in tact, especially for younger users.
"It's [iPod] not dead if you are an Apple household, and you have kids who are pre-cellphone age," said Hudson Square Research analyst Dan Ernst via email. The iPod line has become a gaming device, seeing tremendous amounts of traction from younger users to play mobile games.
The iPod Touch is also seen as a device for users to be able to access the Internet, as well as be able to play music, without paying for a data plan. "Perhaps they also want do a big campaign around music, and re-establish their ownership and heritage as the inventors of digital music - the combo of Beats headphones, the "new" iPod, and whatever [Jimmy] Iovine and [Dr.] Dre are cooking up," said one hedge fund analyst who declined to be named. 
Apple has been increasingly working on making its devices work with another, as it seeks to keep people tied to its ecosystem. The company recently announced at its developer conference Continuity and Handoff, features that are part of Mac OS X Yosemite and iOS 8, respectively, allowing users to start a document on one device and finish it on another.
The iPod, starting at $199, is $100 cheaper than the iPad mini and $200 less than the iPad with Retina Display.
It's still a high-margin product for Apple, given the cost of flash storage has come down markedly over the years, and the iPod Touch design has been around for a number of years. Apple does not break down margins by product line, but the company generated 39.3% gross margins in its fiscal second quarter.
As Apple gets ready to launch new versions of the iPhone, iPad and potentially a smartwatch later this year, it's a curious decision for the company to put engineering capacity on a product that is nearing the end of its life.
However, it may not just be about tying people into the ecosystem, but helping out with what's coming next, and maybe moving from them away from Android, stated the hedge fund analyst. "Maybe the iPod will tether somehow to the watch opening up possibilities to sell iWatches to people who for whatever reason are locked into Android for phone use."
How Google May Yet Again Go After Apple
Here's What We Think We Know About the Next iPhone
-- Written by Chris Ciaccia in New York