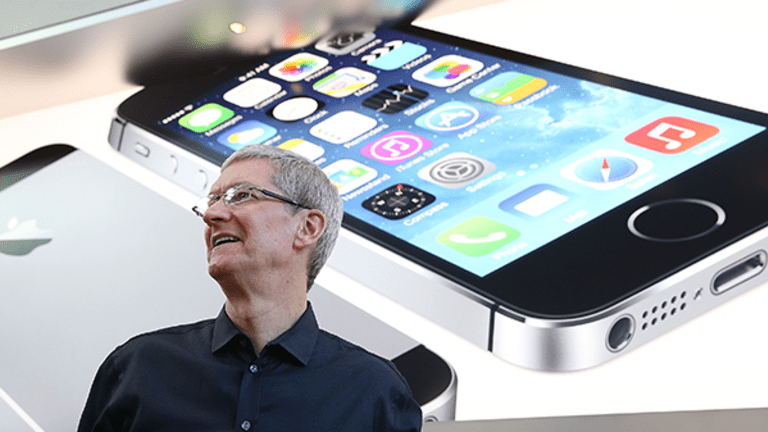 Why Apple Can Compete in Original Content Despite Its Late Start
The technology giant, which is sitting on nearly $250 billion in cash, plans to leverage its Apple Music subscriber base.
Apple (AAPL) - Get Apple Inc. Report  has been criticized for being late to original content after announcing plans for its first original series, Planet of the Apps, to debut on its music subscription service Apple Music this spring. Planet of the Apps will be about apps and their creators. 
Apple will have a lot of catching up to do. Netflix (NFLX) - Get Netflix, Inc. Report has been on the scene since 2013 when it released its hit series House of Cards. Netflix expects to spend $6 billion on content in 2017, up from $5 billion in 2016.
While Apple may eventually spend that kind of money on original content, it's going to take a while because the company is starting off small, Loop Ventures co-founder Gene Munster said.
The technology giant, whose shares closed at a record high of $137.07 on Wednesday, may need about two to three years before users think of it as a place to go for original content, and that's only because of the "kick-start" that Apple has due to its Apple Music subscriber base. Apple Music has more than 20 million paying subscribers.
Apple is a holding in Jim Cramer's Action Alerts PLUS Charitable Trust Portfolio. Want to be alerted before Cramer buys or sells AAPL? Learn more now.
Last month, Apple said it would begin offering original content like Planet of the Apps to its $10-per-month Apple Music subscribers to help boost subscriber growth on the platform. Apple Music is trying to create "an entire cultural, pop culture experience that happens to include audio and video," Jimmy Iovine, the head of the division, said at the Television Critics Association press tour in January. 
In addition to Netflix, Apple will also be competing against Amazon (AMZN) - Get Amazon.com, Inc. Report , which is estimated to have spent $3.2 billion on content last year, according to the Boston Consulting Group. The e-commerce giant's critically acclaimed film Manchester by the Sea even got an Oscar nod, making Amazon the first internet company to score an Oscar nomination for Best Picture, in addition to five additional nominations. 
To keep up with the competition, Time Warner (TWX) is boosting HBO's programming budget, CEO Jeff Bewkes told investors in December, deadline.comreported. "We have a pretty hefty budget, a couple of billion dollars," Bewkes said at the UBS Global Media and Communications Conference. "We're not spending our programming money on library product. We're doing original shows. ... We've been increasing it, and we'll keep increasing it."
Despite the fierce competition from more experienced players, Apple can still compete because there are many actors, screenwriters, directors and producers who will flock to the highest bidder, said Short Hills Capital managing partner Stephen Weiss. Like Munster, Weiss predicted Apple could eventually spend big bucks on original content, particularly when you look at how much it paid for Beats. Apple paid $3 billion in 2014 for Beats Electronics, a maker of headphones, speakers and audio software, and Beats Music, a subscription steaming music service. Beats was co-founded by Iovine and Dr. Dre, who both joined Apple as part of the deal. 
Many Apple investors, includingTheStreet's Cramer, think Apple should be using its cash for more M&A deals. Both Cramer and Weiss said Apple should buy Netflix, which would go for about $50 billion if a significant premium was added to its current market value, Fortune.comreported. 
But Apple seems to like making relatively smaller acquisitions like Beats, rather than big, transformative ones, Weiss noted. 
Apple executives don't seem to be considering buying a company like Netflix. At ReCode's Code Media conference last week, Apple senior vice president Eddy Cue said, "We might be better buying somebody or doing that, but that's not what we're trying to do. We are trying to do something that's unique. . . " 
Iovine toldVariety earlier this month that Apple Music's venture into both audio and video has "nothing to do with what Netflix is doing." 
Unlike traditional shows, Apple wants to create an interactive experience for viewers, Cue said at the conference. For example, when developers pitch apps to judges on Planet of the Apps, viewers can then test the apps in real time or click on additional video clips about a certain contestant for additional background. 
The quality of Apple's original content eventually will determine whether Apple's move into original content is successful, Weiss added.
So far, Apple doesn't seem to be making a dramatic entrance onto the scene. TheStreet's Leon Lazaroff sat in on an advanced screening of Planet of the Apps last week at the ReCode conference and described it as the same kind of viewing experience he's seen on unscripted reality shows that already exist such as ABC's Shark Tank or NBC's The Voice.
Apple's other content project started last summer when it acquired CBS' television series Carpool Karaoke, which features unscripted interviews with celebrities in a car led by the host of CBS' (CBS) - Get CBS Corporation Class B ReportThe Late Late Show with James Corden. The show is expected to debut on Apple Music this April. 
Overall, Apple has been suffering from a lack of innovation ever since co-founder and longtime CEO Steve Jobs died in 2011, Weiss said. The dual camera and waterproof features of the iPhone 7 or the rumored curved screen for the iPhone 8, expected to come out this September, have already been done by other smartphone makers, he said.
"Nothing is coming out of Apple that wasn't already on the drawing board," he said. Even Apple's new headquarters called "Apple Park" were partly planned by Jobs. 
Still, Apple is "so secretive" that it could have an original content platform all set up and ready to launch without telling anyone, Weiss said.
As the secretive and playful Jobs used to enjoy saying at Apple product announcements: "There is one more thing."