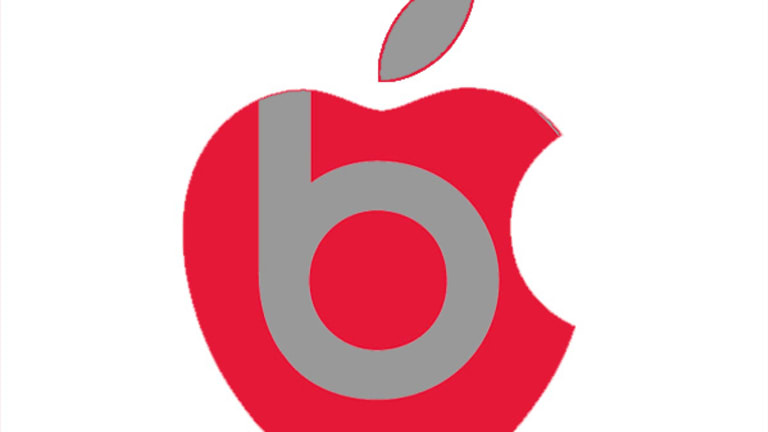 Beats Doesn't Make Sense For Apple
When the rumored deal about Apple buying Beats broke Thursday night, the entire tech community was in shock. Nearly 12 hours later, seemingly everyone (and their brother) has an opinion, but there's no clear consensus and that's probably a bad thing.
Updated from 11:42 a.m. to include analysis about cost in the seventh paragraph. 
NEW YORK (TheStreet) -- When the rumored deal about Apple (AAPL) - Get Free Report buying Beats Electronics broke last night, the entire tech community was in shock. Nearly 12 hours later, seemingly everyone (and their brother) has an opinion, but there's no clear consensus and that's probably a bad thing.
Last night, the Financial Times broke the story that Apple was in deep negotiations to buy Beats Electronics for $3.2 billion to bring the headphone maker and streaming music service under Apple's roof in Cupertino, Calif. Reports suggested that the deal could be announced as soon as next week, but given the reported high price tag, perhaps CEO Timothy D. Cook may want to rethink this one for a bit longer.

WATCH: More market update videos on TheStreet TV | More videos from Debra Borchardt
Noted Apple watchers, such as John Gruber and analyst Benedict Evans (two people whose opinions are held in extremely high regard in Apple circles), have had trouble making sense of the acquisition, further confusing the industry about this deal.
In my opinion, the deal is more about Beats' streaming music subscription service, and less about headphones. Beats' headphones are notoriously pricey (some cost as much as $300), so the idea of luxury headphones fits in with Apple's luxury cache for smartphones, tablets and computers. However, the subscription service, which has approximately 200,000 subscribers, doesn't exactly scream out "best-in-class," a mantra Cook, and his predecessor, Steven P. Jobs, had mentioned ad nauseam.
Beats Electronics' music streaming app, Beats Music, is currently ranked 18th in Apple's App Store under the music section.
Companies such as Spotify, Rdio and the like arguably have better products, but with plenty more subscribers for their streaming services. Given the fact that Apple is running low (ha! like Apple is ever really low) on domestic cash, perhaps buying Sweden-based Spotify would be a better move, though it would come at a much heftier price.
Even if Apple really wanted Beats (the two companies met last year when word broke Beats was thinking about its own streaming service), the cost of the deal, reported to be more than $3 billion, seems like a waste of shareholder money. Private equity firm Carlyle invested in Beats in Sept. 2013 at a valuation of around $1 billion. Since then Beats has launched the streaming subscription service, but with a reported 200,000 subscribers it doesn't seem like it's worth an extra $2 billion, even if Apple can afford it.
At the end of its fiscal second quarter, Apple had $18.4 billion in domestic cash, a sequential decline of $16 billion, due in large part to share buybacks and dividends. The company did just recently raise $12 billion in debt to help fund dividends and buybacks, giving it a domestic total of around $30 billion. But it still has approximately $132.2 billion (and growing) in offshore cash.
See this exchange I had with renowned venture capitalist Marc Andreessen of Andreessen Horowitz
It's well known that the iTunes software needs an overhaul, given its clunky user interface and the amount of memory it takes up on people's computers. Music sales, meanwhile, have been declining thanks in part to the rise of streaming subscription services, something Jobs was hesitant to do during his time at Apple. In fact, Beats co-founder Jimmy Iovine (who is rumored to become a special adviser to Cook once the deal closes) tried to sell Jobs on the idea of a streaming service but was unable to do so while Jobs was still alive.
Apple hasn't owned the music space for the past few years, as companies like the aforementioned Spotify, Rdio, Pandora (P) , and even Google (GOOG) - Get Free Report, with its Google Play Music service, all compete in the streaming game. Apple, too, has its own streaming service with iTunes Radio. But given the fact Apple doesn't talk about it much, outside of the initial press releases about iOS 7, and the launch of the iPhone 5s and iPhone 5c, it can't be performing up to Apple's expectations. (In September 2013, Apple noted there had been over 11 million hours listened to on iTunes Radio, with the top song being Hold On, We're Going Home by Drake).
This may be used for helping sell more iPhones, but given the high-price of the phone (starting at $199 for the 16GB 5s on a two-year contract), it doesn't seem likely that consumers would be willing to plunk down an additional $200 for a phone that comes with Beats headphones, especially all at once. (Apple is reported to be launching a new iPhone later this year, dubbed the iPhone Air, which may come as soon as August for the 4.7-inch model.)
The rationale behind the Beats deal is that not only will it give Apple premium audio equipment, of which it has never had before, but it will allow users access to music not available on iTunes Radio, as countless users have complained about hearing the same song several times when using iTunes Radio. The problem is that the deals struck with Beats for its subscription service with the various music studios and industry executives aren't transferable under a transfer of ownership (say an acquisition), and would have to be renegotiated.
That's the same problem with Apple buying Netflix (NFLX) - Get Free Report, or any other kind of streaming service in which content deals are licensed. They all have to be renegotiated under transfer of ownership. This makes it more likely that Apple would wind up paying much more than the reported $3.2 billion for Beats.
Not only would the deal wind up proving to be more costly for Apple, it would be a marked change in acquisition strategy for Apple as Cook seeks to make the company his own and move away from the shadow of the legendary Jobs.
Apple has done smaller deals, with notable ones including Israeli flash memory specialist Anobit in late 2011, and the company's largest reported deal for NeXT in 1996 for $400 million, which brought Jobs back to the company in 1996. It also would not be the first streaming service Apple has bought, having purchased Lala.com in December 2009. Lala eventually was turned into what's known as iTunes Match and parts of iCloud.
Goldman Sachs analyst Bill Shope noted this would be an important shift in how Apple thinks about acquisitions. "While we do not take a view on the likelihood or price of the transaction, if confirmed, we believe that it would represent an important strategic shift for Apple for the following reasons: (1) it would signal that Apple is becoming more acquisitive and is now willing to purchase larger assets (the company acquired 24 small companies over the past 19 months); and (2) it would suggests that Apple is becoming far more aggressive in monetizing peripheral services and accessories that attach to its core iOS hardware installed base," Shope wrote in a note to clients.
Other analysts on Wall Street believe that moving into peripheral hardware such as Beats, doesn't make sense, and Apple's money would be better off used for services and software-only companies. "We view a better use of capital for acquisitions to be in the internet services space given that is, in our view, Apple's biggest weakness," Piper Jaffray analyst Gene Munster said in a research note. "This list would include Yelp, Twitter, Square and even Yahoo."
The Beats deal isn't finalized yet, so nothing is for certain. But the deal seems very un-Apple like: spending a gregarious sum of money on an also-ran product(s), at least on the surface. The headphones would be a nice addition, but given the fact Apple already sells them in its retail stores, likely taking a cut of the sales (albeit at low margins like most retailers), I'm not sure I see the value in doing the deal, and certainly not for more than $3 billion.
We're all listening intently for any words from Cupertino and Cook on this. Feel free to drop the beat, anytime.
>>Read More: Tim Cook is a Stinking Genius If Apple Buys Beats
>>Read More: How an Apple, Beats Deal Could Hurt Both Brands
>>Read More: Beats Deal Will End Apple's Latest Bull Run
-- Written by Chris Ciaccia in New York
>Contact by Email.