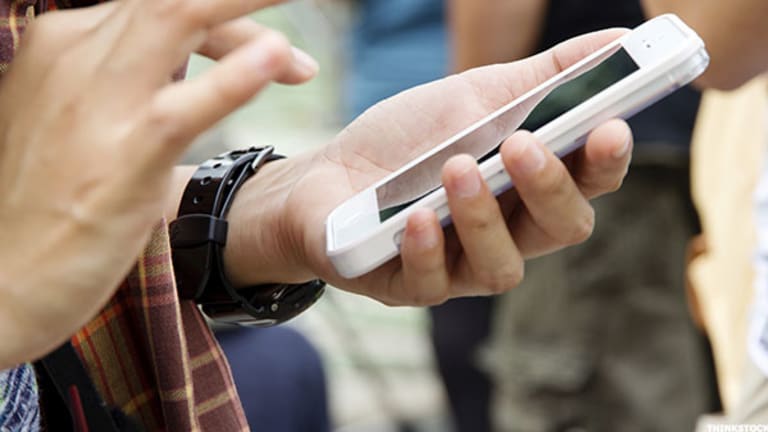 Why Apple and Google's Frosty Relationship Might Come to a Head This Year
Google may lose its standing as the default search engine on Apple's Safari, leaving the door open for companies such as Microsoft, Yahoo! and DuckDuckGo to take their place.
Google may lose its standing as the default search engine on Apple's Safari, leaving the door open for companies such as Microsoft, Yahoo! and DuckDuckGo to take their place.
Updated with comments from Jim Cramer.
NEW YORK ( TheStreet) --  Google (GOOG) - Get Report (GOOGL) - Get Report is widely regarded as the world's best search engine, so it stands to reason that most companies would want to keep their relationship with Google strong.
But Apple (AAPL) - Get Report may do just the opposite -- by removing Google as its default mobile search engine on Safari.
If Apple does not renew its deal, Microsoft (MSFT) - Get Report-owned Bing is the current frontrunner for the slot, according to industry analysts.
Google filtered 86.5% of mobile and tablet searches in May, according to global stat tracker StatCounter. By comparison, StatCounter found Bing filtered just 5% of mobile and tablet searches in May. Although its usage is significantly less than Google's, Bing offers Apple several things that its competitor does not, said Jan Dawson, chief analyst for Jackdaw Research.
"Apple doesn't present a significant threat to Microsoft in PCs, and Microsoft doesn't present a significant threat to Apple in mobile, and at the same time, Microsoft is making its key apps available on iOS," Dawson said in an email. "Microsoft is therefore a better partner for Apple in search because it doesn't compete in the same way as Google."
"There's always a belief that it has to be one or the other," said TheStreet's Jim Cramer, Portfolio Manager of the Action Alerts PLUS Charitable Trust Portfolio, of the competition between Apple and Google. "I think it is a fatuous compare." 
Exclusive Look Inside:
You see Jim Cramer on TV. Now, see where he invests his money and why Apple and Google are core holdings of his multi-million dollar portfolio.
Want to be alerted before Jim Cramer buys or sells AAPL or GOOG?Learn more now.
Safari was the most often used web browser in May, taking 52.9% of mobile and tablet usage in the United States. Google's own web browsers', Google Chrome and Android, which compete directly against Safari, took in 32.1% and 9.5% respectively, according to StatCounter.
Dawson said Microsoft and Apple are "much more partners than competitors at this point." Bing has been the default search engine for Siri requests since 2013. Apple announced at its Worldwide Developer's Conference in 2014 that Bing would also be the search engine behind Spotlight, which was updated so users could search Safari directly in their Spotlight bar without having to open new windows.
Microsoft executives said last year that they were working on gaining Bing users across every platform, not just on Bing's website, according to Search Engine Land. "We think of Bing less and less as a destination portal," Stefan Weitz, director of search for Bing, said at the company's Bing Ads Next event in Redmond, Wash. "We're trying to put search where users are."
Apple certainly has users.
In January 2015, Phil Schiller, vice president of worldwide marketing for Apple, tweeted the company had shipped its one billionth iOS device. In its most recent earnings report, the Cupertino, Calif.-based company reported selling 61.2 million units of iPhones and 12.6 million units of iPads for a combined $45.7 billion in net sales. Apple had $58 billion in net sales for the quarter, up 27% from the same quarter the previous year.
Microsoft declined to comment on its relationship with Apple and the potential for it replacing Google as Safari's default search engine.
While Bing does not have the brand recognition that Google offers, it also does not have the chilly relationship with Apple that Google does. Unlike Bing, Google's role on the iPhone has repeatedly been downgraded, particularly once it created Android.
"When the iPhone launched, Google was in three places: behind the Maps app, in the YouTube app, and as the default search engine in Safari," Dawson said. "With iOS 6, Apple got rid of the YouTube app and replaced the Google-backed Maps app with a new Apple Maps app, stripping Google of two of those three positions on the iPhone - the search bar is the only place Google is still integrated into the core iPhone experience."
There are two major issues that separate the companies: Google is Apple's primary competitor, according to Apple CEO Tim Cook and philosophically, the companies diverge.
Google-backed Android is the largest provider of the operating system that runs on almost all non-iPhone smartphones today. Of the 334.4 million smartphones shipped worldwide in the first quarter of 2015, Android has a 78% market share for smartphones compared to Apple iOS' 18.3% market share and just 2.7% for Microsoft Windows Phone, according to research firm IDC. 
But it is not just Google's operating system that threatens Apple.
It is also Google's features, like Google Now, that take away from Apple's own user experiences, according to Creative Strategies president Tim Bajarin. Google Now, launched in 2012, is designed to answer questions, make recommendations and perform certain actions based on users' requests, which makes it a direct competitor to Apple's Siri, which was released in 2011.
Bajarin said if Google keeps increasing the accuracy of Google Now in voice and context searches, it could lure users away from Apple, particularly if Siri does not keep up. At its developer conference this year, Apple announced new proactive features to Siri to make it smarter and more competitive with Google Now. Users can ask Siri questions like "pull up my karaoke pictures," and it will know to pull up those specific photos.
"They have been concerned that Google's search ties people to Google's ecosystem of services and lessens their reliance on Apple services," Bajarin said in an email. "It would be this threat that would ultimately be at the heart of any decision to drop Google Search if they [Apple] decided to do so."
Google has long been criticized for its invasive ways of tracking users through clicks and user-entered data collection and then targeting advertising to users' preferences. When attacks against Google's privacy policy heat up, Apple can often be seen throwing its own punches. Earlier this month, Apple's Cook was honored by the Electronic Privacy Information Center for his dedication to protecting users' privacy. While accepting the award, Cook not so subtly slammed fellow tech giants Google and Facebook (FB) - Get Report for their privacy policies, according to TechCrunch.
"Like many of you, we at Apple reject the idea that our customers should have to make tradeoffs between privacy and security," Cook said speaking remotely to the group. "We can, and we must provide both in equal measure. We believe that people have a fundamental right to privacy. The American people demand it, the Constitution demands it, morality demands it."
The disagreement between Google and Apple is fundamental, and since $14 billion of Google's $15.4 billion in revenues for of the first quarter of 2015 came from advertising, it's doubtful the company will do anything to change its policy.
"The biggest challenge for Google is that it can't really fix either of the reasons that Apple might want to move away," Dawson said. "It's obviously not going to give up on Android, and neither is it going to stop tracking users and targeting them with advertising."
But Dawson said Google faces an interesting situation if it loses its spot as Safari's default search engine. "The financial impact alone on Google would be enormous, but it would also lose access to a lot of search data which helps to make the search engine better, especially data from some of the higher income and highest spending users," he stated. Losing this data would "make Google search advertising a less attractive option for at least some advertisers, who might switch spending to other services."
Google is estimated to generate $15.3 billion in annual gross mobile search revenues with $11.5 billion coming from iOS search revenues and another $2 billion (including $3.7 billion in traffic acquisition costs paid to Apple) coming from being the default search engine on Safari, according to a May research analyst report by Goldman Sachs.
If Apple were to pull its current arrangement with Google, the effect, while not disastrous, would certainly impact the search giant's share price, according to Capital Advisors Director of Equity Strategies Channing Smith, whose firm is long Apple. "It's not fatal, but it's one more strike against that share price," Smith said in a phone conversation. "Google is in a similar situation that Apple was in a couple years ago when people began questioning their ability to innovate. And when you don't see innovation that turns into revenue growth, people are going to question it and that translates into more pressure on the share price."
Year to date Google's Class A and Class C shares are up 5.3% and 1.9% respectively, while shares of Apple have gained 15.8% since the start of the year.
Neither Apple nor Google returned requests for comment.
Potentially losing this source of revenue seems material, at least in the short-run, but Dawson says the long-term impact is where the company is particularly vulnerable.
"Given all the changes Apple is making to how Spotlight search works on iOS and the Mac, I think the combined impact of that and a switch in default search providers could dent Google's revenue to the tune of $5 billion a year or more," Dawson said. "And of course revenue from iOS has been growing rapidly over time, so Google would forgo significant growth over time as well as dollar revenues today."
Aside from Bing, there are other competitors angling to overtake Google.
Yahoo! (YHOO) CEO Marissa Mayer said in an earnings call in January that Yahoo! was interested in staking its own claim for being Safari's default search engine.
"We're in the search distribution business and anyone who is in that business needs to be interested in the Safari deal," Mayer said. "The Safari users are among the most engaged and lucrative users in the world and it's something we would really like to be able to provide."
Yahoo! declined to expand on Mayer's previous comments about vying for the position.
Mayer has been candid about her belief that expanding its mobile service is key to the company's future. The Sunnyvale, Calif.-based company now has more than one billion users worldwide and more than 600 million using Yahoo!'s mobile products.
Like Bing and unlike Google, Yahoo! does not compete with Apple in any significant way, according to Dawson, but there are some problems to Yahoo! becoming the search engine behind Safari. "Yahoo! really doesn't have a fully-fledged search engine of its own at this point, and Apple has actually moved away from Yahoo! in some cases, such as the Weather app in iOS, which is now backed by Weather.com rather than Yahoo! Weather as in the past."
It has been speculated that Apple could be in the process of creating or acquiring its own search engine. Dawson said there have been signs that Apple is working to create its own search engine or purchase a smaller search engine, like DuckDuckGo. While he sees the benefits of acquiring DuckDuckGo, Dawson said he is not "convinced either is quite ready for that yet."
DuckDuckGo is a privately held search engine that claims to not track users. In May, it handled just 0.3% of U.S. searches on mobile and tablet, which is considerably less than competitors that do mine for users' data. In 2014, Apple partnered with the company to have the search engine as a built-in option in Safari, making Apple's browser the first to offer it built-in.
DuckDuckGo did not return requests for comment on its relationship with Apple.
Barajin said he believes creating its own search engine is "Apple's ultimate strategy and goal, but until then, they must use either Bing or Google."
While the answer to which company will be the default search engine on Safari continues to loom, users should not hold their breath, especially since an official date on when the existing contract expires has never been given publicly.
Barajin said Apple will have to address its search engine issue within the next 18 months. Dawson said if Google remains the default, users may never know how the deal shakes out.
"If Google continues to be the default search provider, I don't think we'll ever hear Apple or Google say anything about it." Dawson said. "However, if it changes, I'd expect Apple to announce the change in the context of a bigger announcement, like a new version of iOS or the iPhone, and it will be very much a user-focused announcement rather than an announcement of a deal."