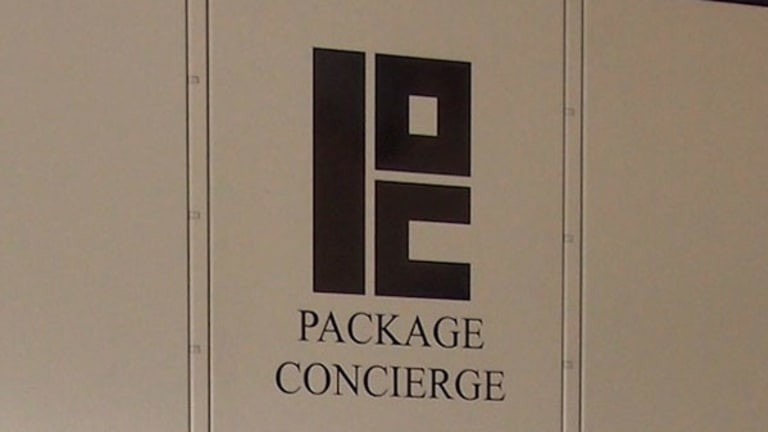 Why Amazon's Lockers Don't Solve Package Delivery Problems
Package Concierge believes it has the solution to the growing problem of urban package deliveries.
This story has been updated to include additional cities where Package Concierge lockers are located.
NEW YORK (TheStreet) - What is one of the biggest inconveniences for urban dwellers? Many say the fear that they won't receive package deliveries. It's a reason why many apartment residents prefer to plug in their work address when asked for shipping information, putting added responsibility on the office mail-room or administrative assistants that deal with that.
With consumers purchasing increasing amounts online, the added burden of secure delivery, packages clogging front vestibules and overburdening residential maintenance staff is a big worry.
Package Concierge believes it has the solution to urban package deliveries, something it thinks Amazon's (AMZN) - Get Amazon.com, Inc. Report Lockers do not.
"A typical 200- to 225-unit multifamily community has 40 to 50 packages coming in every day," says Barry Hume, president and co-founder of Package Concierge. "The pain point is how do you manage that? Where do you put the [packages] and how do you notify residents?"
Package Concierge's digital locker system addresses the challenges of package management by placing lockers in apartment complexes and university student housing. Deliveries via FedEx (FDX) - Get FedEx Corporation Report, UPS (UPS) - Get United Parcel Service, Inc. Class B Report, Staples (SPLS) , the U.S. Postal Service and others are accepted via the system.
The Boston-based startup launched in late 2012 and is working with property management companies, such as Riverstone Residential, the second largest multifamily property manager in the U.S., according to the National Multifamily Housing Council (NMHC), to install the locker systems. Residents are loaded into the locker's system and are notified via email or text notification when they have a package. They then insert a pin code to unlock their package.
Package Concierge has pilot lockers installed in right cities so far - Washington, D.C., Stamford, Conn., Arlington, Va., Boston, Cambridge and Chelsea, Mass., Hoboken, N.J. and Wheaton, Md. The company also has additional lockers in the works for Boston, Washington D.C., Virginia and Maryland as well as Texas, Washington state and California. According to Hume, the opportunity for expansion is large.
According to the NMHC's assessment of the U.S. Census Bureau's 2011 American Housing Survey, there are 2.3 million apartment buildings that include more than 100 units. Having a package delivery room or holding area ranked second behind fitness centers in terms of community amenities that were the highest priority for apartment residents, according to a 2013 report by the NMHC and Kingsley Associates.
Another huge area of opportunity - student housing. "The student housing market is incredible [with students buying] everything ... online," Hume said. "Again you've got a package management problem."
Package Concierge isn't the only company looking at lockers to solve the issue of delivery.
The U.S.P.S. is currently in a "test phase" with its gopost parcel locker system. Launched in 2012, customers can send and receive packages through the U.S.P.S. by using the locker system. The Postal Service currently has 18 locations between the metro areas of New York City and Washington, D.C., according to a spokeswoman. It is installing units near post offices in grocery stores, pharmacies, transportation hubs, shopping centers, it said on its Web site.
Amazon (AMZN) - Get Amazon.com, Inc. Report has been has been quietly installing its Amazon Locker Service in densely populated areas, like New York City, for deliveries of Amazon purchases. Lockers are usually located in public spaces such as drug stores, convenience stores and parking garages, for instance. Amazon customers can also make select returns through the Locker system.
Amazon is pretty tight-lipped on just how well the system is faring and what its plans going forward are, but according to Hume, Amazon's lockers are limited.
"I would not say that Amazon is doomed to fail by any means. However, I would say that their service is self-limiting because their system is restricted to Amazon deliveries only," Hume said. "All other deliveries are off the table. So, Amazon's solution is great for Amazon customers who want to combine package retrieval tasks with other daily errands in open, public retail areas."
"We are placing our product in closed, multifamily residential communities that want a complete solution - one that integrates with backend systems and covers all package deliveries, not just Amazon packages. Our model makes more sense for that segment of the market," Hume says. So far Package Concierge does not accept returns, but the company says it will consider it if customers ask for the option.
--Written by Laurie Kulikowski in New York.
Disclosure: TheStreet's editorial policy prohibits staff editors, reporters and analysts from holding positions in any individual stocks.