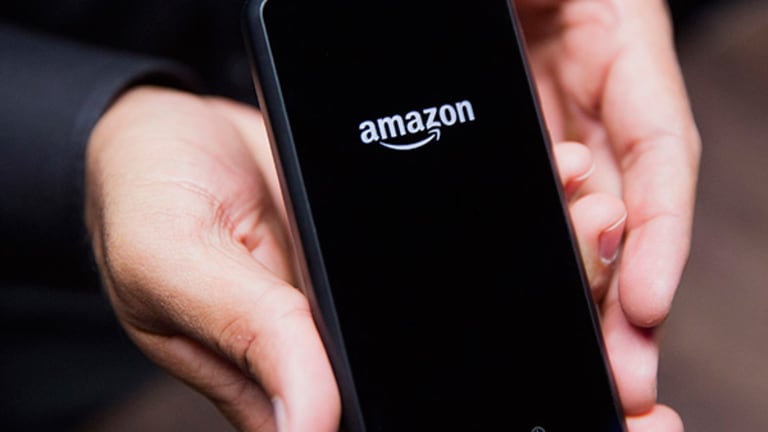 Why Amazon's Fire Phone Turned Out to Be Such a Disaster
Amazon's Fire Phone has been almost a complete waste of money for the company, as it expands more and more into hardware. Where'd it go wrong?
Updated from 10:14 a.m. to include comments from analyst in the eighth paragraph.
NEW YORK (TheStreet) -- There are many things Amazon (AMZN) does well -- logistics, huge retail selection, coming up with new ideas and pushing the boundaries to keep consumers happy.
The Fire Phone, however, was a total flop. The e-commerce giant has reportedly come to grips with this, supposedly scaling back its development of electronic devices.
So how did Amazon go wrong here?
"It's not surprising -- the Fire Phone was a disaster any way you look at it, and it was always hard to see how Amazon would follow it up with anything other than another flop," said Jackdaw Research chief analyst Jan Dawson.
"Amazon's hardware strategy has really lost its way over the last couple of years, as it's strayed from Kindles to tablets and phones, which have a far less direct connection with content consumption than pure e-readers," Dawson added. "Amazon's lost a lot of focus in hardware, and the strategic rationale for some of these other devices is much weaker than its earlier devices."
Initially priced at $200 on contract solely from AT&T (T) , the Fire Phone was priced to compete with the likes of the Apple (AAPL) iPhone, Samsung (SSNLF) Galaxy devices and other high-end smartphones, a market that had increasingly become difficult to enter, due to customer loyalty and high retention rates for the aforementioned devices.
The Wall Street Journal recently reported Amazon had let go some of its hardware engineers as it cuts back on the number of ambitious hardware projects in development.
Competing at a price point where smartphone behemoths like without anything jaw-dropping or a feature deemed must-have is a recipe for disaster. "Getting into [the] smart phone business was a big mistake," Creative Strategies President Tim Bajarin said. "These layoffs reflect this bad decision."
Gimmicky features such as Dynamic Perspective, which allows users to tilt the phone or their head and look at icons and pictures to give them a 3-D-ish aspect, were not well received. Perhaps 3-D technology will come to phones eventually, but we're not there yet.
Additionally, limiting yourself to one network, even if that network does have more than 120 million subscribers, only limits the number of potential consumers. That mentality worked for Apple in 2007, as smartphones were just starting to become a must-have device. In 2014 and beyond, it's unacceptable.
One of the phone's other main selling points was Firefly, an app on the home page (or you can just hold the camera button on the left of the phone), which uses the phone's 13 megapixel camera to identify real-world products (books, soda, cereal and the like), as well as TV shows and movies. Then, if you want it, it's pretty simple to buy the product on Amazon.
"They are clearly de-emphasizing the phone and may continue to tinker," Michael Pachter said, who covers Amazon for Wedbush Securities, "but [the] cost structure should improve."
The problem is, this feature is already available on Amazon's apps for the iPhone, so why come out with a phone for something that's already available?
Another massive problem for Amazon is its inability to attract developers to build native apps for its ecosystem. Apple's iOS has more than 1.5 million apps available and Google (GOOG) (GOOGL) Play has more than 1.6 million, according to Statista.
In March, Amazon confirmed it had nearly 400,000 apps for its Amazon AppStore, but digging deeper, you'll begin to see a major problem. There are no official apps for services like YouTube or Instagram and for the longest time, there was no Netflix app. You can't attract users if you don't have apps and you can't get apps if you don't have users.
All of this led to a $170 million write-down of the Fire phone in October 2014 and an additional $83 million worth of unsold inventory. Dawson noted that Amazon needs to sharpen its focus as it relates to hardware, "to zero in on the hardware where its business model of differentiation and low prices can really work."
That's not to say all Amazon hardware is a waste of money -- some of it is quite well received.
Amazon's Kindle Fire tablets and Kindle e-readers have been priced below competition, despite arguably being as good or better than the competition. The Fire TV is priced the same as the Apple TV, but offered new features such as voice navigation that improved upon what's already out there.
The Amazon Echo, while maybe it hasn't been an enormous hit in terms of sales (Amazon doesn't give exact sales figures for devices), is a completely new experience and may be the future of computing, as I've written before. Amazon has even created an Alexa Fund (the Echo responds to the name Alexa) to help push forth innovative ideas for how voice technology can improve customers' lives.
Amazon's hardware plans have been nothing short of ambitious. Ultimately, the phone had too little of what people wanted or needed and there were some execution decisions that ultimately proved disastrous, putting a damper on things. Sort of ironic for the company whose boxes are known for smiles on the side.