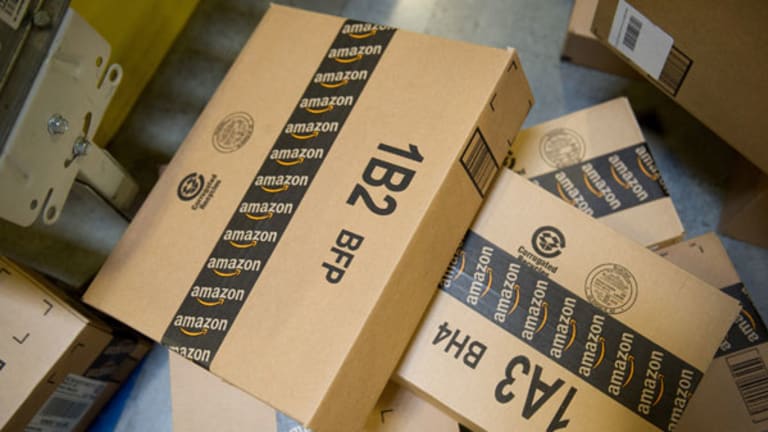 Why Amazon Will Eventually Take Bitcoin, Or Something Like It
Bitcoin crops up in the news seemingly every day, most notably for the wild price swings. As more people understand it and how it works, it may be the payment form of the future for Amazon.
NEW YORK (TheStreet) -- There's been a TON of news recently about Bitcoin and its impact on the future of currency, transactions and the way we live.
Initially I was bearish on Bitcoin because I saw it as a fad. However, the more I read about it, and the more I understand it, I believe Bitcoin, or something like it, will eventually happen in the mainstream. When it does, it looks like it'll be a no-brainer for Amazon (AMZN) to accept it as payment.
Reputed venture capitalist Marc Andreessen (full disclosure: Marc and I have talked quite a bit on Twitter about a number of things, including Dropbox and Anki Drive), has a great article on why companies such as Amazon will take Bitcoin for payment: it's all about margins.
The following is an excerpt from an article Andreessen wrote, with the quotes coming from Chris Dixon, Andreessen's partner at his venture capital firm, Andreessen Horowitz:
"Let's say you sell electronics online. Profit margins in those businesses are usually under 5 percent, which means conventional 2.5 percent payment fees consume half the margin. That's money that could be reinvested in the business, passed back to consumers or taxed by the government. Of all of those choices, handing 2.5 percent to banks to move bits around the Internet is the worst possible choice. Another challenge merchants have with payments is accepting international payments. If you are wondering why your favorite product or service isn't available in your country, the answer is often payments."
Everyone makes fun of Amazon for its grossly thin operating margins, being 2% this quarter. That's actually higher than what they had been throughout 2013, coming in at 1.1%, 0.5% and -0.1% for the first, second and third quarters, respectively.
During the fourth-quarter, Amazon earned 51 cents a share on $25.59 billion in revenue, which missed analyst estimates.
Assuming Amazon's margins stay razor thin, in the 2% range, by accepting Bitcoin and cutting out middlemen such as Mastercard (MA) , Visa (V) and Discover Financial Services (DFS) , Amazon can grow earnings without having to do much.
Amazon has already moved in the way of trying to boost earnings, by hinting that it could raise the cost of Amazon Prime, due to fuel surcharges and other expenses. Currently, Amazon Prime costs $79 per year, and allows users to get free two-day shipping, as well as digital streaming content, akin to Netflix (NFLX) .
Aside from boosting margins, the Andreessen article goes on to make the point about Bitcoin being a protection against credit card fraud, and a host of other reasons why merchants should accept Bitcoin.
For now, Amazon is not taking Bitcoin, but Overstock.com (OSTK) , its competitor, is. Overstock CEO Patrick M. Byrne has said in the past he believes Amazon will be forced to accept Bitcoin as payment.
There may be long-term promise in the cryptocurrency, as former Federal Reserve Chair Ben Bernanke has said in front of Congress. We'll see whether Amazon decides to take Bitcoin or not. Judging by Andreessen's article, it seems as if it's only a matter a time.
--Written by Chris Ciaccia in New York
>Contact by Email.