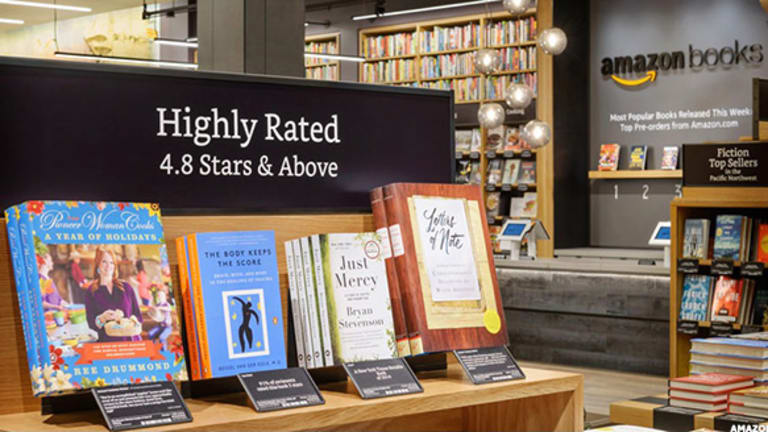 Why Amazon Doesn't Really Care if You Buy Anything at its Bookstore
Amazon's new bricks-and-mortar bookstore in Seattle is all about analytics and data. The sales are secondary.
Updated from Feb. 22 to include news of a new bookstore opening.
Amazon (AMZN) - Get Amazon.com, Inc. Report surprised everyone in November when it opened up its first physical bookstore in Seattle, and since then rumors have been floated about further expansion.
Just this week Amazon confirmed that it will be opening up its second physical bookstore, this time at a Westfield UTC mall in San Diego.
While it's unclear what Amazon's strategy truly is when it comes to brick and mortar, experts are pretty sure it's not really about the sales.
Amazon Books gives the e-commerce giant a way to play around with physical retail and experiment, while gaining insight and analytics into the channel. The company probably isn't expecting a profit boost from brick and mortar any time soon.
"It's at the moment one store that's an experiment and their metrics for success likely won't have anything to do with sales though that could be a nice bonus if it happens to deliver sales," said Forrester analyst Sucharita Mulpuru.
As physical retailers are increasingly tapping into the online channel, it only makes sense that Amazon guards its turf by venturing into the physical channel.
"It's indicative of this move to omnichannel," said ABI Research analyst Patrick Connolly. "The last ten years in retail it's been bricks and mortar versus online. Now we're moving to omnichannel, you have to be across all channels. So now everybody is in the same boat. All of a sudden, having bricks and mortar is an advantage."
And Amazon's not the only one catching onto this shift. Startups like Warby Parker, Bonobos, and Birchbox have been venturing into brick and mortar retail, as well as online jewelry company Blue Nile (NILE) , which has been testing physical stores and plans to open up even more.
Granted, it's still very early for Amazon's venture into physical retail; right now it's just an experiment. It seems as though Amazon is more interested in understanding the physical shopping experience than actually getting dollars from in-store customers. 
For starters, Amazon Books doesn't even accept cash, according to audit and research companyField Agent, which checked out the store last week. Plus the 7,500 square-foot store has a very limited selection compared to traditional book stores.
The store also lacks price labels on the books, forcing shoppers to scan the book to find out the price. Sure the scanning kiosks provide extra information to shoppers like reviews and ratings, but in terms of checking prices, the kiosks "are inconvenient," according to one Field Agent messenger. 
"It is nice to browse, but not to look for something specific," said another.
Perhaps Amazon's reinterpretation of the physical book store may excite some customers, but some of these new elements seem to be a bit of a deterrence.
"I really don't think they're that interested in selling books," said Connolly. "If you look at how the store is laid out, it seems to be set up to gather information about customers, much like they do online, and seeing whether that works in real life. We're seeing this bringing of online analytics to the real world. They're looking to see can this information be generated, is it of value, and is having a physical store essential in their omnichannel strategy."
Amazon's decision to showcase some of its devices such as the Kindle, Fire TV and Echo speaker/personal assistant in its bookstore demonstrates that the company's not just interested in gaining insight on books, but on its devices as well.
Once Amazon gets a better idea of how Amazon Books is going, the company can assess and plan out its brick-and-mortar strategy, which could likely include verticals beyond books.
"It is very likely that Amazon will continue to open more physical bookstores and I wouldn't be surprised to see them open other store formats -- not focused on books,"said Brian Brunk, a principal at Boston Retail Partners. "Future Amazon stores might serve as a showroom for Amazon's most popular products and items that are more appealing when customers can evaluate with all five senses."