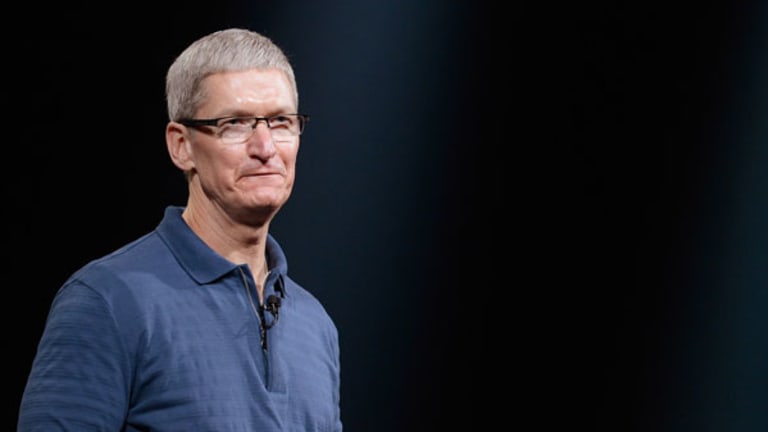 Who Is the Best Tech CEO of 2012?
CEOs from Apple, Salesforce.com, Amazon and Google are worthy of being named best in tech this year. But only one can win.
NEW YORK (
) -- This year was one of the most eventful years ever in the technology space for a variety of reasons, including product announcements, management changes, and some major IPOs.
Several tech companies such as
Apple
(AAPL) - Get Free Report
and
Amazon
(AMZN) - Get Free Report
managed to perform reasonably well under adverse macro-economic conditions with strong leadership, while others have faltered.
Who gets your vote as best tech CEO of 2012?. Don't like the nominees? Then feel free to write in your favorite.
Tim Cook of Apple
Apple has almost had two years in one, with the stock performing beyond anyone's expectations in the first nine months of the year, gaining 64.72% as of the end of September. It's almost a job for two people, let alone one Tim Cook.
The iPhone 5 was
, but it's seemingly been nothing but a string of bad news for Apple since then despite some major product announcements.
There was the Apple maps fiasco, which ultimately led Cook to
, and caused the ouster of a key Apple executive.
Cook has been more open than his predecessor Steve Jobs, as he tries to put some of his own stamp on Apple, moving away from solely being the company Jobs co-founded with Steve Wozniak in 1976. He's done public interviews, and
on where Apple may go from here.
Earnings have increased sharply this year, though Apple did miss its third-quarter numbers and fourth-quarter numbers, as consumers clamor for the iPhone 5, iPad mini, and several other products which Apple released this year.
Despite some of the recent problems, shares of Apple are still up more than 31% year to date, far outpacing the
Nasdaq
index or
.
Jeff Bezos of Amazon
Amazon has moved firmly into our minds, selling tablets and e-readers to get us to buy content and goods from the Seattle-based online retailer, as it continues to dominate the retail industry.
Bezos, 48 years old, has led the transformation of Amazon from just a seller of books and DVDs into the place where consumers go for everything, whether it be movies, clothes, food, or even entertainment.
Amazon shares have had a gang buster 2012, gaining 44.8% year to date.
Marc Benioff of Salesforce.com
Salesforce.com
(CRM) - Get Free Report
has revolutionized the cloud computing space, and Marc Benioff is the man leading the charge behind the San Francisco-based company.
Benioff, the former
Oracle
(ORCL) - Get Free Report
executive, has made several key purchases this year, as the company adds to its analytics for social media, one of the more notable ones being
of
Buddy Media
in June.
Ever the outspoken Benioff has been known to frazzle a few companies, recently
the
Microsoft
(CRM) - Get Free Report
Surface tablet, calling it "horrible."
Benioff has certainly delivered to shareholders this year, with shares of Salesforce gaining 64.2% year to date.
Mark Zuckerberg of Facebook
By now, everyone knows the problems
Facebook
(FB) - Get Free Report
had
with its initial public offering
.
It takes a real leader to steer a company through something like that, and Zuckerberg, 28, has been able to weather the storm better than most as he leads the social network into its new life as a public company.
Zuckerberg has
for some of the errors Facebook has made with some of its products, most notably its apps, and has engineered a turnaround in investors' perceptions of the company in recent months.
Please cast your vote for the best tech CEO of 2012. The results will be published next Wednesday.
--
Written by Chris Ciaccia in New York
>Contact by
.
Follow @Commodity_Bull