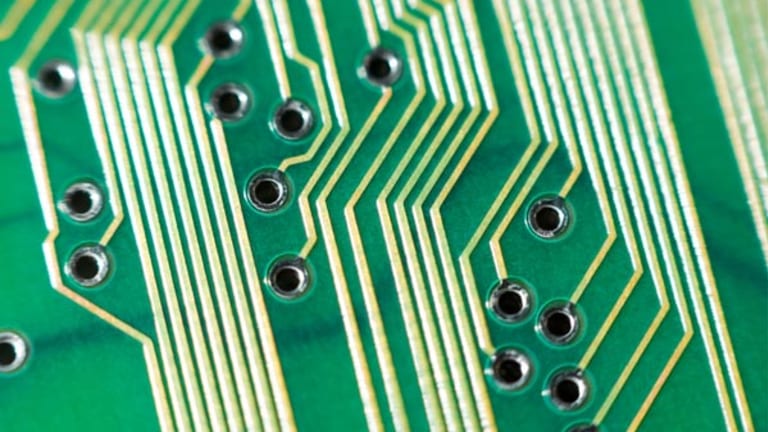 Whitman's HP Restructuring Hinges on Autonomy Deal
After strong second quarter earnings, investors should focus on HP's Autonomy restructuring.
NEW YORK (
) -- Don't get too excited about
Hewlett-Packard's
earnings beat. Hidden behind the
of HP's PC and hardware businesses in the first quarter was a sign that a strategic shift to build software and data analytics revenue is floundering.
HP's stronger-than-expected earnings driven by solid hardware and computer sales stood out against weak results at PC maker
Dell
(DELL) - Get Dell Technologies Inc Class C Report
and hardware vendors
Cisco Systems
(CSCO) - Get Cisco Systems, Inc. Report
and
NetApp
(NTAP) - Get NetApp, Inc. Report
.
Still, HP's announcement of a management overhaul and far weaker than expected results at
Autonomy
should remind investors that neither the short-term PC and hardware sales or the company's plan to layoff 27,000 workers will drive future growth. CEO Meg Whitman's success may hinge on getting more bang for HP's buck from the $11.7 billion it spent on British software giant Autonomy.
On Wednesday, Whitman said that Autonomy's head Mike Lynch will leave the company he founded and be replaced by Bill Veghte, HP's chief strategy officer, in a move that's expected to help improve the unit's performance and scale. In October, HP took control of Autonomy and said it would run the company independently, while keeping Lynch, who founded the firm in 1996, at the helm. The management turnover signals drastic change for Autonomy, a maker of software analytics that search unstructured data like emails, phone calls and social media.
Whitman cited Autonomy's poor performance as reason to remove Lynch and further integrate the software specialist within HP's global sales force. "Autonomy had a very disappointing license revenue quarter with a significant decline year-over-year resulting in a shortfall to our expectations," said Whitman on HP's earnings call. Still, Whitman was optimistic about Autonomy, highlighting its cloud offerings, which had a "flood" of large sale leads.
"Autonomy is a terrific product," Whitman said. "It's not the market, there is an enormous demand for Autonomy, it's not the competition," Whitman added, highlighting a need to better scale the acquisition. "When you try to go from $40 million to $400 million to $1 billion to $2 billion, boy it takes -- it's a whole different ball game."
Whitman's closer alignment of Autonomy with core HP, and an overall restructuring and simplification of HP, mirrors the decade-ago turnaround of IBM that took shape through a strategy to
quickly integrate acquisitions
.
Under new Autonomy head Veghte, Whitman said HP will try to better tie the software specialist to the company's existing services, server storage, networking businesses and its sales force, in an "organizational structure to support a $1 billion company."
Those benefits and expectations of stronger future performance from Autonomy may be critical for HP in coming quarters and years, because even if short-term PC sales held up better than expected, PC sales are likely to continue on a secular decline on the heels of competition from smartphones and tablets.
BMO Capital Markets analyst Keith Backman cited an underperformance of Autonomy as a key reason why HP's software license growth fell to 7% year-over-year in the second quarter from 12% in the first quarter, while the unit's operating margins dropped to 17.7% from nearly 20%. Given HP's longer-term PC challenges and its macro-economic sensitivity to business spending, Bachman holds a market perform rating and a $27 price target.
Jefferies analyst Peter Misek says that the company's future stock gains hinge on improving performance at Autonomy.
Misek, who rates shares a buy with a $30 price target, expects that HP's investment in IT and cloud services -- such as its Autonomy acquisition -- will offset declining PC and server sales. "We believe HP is one of a handful of players that has or is close to having the components of a full stack (i.e., software, storage, networking, services)," wrote Misek, in a note to clients.
Were Whitman's restructuring efforts to work, Misek calculates that cross selling opportunities from Autonomy could lift HP's 2012 earnings per share to $4.20 from a base case of $4.07. Such improvements would warrant a $40 share price because HP's price-to-earnings multiple could rise to 9.5 times 2012 earnings from a base case of 7.5x.
But as Whitman acknowledged on HP's earnings call, there is the prospect of continued below-expectation performance. In a downside scenario, Misek says that EPS could fall to $4 if Autonomy synergies "take longer to realize," potentially leading shares down to $20 on a falling PE multiple to 5x.
In Thursday trading, HP shares rose by as much as 6% to above $22 on its better than expected earnings. Shares are still down 14% year-to-date and more than 38% in the past year.
Already, Autonomy has been at the nexus of a radical nine months of change at HP. In August, former HP CEO Leo Apotheker bought Autonomy in a bet that the British software giant could supplant waning earnings from HP's top-selling computers division. Apotheker was fired shortly after cutting the deal and planning a spinoff of HP's PC-making unit. However, Whitman stuck with the acquisition after joining the company as CEO in September.
In a decisive call, Whitman retained the PC unit but cast high expectations on the benefits of Autonomy. HP chairman Ray Lane said in September that Autonomy's software and analytics revenue could grow from present levels of $1 billion to $5 billion or even $10 billion. "Hopefully, we'll see a bigger software portfolio and we'll see more value-added services at HP, but we have $120 billion of hardware business that we care dearly about," said Lane in September.
Since then, HP has enacted other turnaround efforts, including a
of its PC and printers divisions in a move to cut costs.
The Palo Alto, Calif.-based company
fiscal second-quarter non-GAAP earnings of 98 cents per share on $30.7 billion in revenue.
Analysts polled by
Thomson Reuters
were looking for earnings of 91 cents per share on $29.91 billion in revenue. For the full year fiscal 2012, HP expects non-GAAP earnings of $4.05 to $4.10 per share. Analysts currently expect a profit of $4.03 per share.
On Wednesday, HP also announced plans to cut 27,000 jobs, or 8% of its workforce by 2014, with 9,000 expected to leave this year, a move expected to save between $3 billion and $3.5 billion by the end of fiscal 2014.
For more on tech sector M&A and turnaround efforts, see why a
BMC Software
(BMC)
deal
is caught between a cloud boom and tech gloom
.
Interested in more on HP? See TheStreet Ratings' report card for
this stock
.
Check out our new tech blog,
Tech Trends
.
--
Written by Antoine Gara in New York